Top 10 Tips for Surviving Air Travel with Toddlers and Infants
Traveling with a baby can feel daunting and flying with an infant fills many new parents with absolute dread. We know that feeling well. Sean and I travel all over the world with our work and that wasn't changing just because our family was growing.  When Seven was born, we were already scheduled for many trips far and wide, so we crossed our fingers and prayed that our child wasn't a screamer!
When all was said and done, we averaged about 1 trip a month last year, and Seven came along for almost every single one. By the end of the year, he had somewhere in the neighborhood of 30 flights under his belt. He's been on both short domestic flights, and extremely long trips overseas. I am astounded that I can tell you that it all happened with relative ease. Of course temperament has a lot to do with things and Seven has a good one, but we've developed a few survival strategies through trial and error that have helped make those trips a success.
A few weeks ago, as we prepared to fly out again with a toddler in tow, all of the requests we've received for travel advice came to mind. I couldn't help but think that there must be many others who are silently and anxiously awaiting their babe's first flight in this upcoming travel season. This post is for you. Here is a list of our tips and tricks, need to know travel info, and can't be without items. I hope it will help you feel better prepared and take the edge off as you pack for your next trip.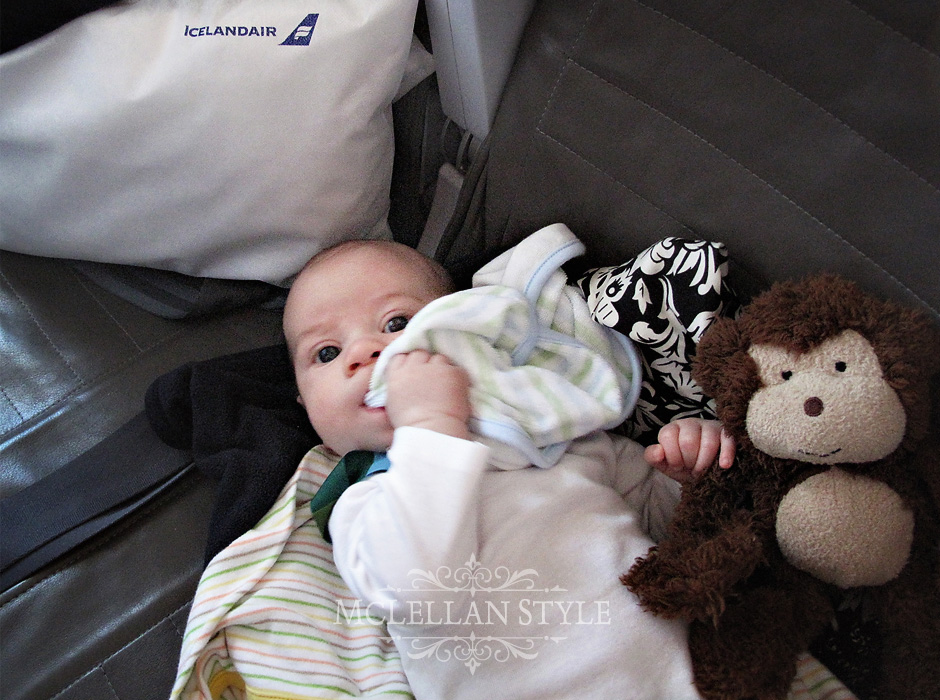 1. Always carry proof of age.
If you're flying internationally, you'll obviously need a passport for your baby. However, even if you're just flying domestically, you will still need either a passport, or an official document from your pediatrician (usually shot records) that proves your child's age. The reason for this is because a child under two years doesn't require a ticket of their own and is thus considered a "lap child". In my opinion, it's ridiculous that you would need proof that a tiny little lump of a person in a sling is under 2, but so it is! Half the time they ask and half the time they don't. It's just good to have it on you just in case.
2. All liquids must be 3 oz or less in carry-ons, unless you have a baby with you.
Liquid restrictions don't apply to baby. You can take milk or baby food with you on the plane that is in greater quantity than 3oz, as long as you have a baby with you. Just let them know that you've got baby food with your things as you send your items through security. Put them in a plastic bag and sit them out separately, just as you would with other liquids.
Also, for nursing mothers, know that even if your baby is not with you, you can carry breast milk with you onto the plane if you need to pump while you're away. Most security officers are aware of this, but you should print out the TSA security guidelines concerning this and keep them with your milk just in case.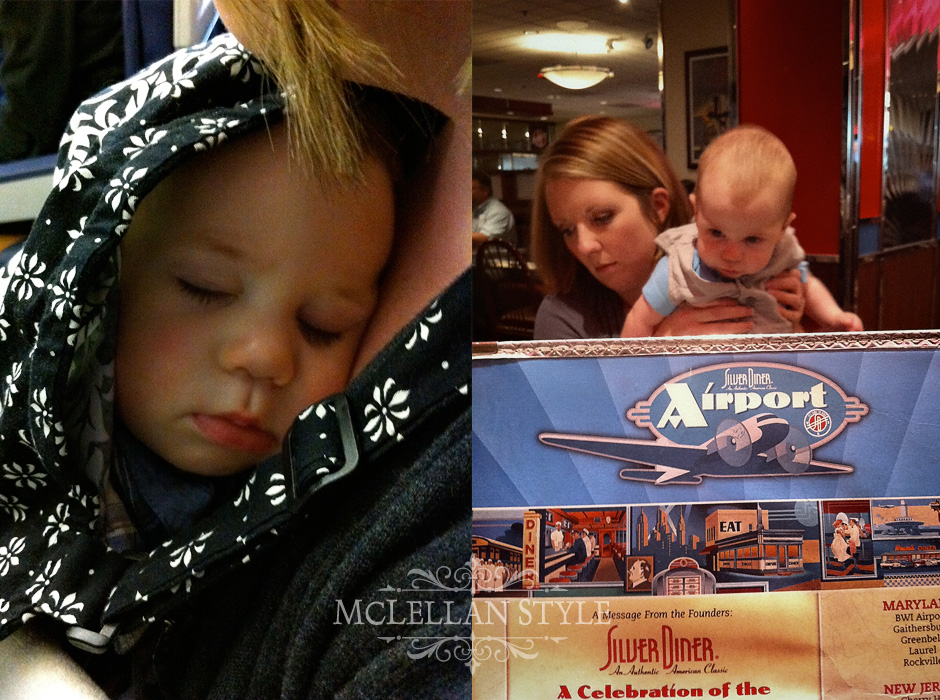 3. Mind the Pressure!
The biggest thing to keep in mind when flying with a baby is regulating them to the pressure on take-off and landing. Adults and older children know to swallow to make their ears pop, but babies don't. You have to give them something to make that happen.
When I was still nursing Seven, I nursed him on take-off and either nursed him again when I start to feel my ears pop from losing altitude, or made sure he was sucking on a pacifier.
Now that he's weened and no longer takes a pacifier, I make a bottle with really hot water before we leave for the airport. It's a good temperature by the time we get on the plane to feed him on the way up. For landing, we feed him goldfish crackers or get him to sip on juice.
4. If you're nursing, dress for the job.
A nursing tank and a nursing cover are musts for air travel with a nursing infant. The last thing you want to do is to expose yourself to a plane full of strangers because you forgot to wear something you can nurse in easily. Adjusting your wardrobe and holding on to a hungry squirming baby is just no fun.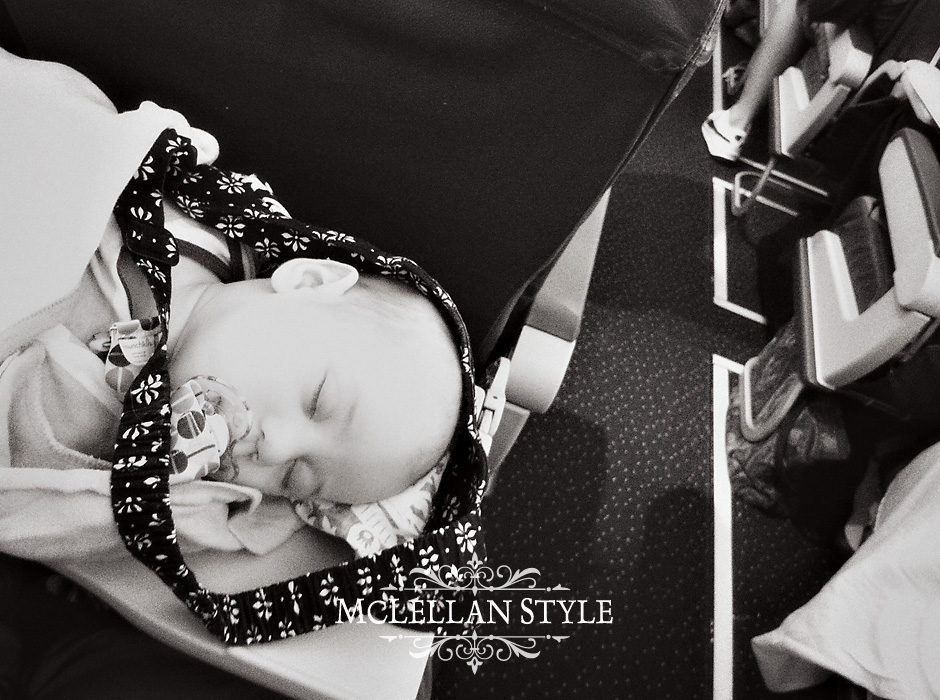 5. The forward lavatory is the only one with a changing table.
I've been there: waiting in line for the back bathroom with arms full of baby and changing supplies, only to discover there isn't a table back there and you have to make your way to the front of the plane to start again. Don't let this happen to you! This is the case for most planes you will fly on. Large planes used in overseas travel are the obvious exception.
6. To check or not to check…
You can check your stroller and car seat at the gate, and if it's not a full flight, they'll let you bring the car seat on board. Personally, we let Seven roam about in our laps while we fly, but the car seat ensures that you won't have someone sitting next to you so if you want some extra space or your child sleeps well in their seat, take it on board. One thing to note is that car seats have to be in the window seat so if you're flying as a couple, one of you will have to sit in the middle.
The stroller is your best friend if you've got anything at all to carry. We've traveled with both the large Chicco stroller and a small umbrella stroller and I actually prefer the big-daddy stroller. With it, I can put Seven's carrier car seat right into the stroller from the car so I don't have to unload him, or carry the car seat until we get to security. The diaper bag hooks onto the stroller handle, and the infant carrier and any other loose items store right underneath. You can put a big heavy diaper bag on an umbrella stroller, but if you have to take the baby out quickly for some reason, the stroller flips with the weight of it all and it's just a pain. It's a little more trouble to get through security with a larger stroller, but I say it's well worth it.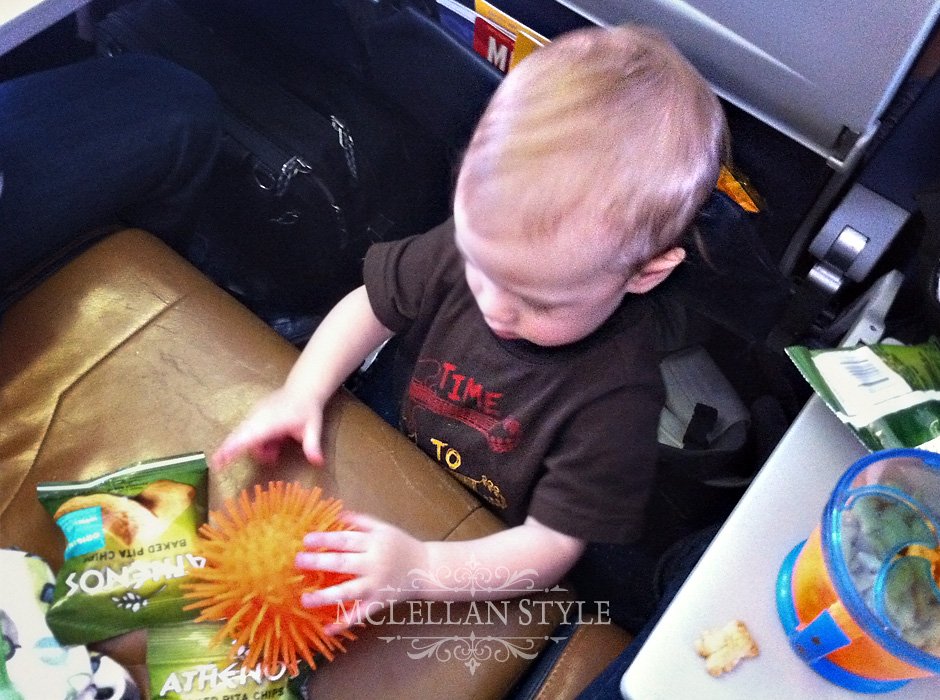 7. The baby carrier: not a must, but a definite nice to have.
When he was very small it was the sling. Now I bring the ergo baby carrier with us and strap Seven to me as we're boarding and exiting. It makes it easier because my hands are free. It's also nice if he falls asleep mid-flight because I don't have to actively be holding on to him the whole time.
8. Entertainment is a good thing. New entertainment is better.
Obviously you don't want to be toting a loaded up toy box on board, but you will want a few toys along for the ride. Bring a favorite and then a few new ones your child has never seen before. The main things to consider are size (you want to keep things small) and mobility (a ball on a plane will instantaneously end up 3 aisles back the moment it enters your child's hands).
The iPhone is of course Seven's favorite toy and when I start seeing uncontrollable stirring coming, or just feel like it's time to sit still for a bit, there is nothing like it. The forward facing camera, Peek-a-boo Barn, and Baby Piano have been long time favorite features. Episodes of Sesame Street are a newer go-to items when all else fails. Whatever the case, don't leave home without it!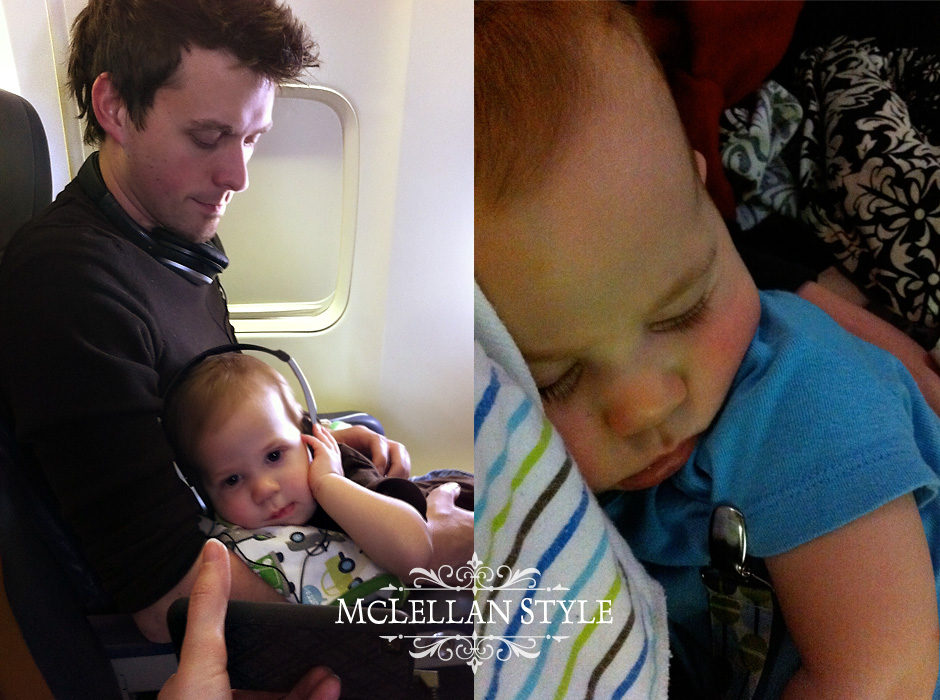 9. For toddles, bring on the snacks!
As you can see from the photo below of our toddler travel items, we are admittedly carb-tastic around here, but the main concern when flying with a toddler is to keep him happy and a variety of snacks – some everyday favorites and some occasional treats – make the world go round. The less spill toddler snack cups are great and so are the squeeze bags of fruits and veggies. Anything with little clean-up involved is the way to go.
Note: Beware the sippy cup as the cabin pressurizes! It will force the juice out as the plane takes off and it will end up all over your things. I got one with the straw inside and the snap tight lid thinking that would save us from general spills. What I forgot about was the pressure and when I opened that top, juice shot out like a cannon, clearing the seat in front of us and landing on the lady's head who was sitting there. Luckily she had a good sense of humor.
10. Give yourself a break.
You may have a tightly regimented schedule at home, maybe you don't typically let your child feast on carbs and paper, and usually certain things are not technically allowed. Just roll with it. Do what you need to do to make the flight a pleasant one for you and your child and worry about all of the do's and don'ts when you get back on land. Seven has probably eaten way more crackers off the floor and pages out of Sky Mall Magazine than I would like to admit, but whatever. He's been a happy camper and we haven't been the dreaded parents with the screamer on board and that makes everybody happy. Let yourself off the hook and enjoy the flight.
Here are the packing lists I've used for both when Seven was an infant, and for our current travels with him as a toddler.  I know it looks like a lot, but everything fits easily into one bag in both cases.
Diaper bag packing list for an infant:
Books – Seven's favorite Dr Seuss, a board book to chew on, and a finger puppet book

6 diapers

Changing pad

Small thing of wipes

Sanitizing wipes (for wiping down the tray table, etc)

Hand sanitizer

Multiple pacifiers and one pacifier clip

Extra change of clothes for baby

Snack bars for you

iPhone

Teething ring

2-3 small toys

Infant tylenol and ibuprofen

Gas relief drops

Orajel (and you can get it in self dispensing q-tips if you're afraid your hands will be dirty)

Thermometer

Bulb seringe

Fingernail clippers

2 baby blankets

Nursing cover up

Rash cream

Dirty diaper bags

Ziplock bag (for accidents)

Bib

2 spoons

2 packets of baby food (which I never end up getting to in the airport but whatever)

Wallet

Seven's Passport

Chapstick

Pen

Tissues

Tide pen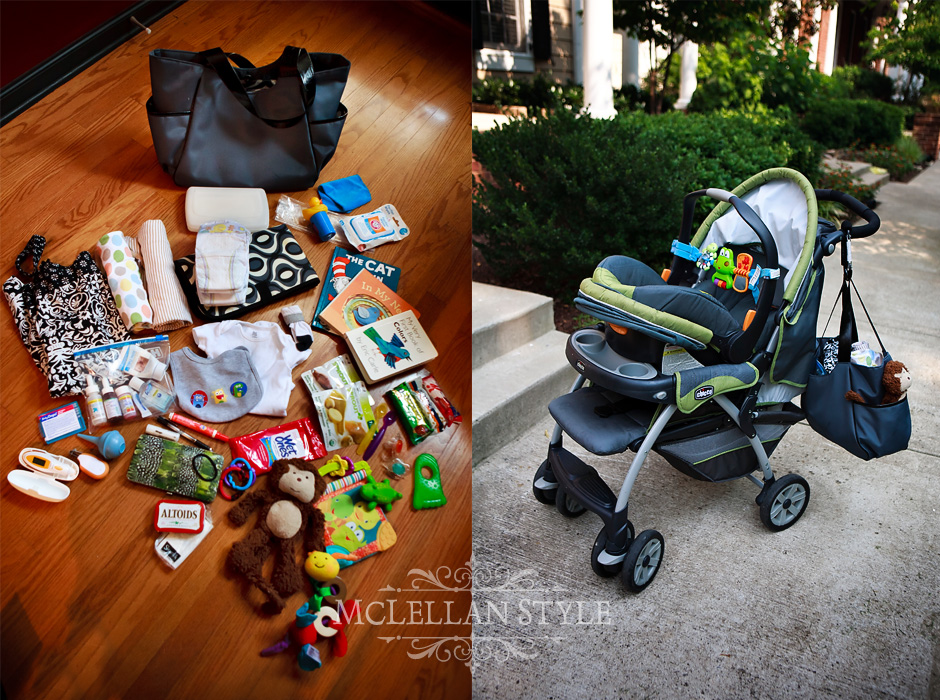 Backpack packing list for a toddler:
Books – A touch-and-feel book, a current favorite, and something new.

6 diapers

Changing pad

Small thing of wipes

Sanitizing wipes (for wiping down the tray table, etc)

Hand sanitizer

Extra change of clothes for baby

Snack bars for you

iPhone

Travel Headphones

2-3 small toys

Infant tylenol and ibuprofen

Gas relief drops

Orajel (and you can get it in self dispensing q-tips if you're afraid your hands will be dirty)

Thermometer

Bulb seringe

Fingernail clippers

Neosporin

Bandaids

2 baby blankets

Rash cream

Dirty diaper bags

Ziplock bag (for accidents)

Bib

Goldfish Crackers in travel cup

Yogurt Bites

Bottle with warm formula

Extra Formula and bottle of water

Sippy cup with apple juice

Squeezable Fruit packets

Coloring books, paper, and stickers

Wallet

Seven's Passport

Chapstick

Pen

Tissues

Tide pen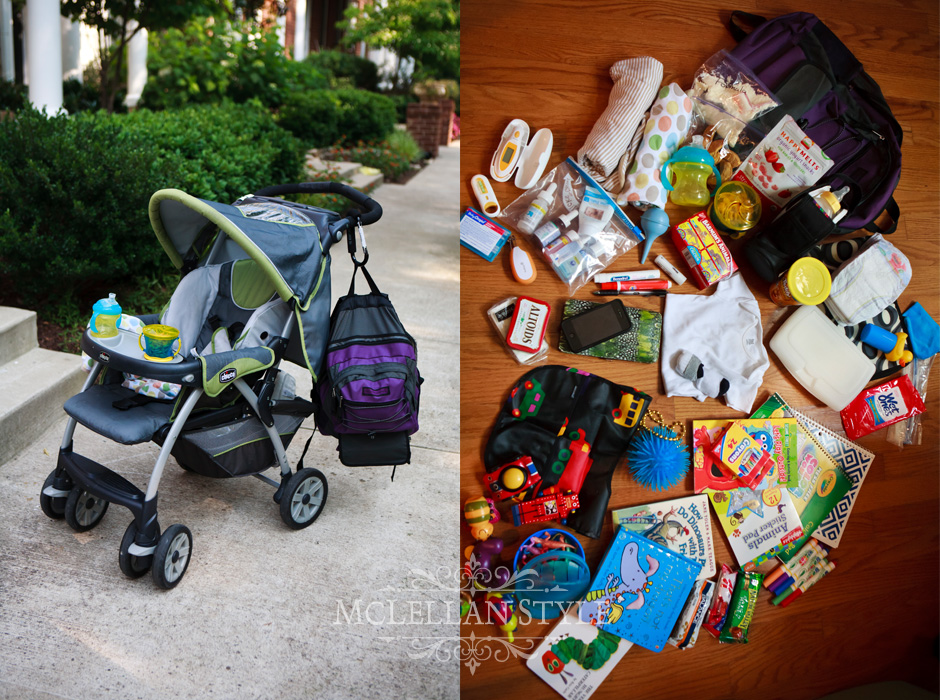 And these items are amazing – the travel cup and the "Mommy Hook" – both available at Target.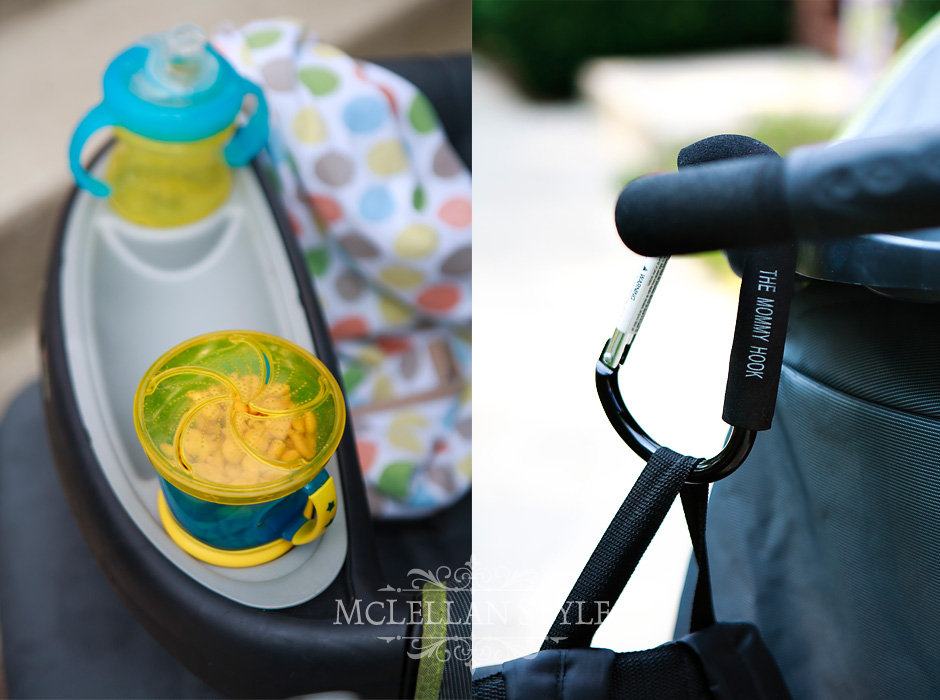 I hope this has been helpful!  If you have any questions in regards to traveling with babies and toddlers, please feel free to leave them in the comments section below and I'll do my best to answer them.
As I mentioned before, this post was in response to many people having asked us about how we travel so much all together as a family.  Please visit our "What is your biggest struggle as a photographer?" post and leave comments there with your questions, struggles, etc. and we'll continue to answer your questions and help out in any way we can!
Happy Travels!
Click here to be notified immediately when we publish more content for photographers!