You've just finished a photo shoot and you get home and download the cards. It was the Jones family. So you create a folder and cleverly title it:
"Jones Family Portrait"
But after a few months go by the Jones' give you a call and ask if they can get a large canvas.
Exciting!
You go to get the image they requested… and your heart sinks.
Where is it?
Some of your folders have dates. Some of them are names. Some have names first, others have dates first. Some utilize an odd looking system of numbers and letters that seemed like a clever idea at the time; but you forgot about it and now it no longer makes any sense.
Aha! Jones Family.
You've found it.
…But wait, there's only a copy of a contract in this folder and some RAW files. Where did the finished files go?
Time out.
We've been there.
Between weddings and portraits, we have photographed literally hundreds of sessions. All of those have resulted in millions of files.
Millions. Of. Files.
How on earth do we keep track of all of that? How does any wedding or portrait photographer keep track of all that?  How about keeping our computers running smoothly? What about hard drive space filling up?
I'm going to share the ins and outs of our file management system that can solve all of these problems for you.
Want to improve your wedding photography business?  Join us on May 3rd for the Pricing, Process and Profit Workshop.  Brought to you by our friends at ShootDotEdit, free of charge!
Dial in your Pricing and Packaging (Jared Bauman)
Jared will explore pricing and packaging for professional wedding photographers and how important it is to the success of your business. Jared will reveal the secrets behind pricing and packaging, the basics to each pricing strategy, and the science behind effectively setting up your pricing, whether it be Packages or A La Carte.
Systems are Sexy (Leeann Marie)
Do you find yourself always saying "This is the year I'll get organized an efficient!"? Let's talk…
I'm not talking a pretty branded website, latest gear, or Photoshop actions – I'm talking about creating a business that not only meets your client's needs, but exceeds them. A wedding photography business that is as efficient as possible – even if you consider yourself more a photographer, and not so much a "business person"
Leeann will speak about how a clear communication strategy, studio timeline, and kick butt techniques can move your business toward being one that finally gives you back your time, money, and energy. This is the year to make your systems amazing!
Top Profit Tips (Sean and Melanie McLellan)
With sales averaging five figures per wedding for the past five consecutive years, Sean & Melanie McLellan's strategies have proven very successful despite the ups and downs of the current economic climate.  Gleaning from the knowledge that has brought them this track record of success, they will share with you ways in which you can increase your bottom line starting right now with the clients you've already booked.
Join Sean & Mel for as many tips and practical strategies as can be packed into a 30 minute time frame! If you want to make your business more profitable in 2012, you will not want to miss!
The Pricing, Process, and Profit Workshop is coming to:
Indianapolis, IN
Louisville, KY
Nashville, TN
Seattle, WA
Boston, MA
New York City, NY
Me and I will be guests at the Nashville, TN workshop on May 3rd and details are here:
Date: Thursday, May 3, 2012
Location: The Village Chapel. 2021 21st Ave #C120, Nashville TN 37212
Time: 6:00pm
Price: FREE (But you must RSVP here to attend!)
Yes, that's right.
New. Blog. !!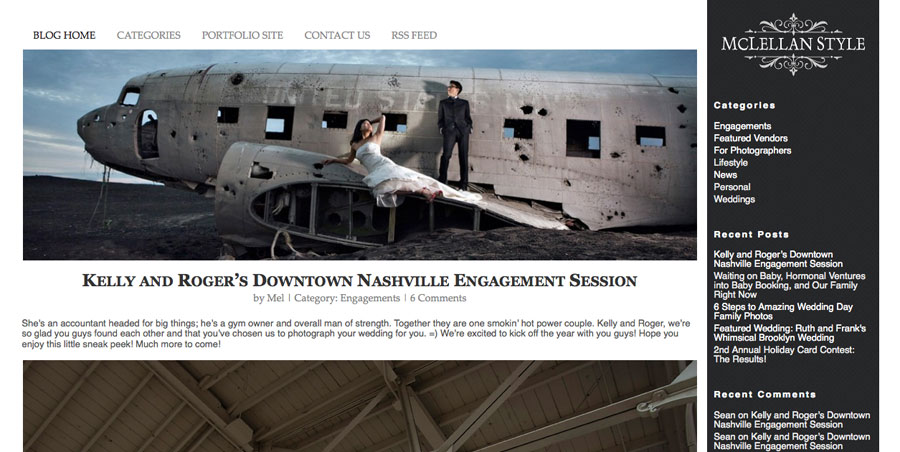 You may have had trouble over the past few months, and DEFINITELY had trouble over the past few days leaving a comment on our blog :(
So here is the latest design, with working comments again :)
This time around we've optimized for 1200 pixel wide monitors and larger, as we've found that currently less than 5% of our traffic is viewing at lower than that resolution.
If you subscribe to our blog via RSS, we have updated the feed address, so please update to: http://feeds.feedblitz.com/mclellanstyle
We've added our latest instagram photos to the sidebar on the right, because we heart instagram!  You'll also start to see Pinterest "pin it" buttons below each image, which is something we've really been wanting to add!
Most importantly: Thank you so much for being here — we love you!
Sean & Mel