West Tennessee Mini Road Trip
Last week was our "Spring Break" for our homeschool group, and it's in quotes because all that meant was that we took a trip together to do three days of learning with our friends, instead of one day here at home.
That sounds like something those overachieving, overbearing homeschool parent types would say so let me pause here and clarify. We ARE NOT those parents. Straight up doing nothing for Spring Break is really awesome and encouraged. Travel just happens to be where we are at our homeschooling best. Trust me when I say that you are most definitely showing us up all day, every day. ;)
We all decided on a 3-day mini-roadtrip to west Tennessee. When I just think of what is in west Tennessee off the top of my head, not a lot comes to mind for young children. However, once we got to digging, we found all kinds of great stuff within a 3.5 hour drive of our house.
We had some hiccups along the way with one of our little friends coming down with a UTI and having to go home after the first day. We reshuffled minivan seating arrangements to keep their family's healthy kids with us and that's why you'll see an abnormally large number of children in photos of our hotel room and vehicle. Such is life. You make plans, adapt as needed, and keep on rolling! All in all, it was an awesome little vacation and we didn't even have to go far.
Our plans began when my friend, Rachel, asked if I had heard of The Discovery Park of America.  A friend of hers had found it randomly while looking up Leonardo da Vinci exhibits nearby. I had just happened to see some of our friends post last year about their trip there on Facebook. Outside of word of mouth and luck, I'm not sure how anyone finds this place, which is crazy because it's a huge museum just a few hours from us. It's an amazing find!
We decided to trek out to visit the discovery park and see what else we could work in from the surrounding areas.
We opted for the Dyersburg Holiday Inn Express as our base camp. I am generally not terribly discriminating when it comes to sleeping arrangements, but my friend, Jessica, said that she doesn't mess around with bed bugs and I suppose she has a point. ;) This hotel is very nice, with clean rooms and hot breakfast. Bonus: it has an indoor pool. It's a veritable kids paradise.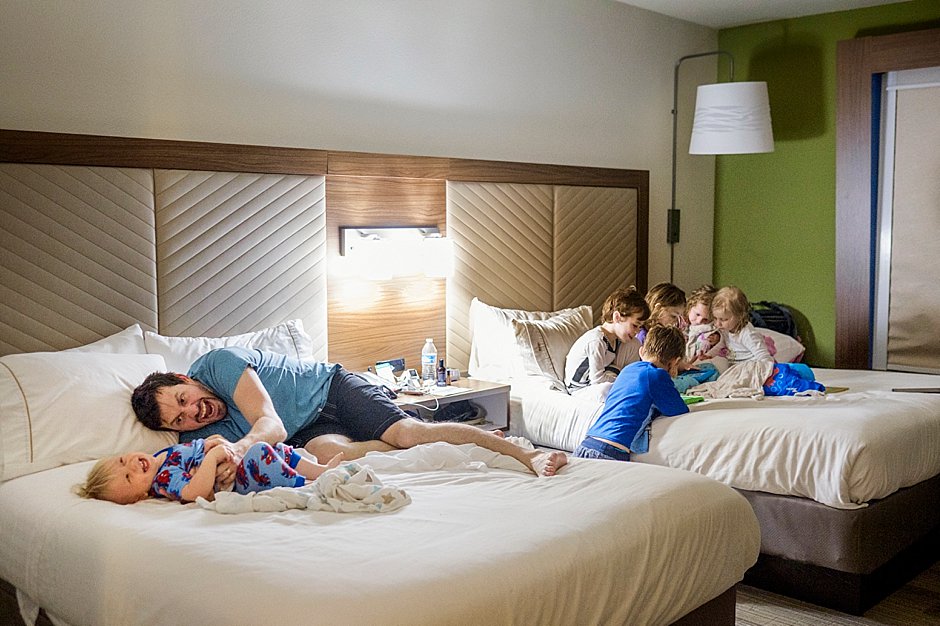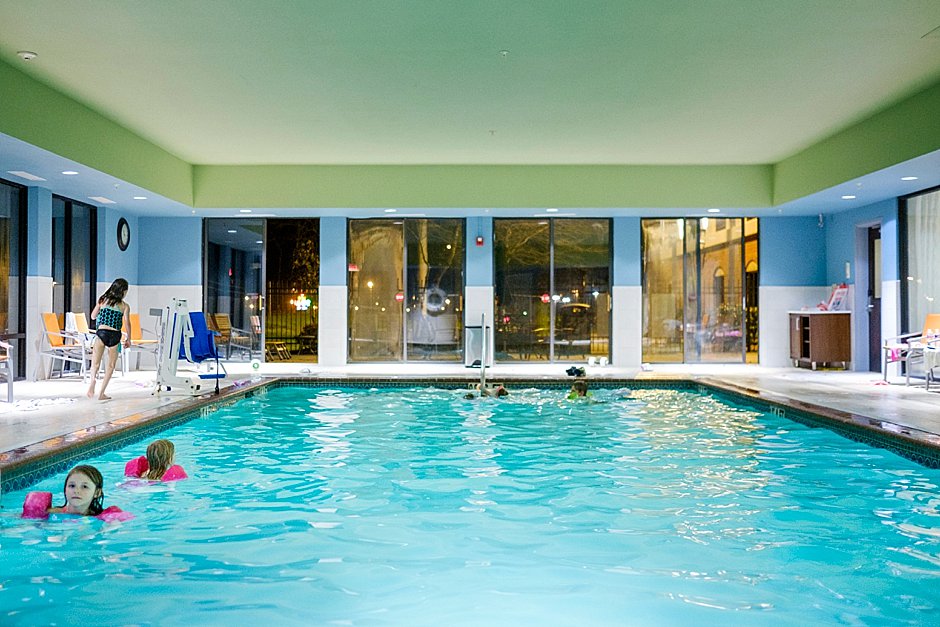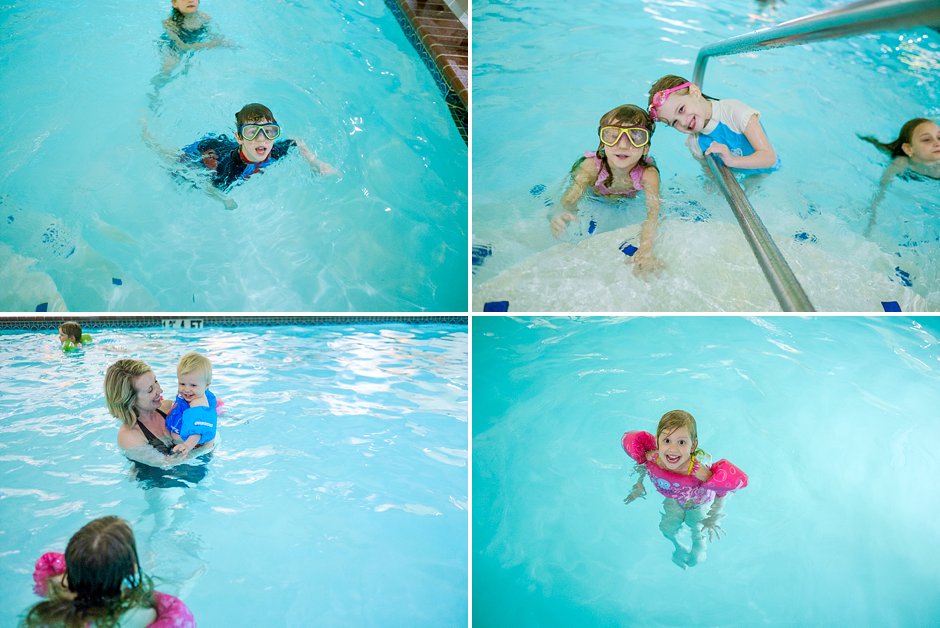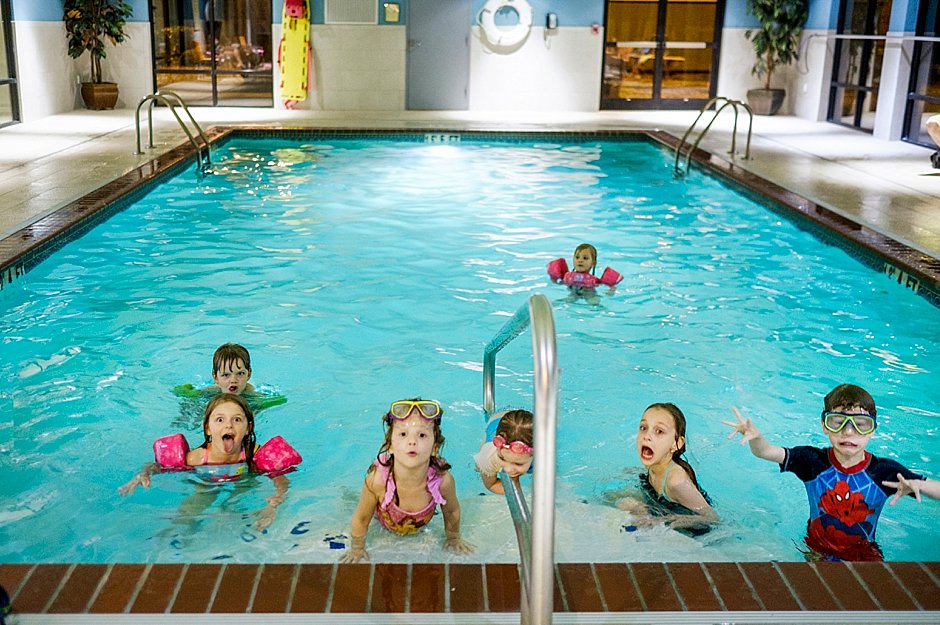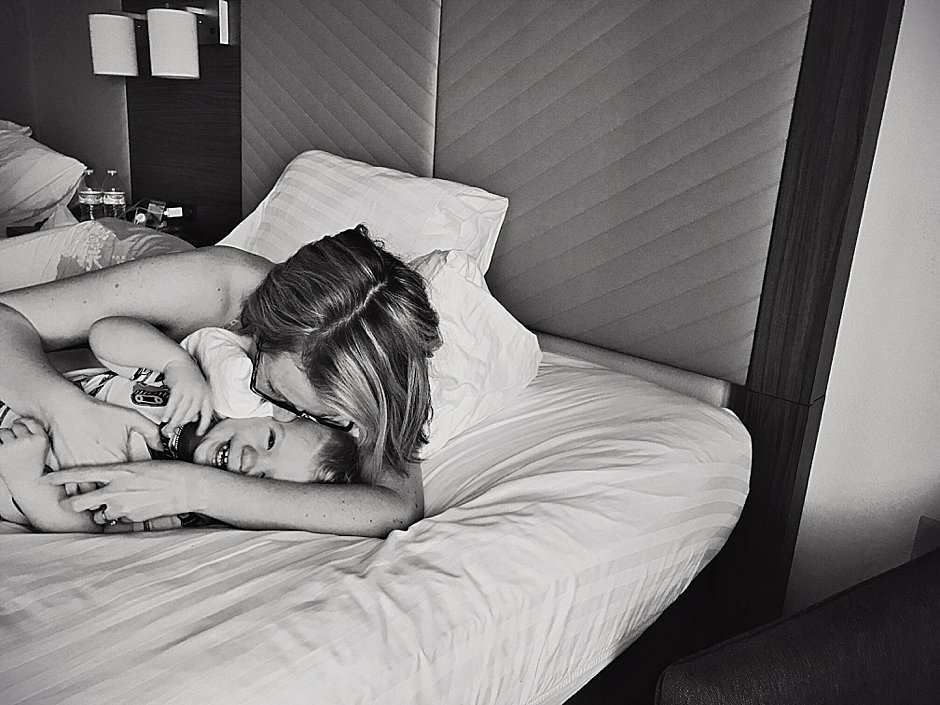 Day one was spent at Reelfoot Lake in neighboring Tiptonville, TN. This beautiful place was created in the 1800's when the area underwent over 2000 earthquakes over the course of one year and the entire forest of cypress trees sunk 10 feet into the earth. A series of events played out so that water was diverted from the Mississippi River to the forest and viola: Reelfoot Lake. Cypress trees don't rot in water so there are all of these big, gorgeous trees growing up out of the shallow lake bed.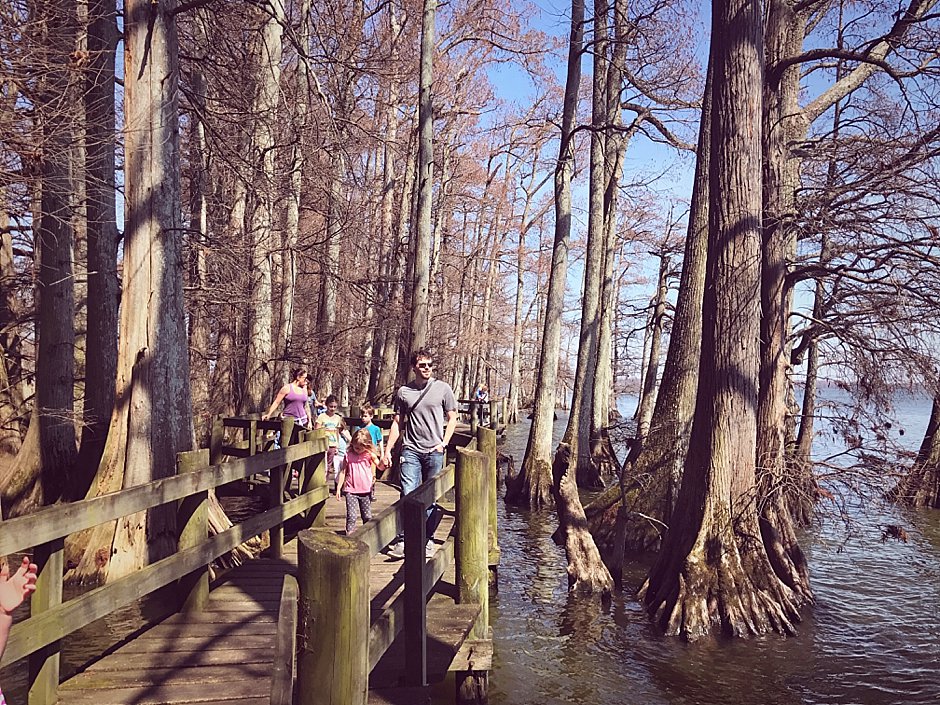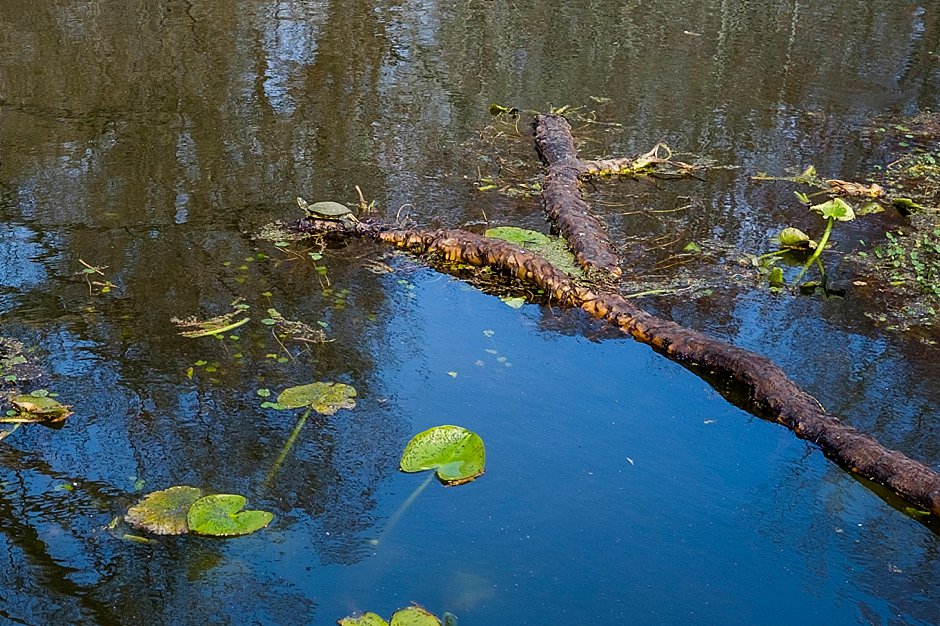 We walked the boardwalks between the cypress, visited the State Park Visitor's Center, and drove out to the north end of the lake for a little hiking. The visitor's center was pretty decent and informational. They're undergoing some renovations right now so it should get even better very soon!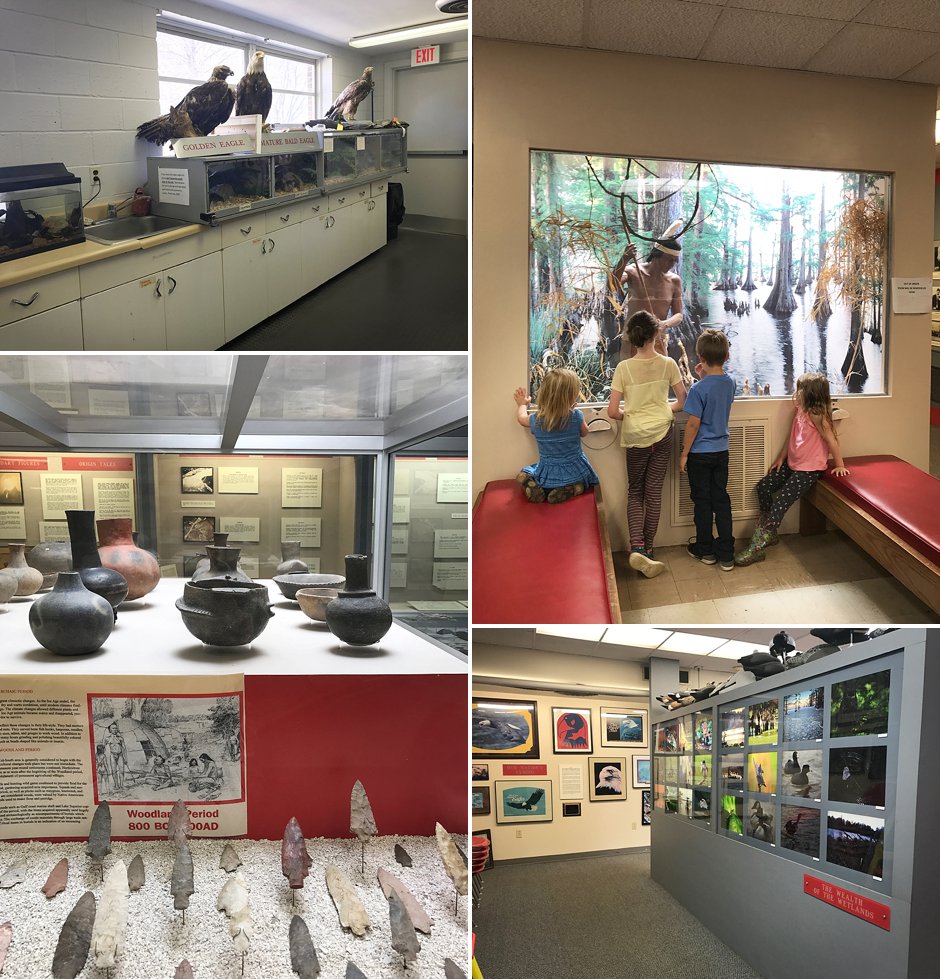 The kids loved running along the trails and playing with rocks and stick in the water. You know — all the good kid stuff.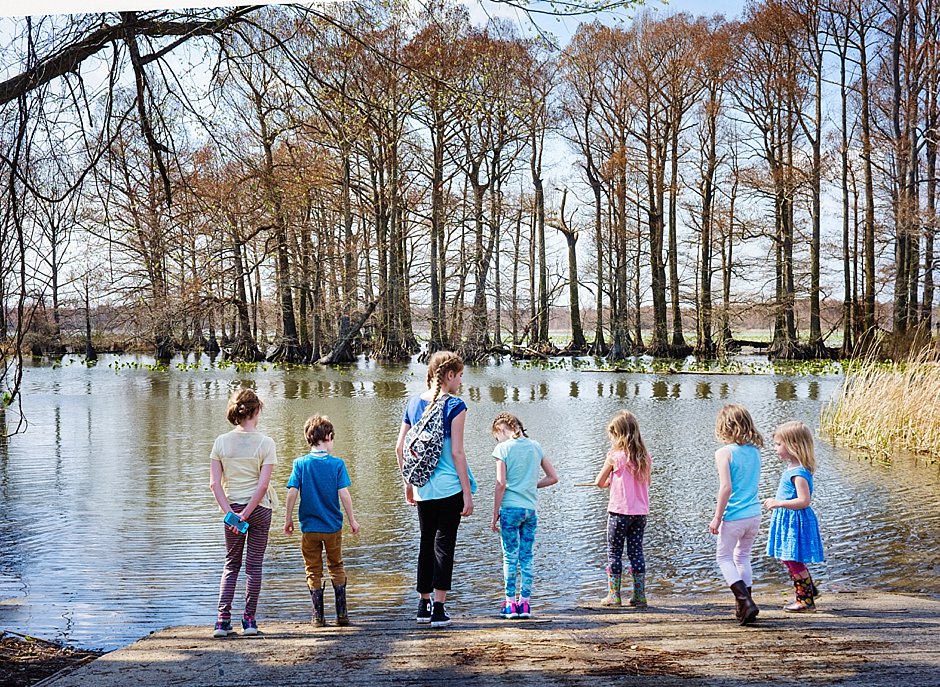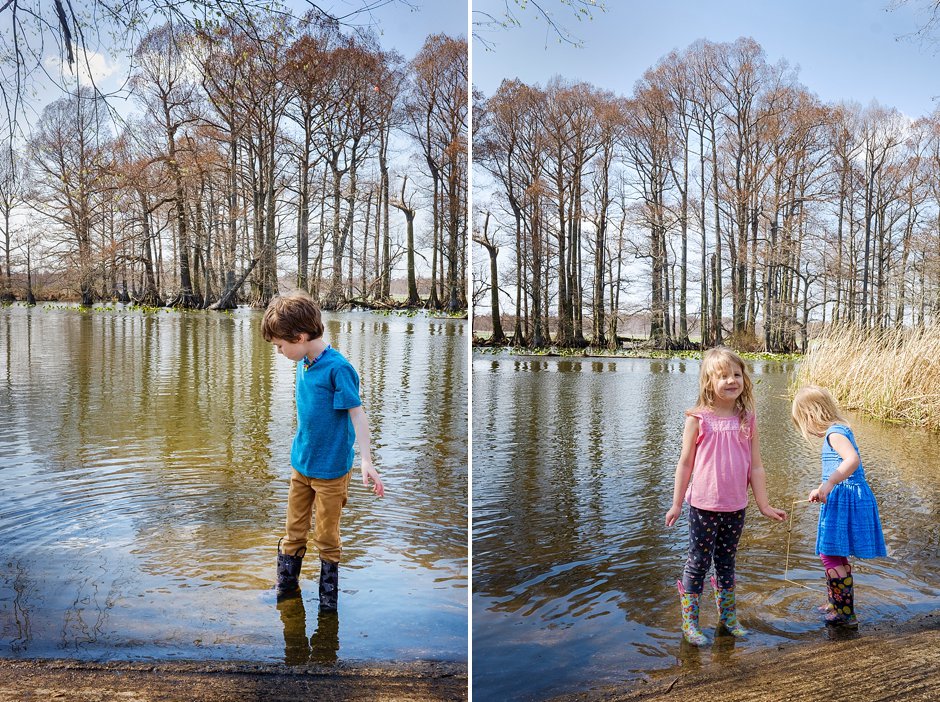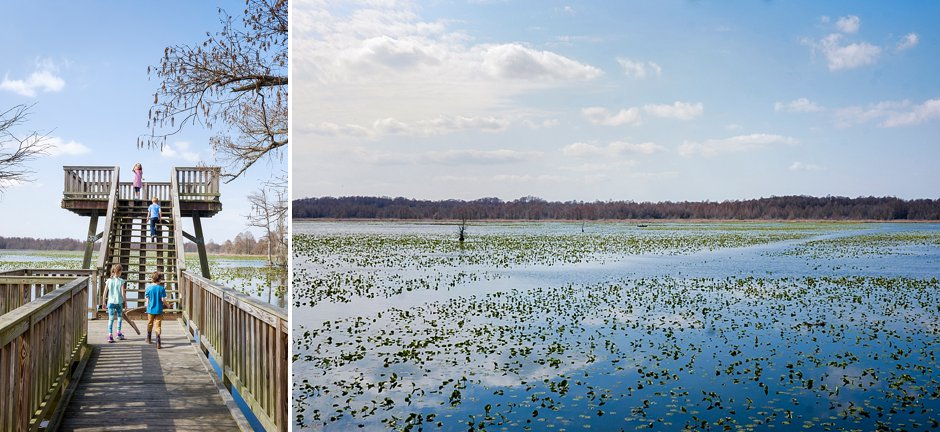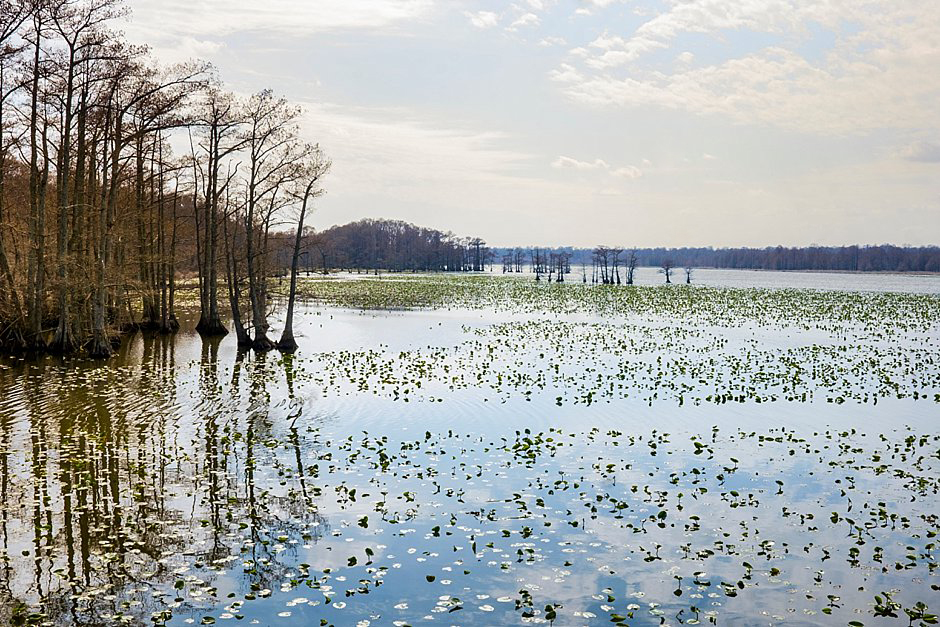 Tips: they offer boat rentals and pontoon tours through the visitor's center, but only on the weekends, so if that's of interest, plan accordingly. Also, we did not personally experience this, but I hear Reelfoot Lake can get kind of snakey. If you look on forums, you see mixed reviews on this. That was part of the draw for us to check it out before summer when all the slithery things come out of hiding, just in case.
It was an unusually warm day so we stopped off at the Tiptonville Dairy Queen for Free Cone Day on our way back to the hotel. If that's not kismet, I don't know what is.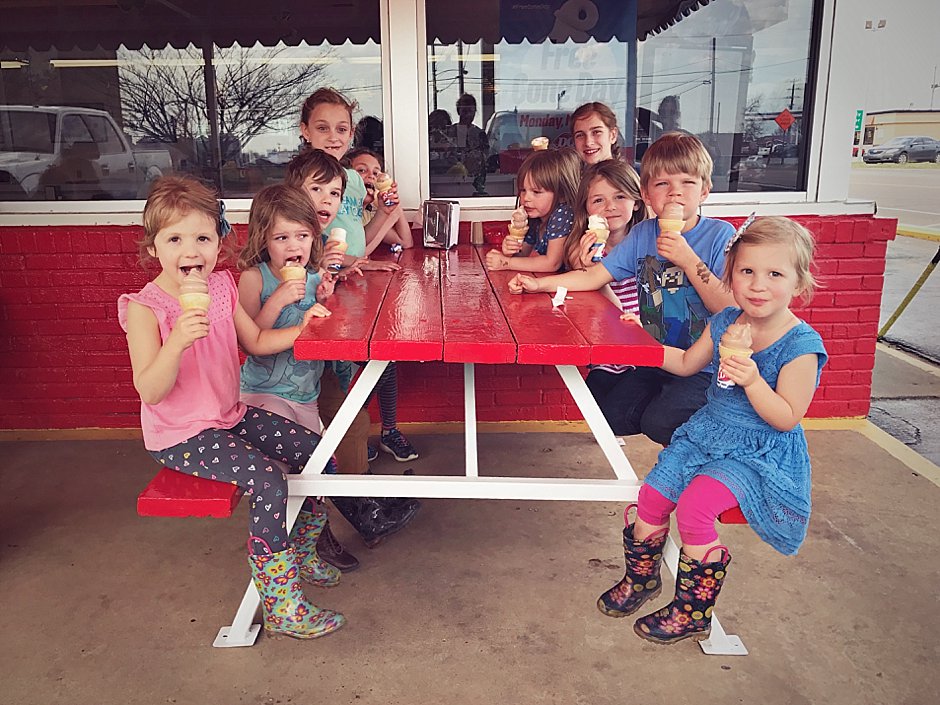 Day two and three were both spent at The Discovery Park of America. They offer 2-day passes and I highly recommend you take them up on it. The park is comprised of a giant 3-story building and 50 acres of outdoor space with more to explore. We barely covered all of the inside on the first day and devoted our second day to the outdoor structures.
They cover so much at this museum that rather than me giving you all the details here, I'll just show you some photos and send you on to their website for more info. :)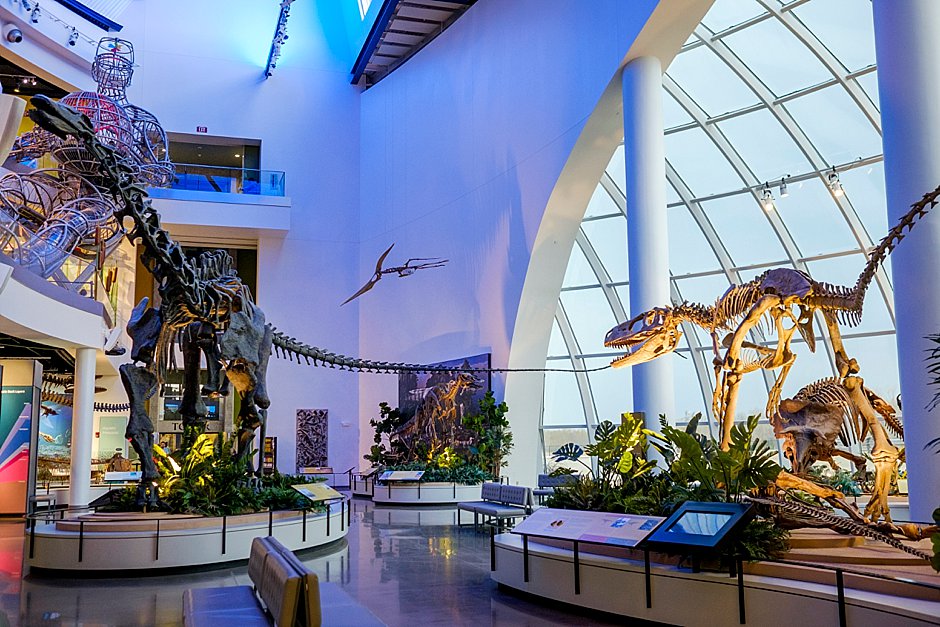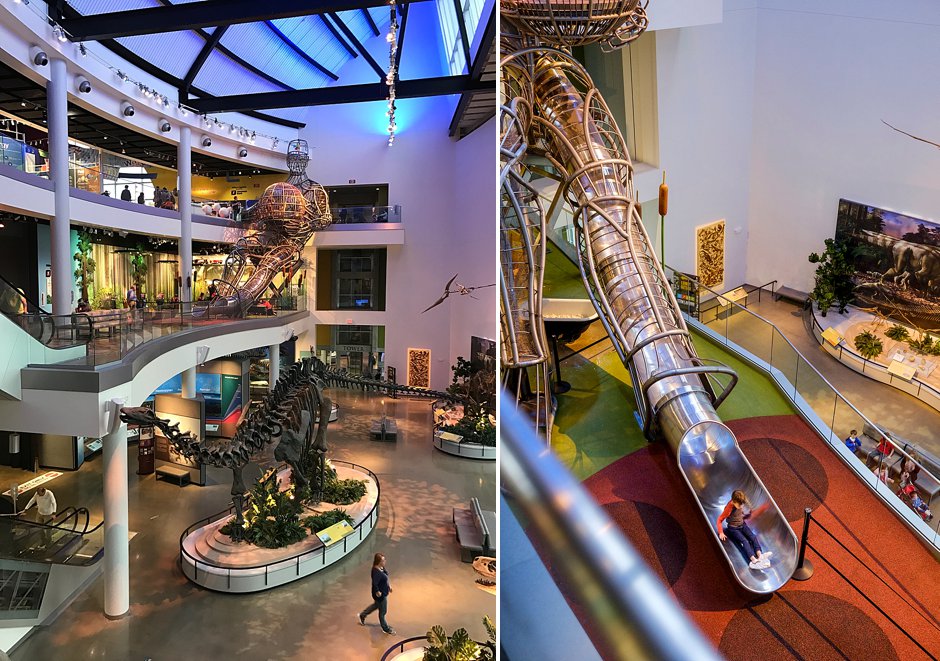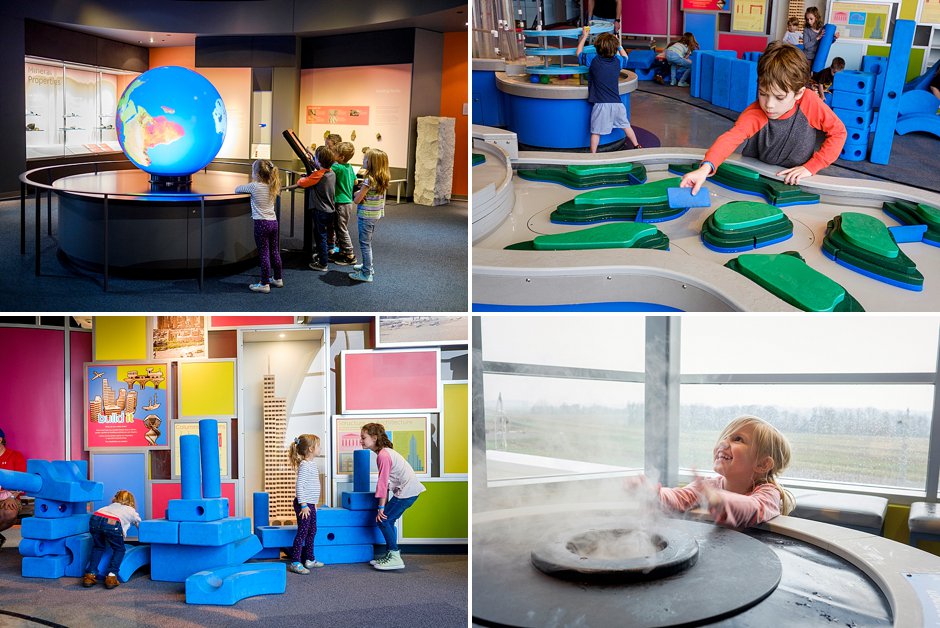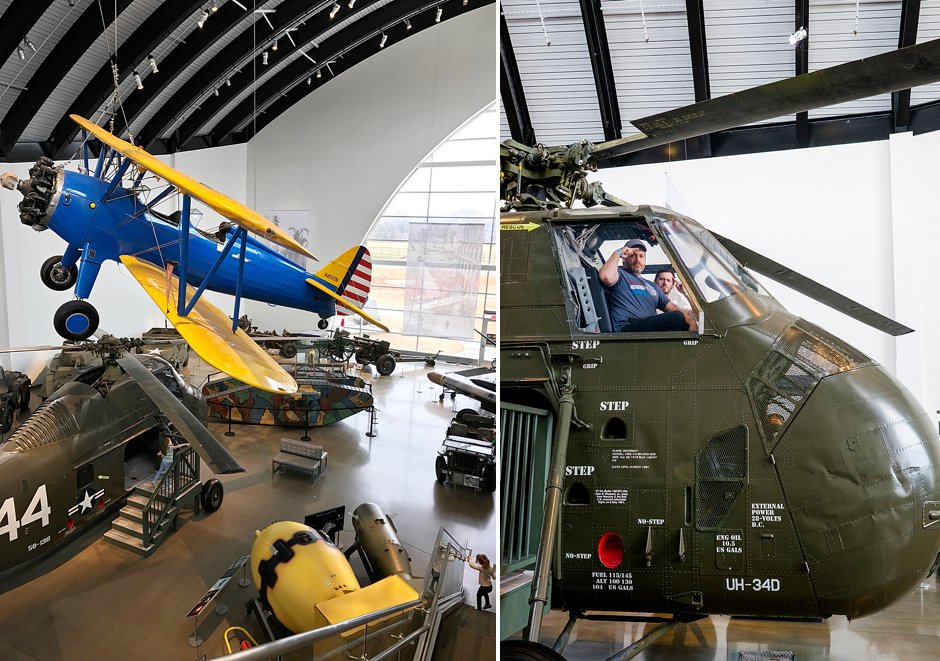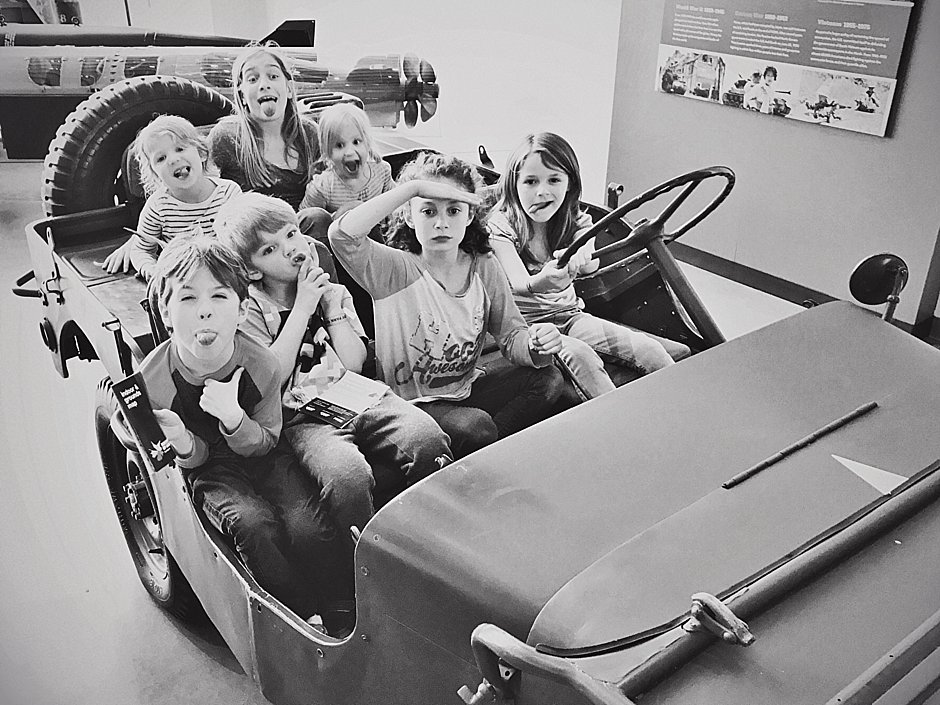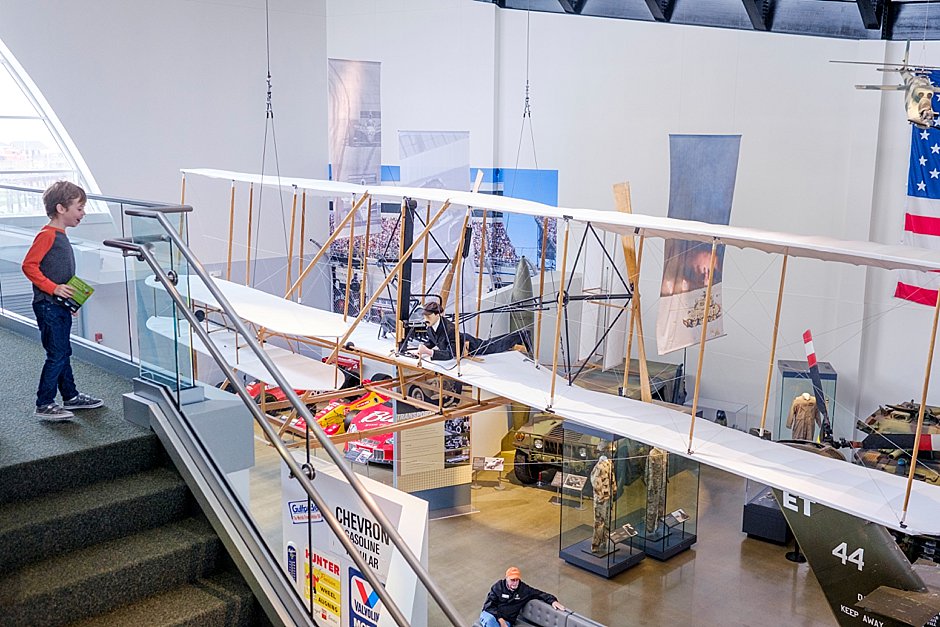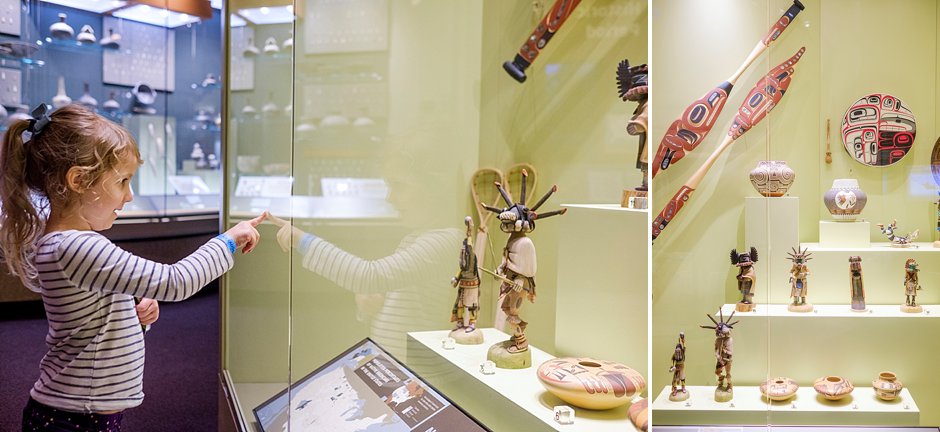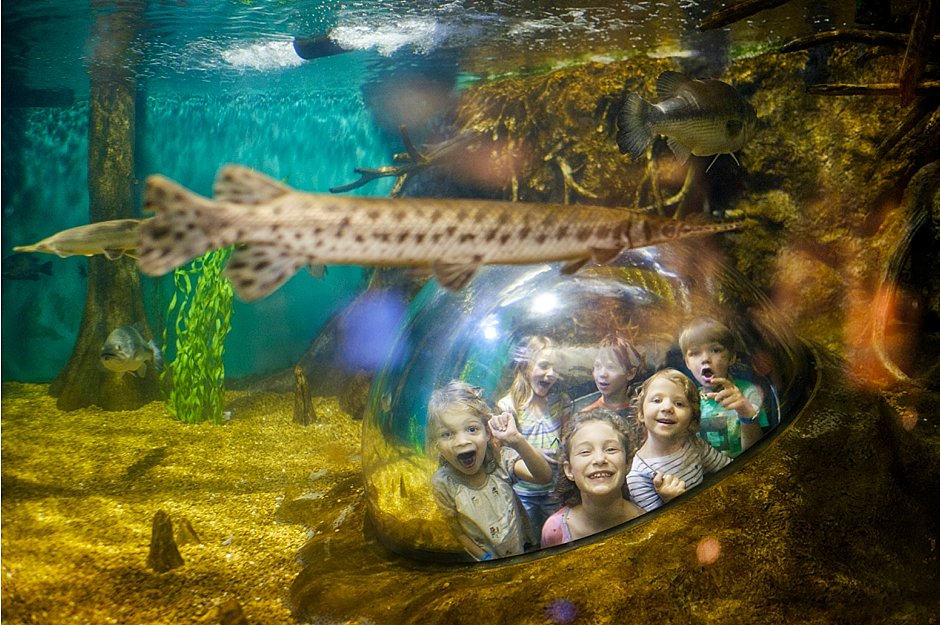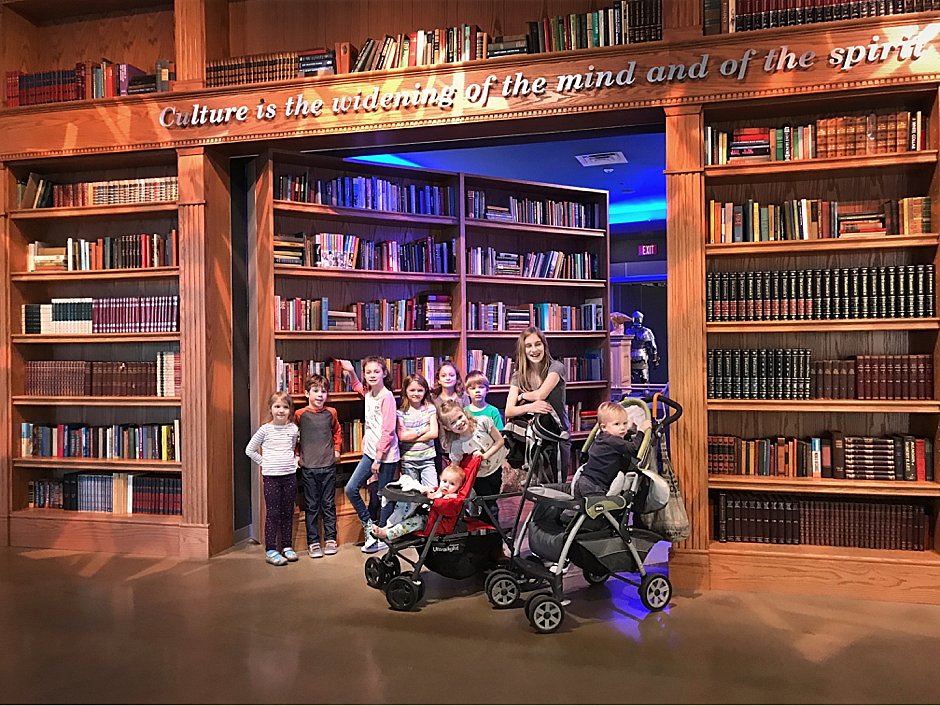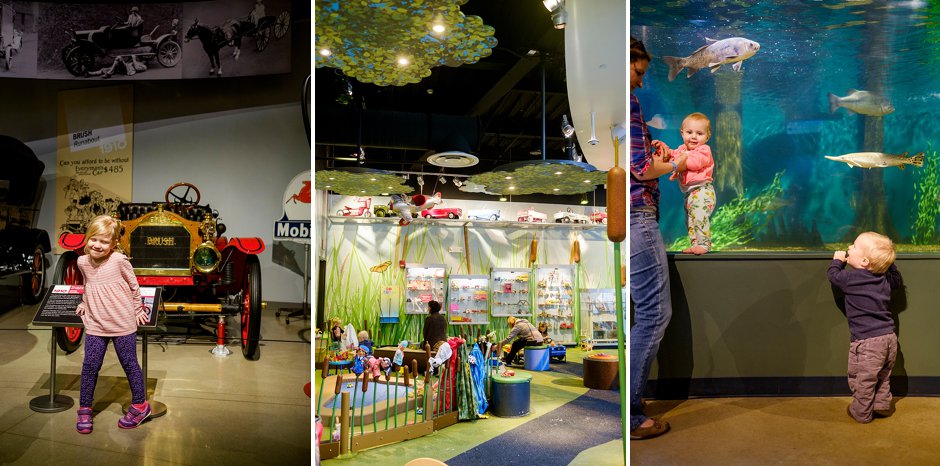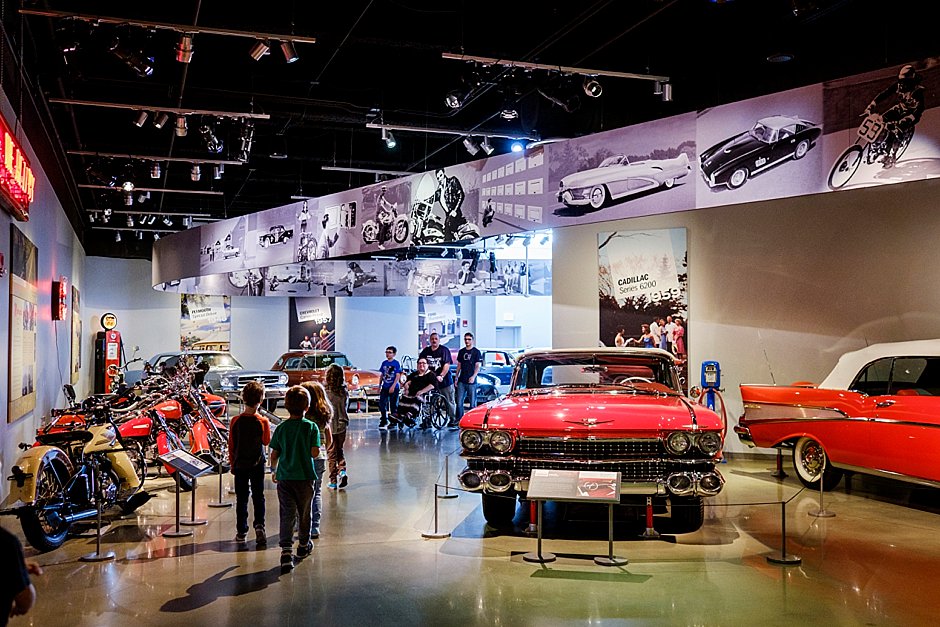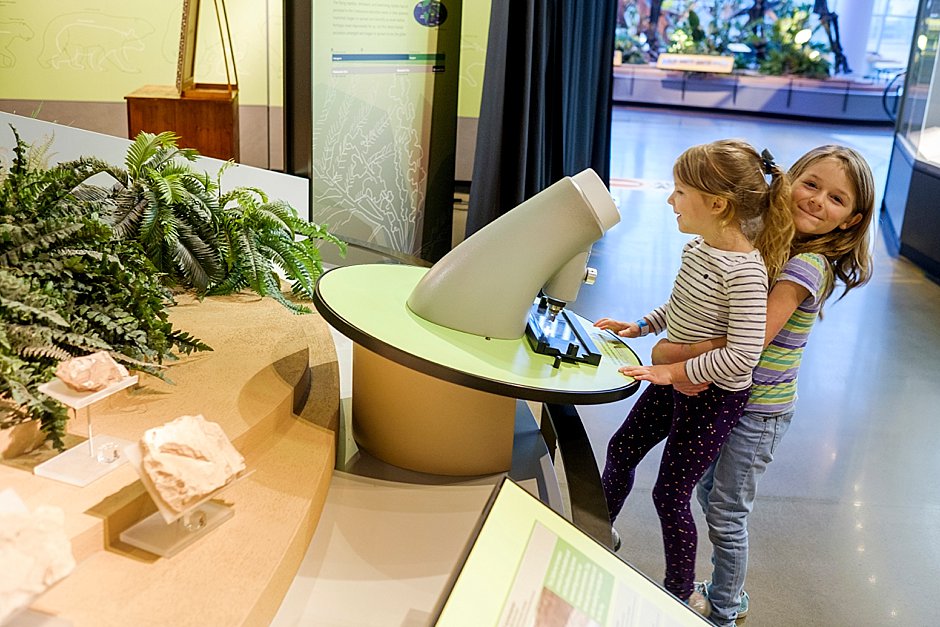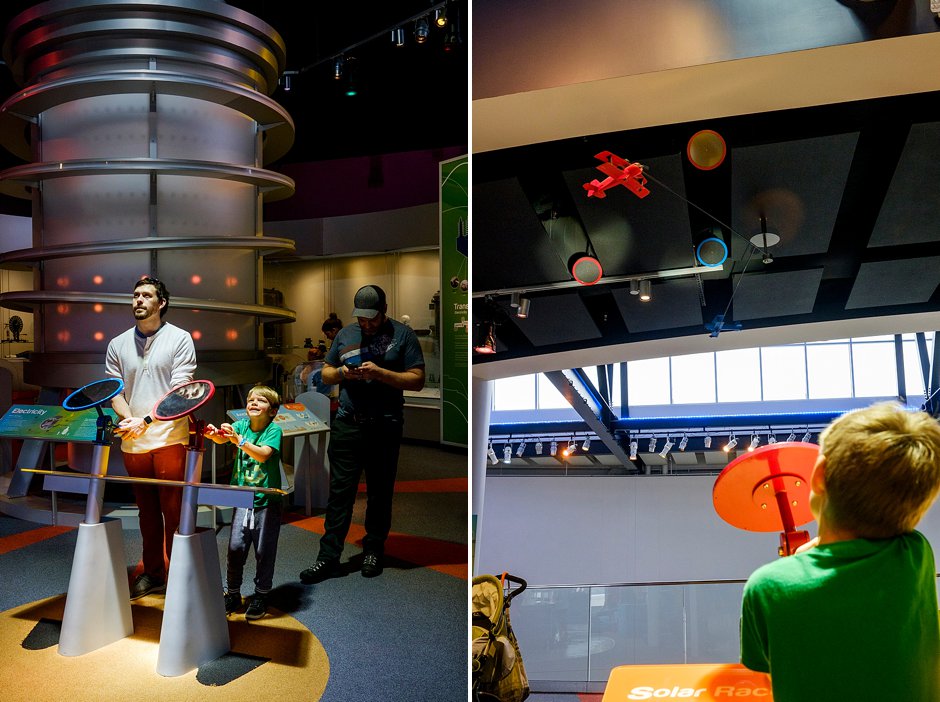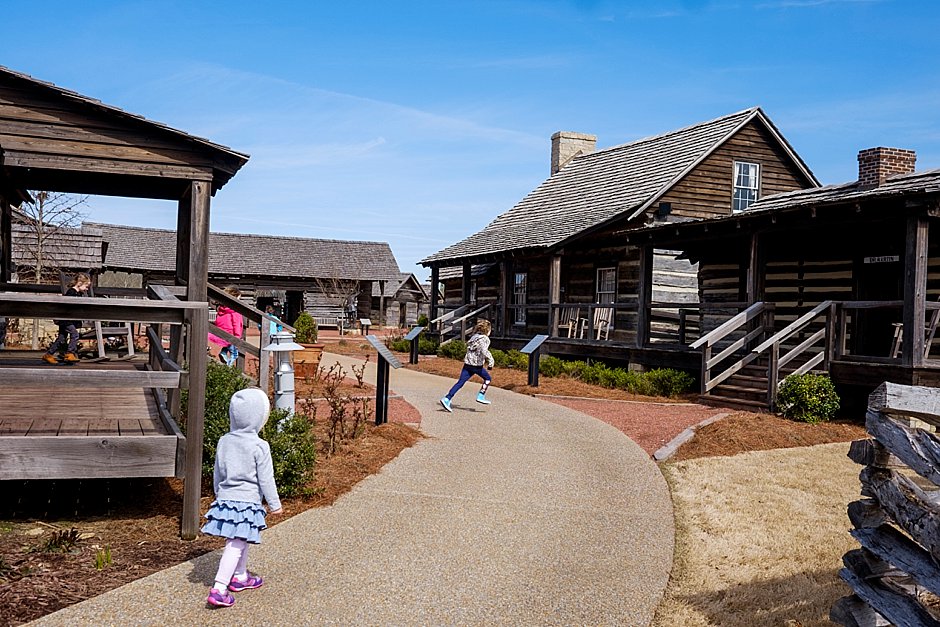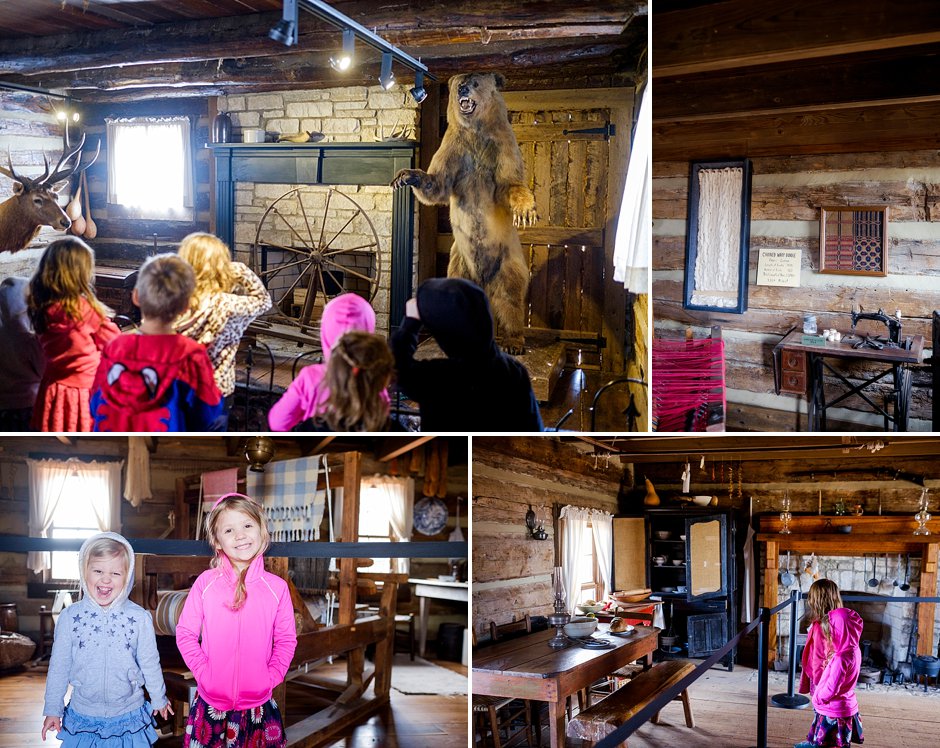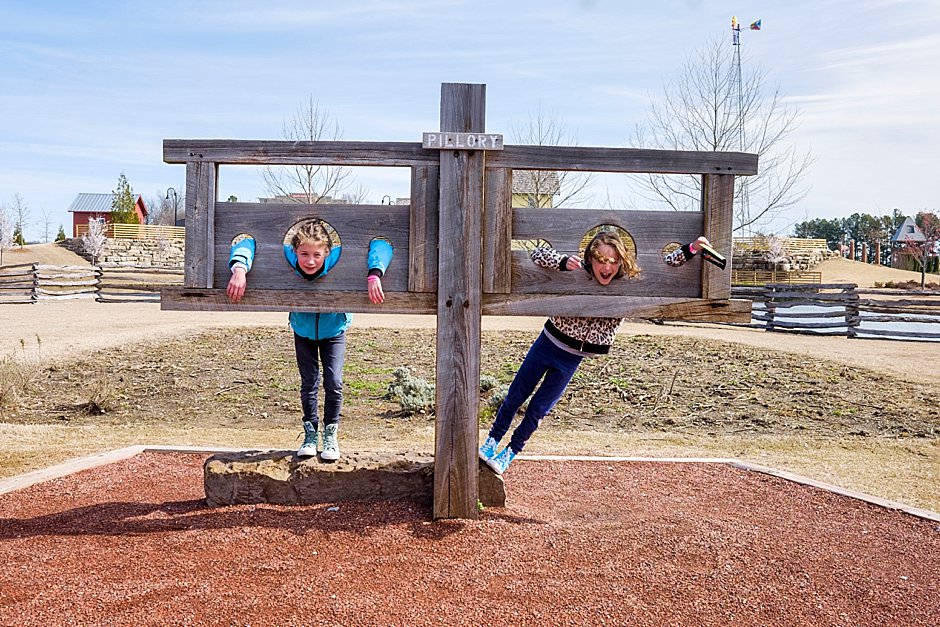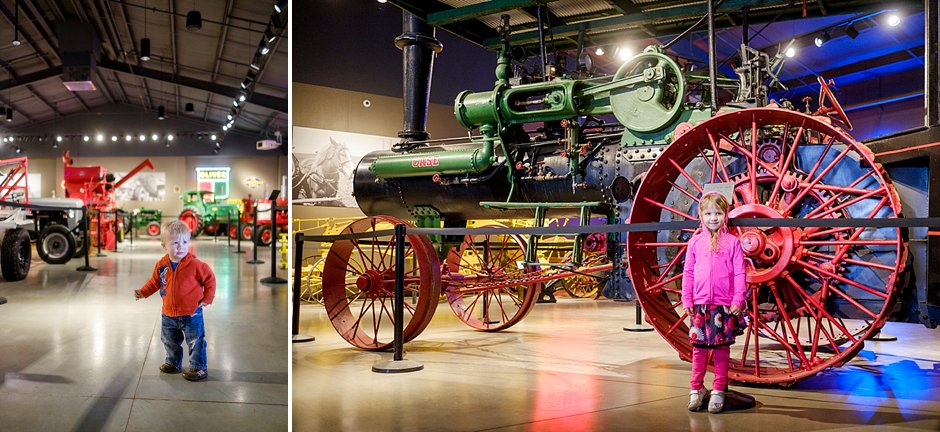 Sidenote: remember how those friends found this place by looking up Leonardo da Vinci? There is a traveling exhibit with models of many of his inventions there right now through April 30, 2017.
To get the kids ready, we found a few cool books about him and read them each night as we approached our trip. It was really neat to read about his ideas and then get to experience them in person.  Links (aff) to books below: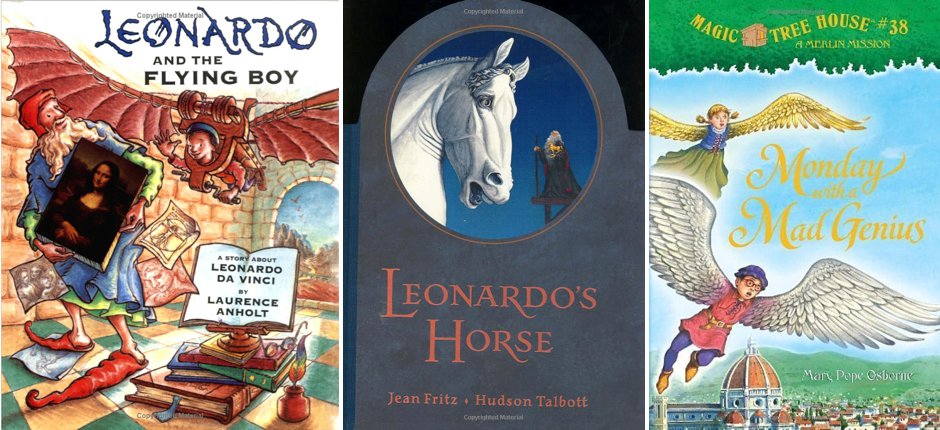 Magic Treehouse: Monday with a Mad Genius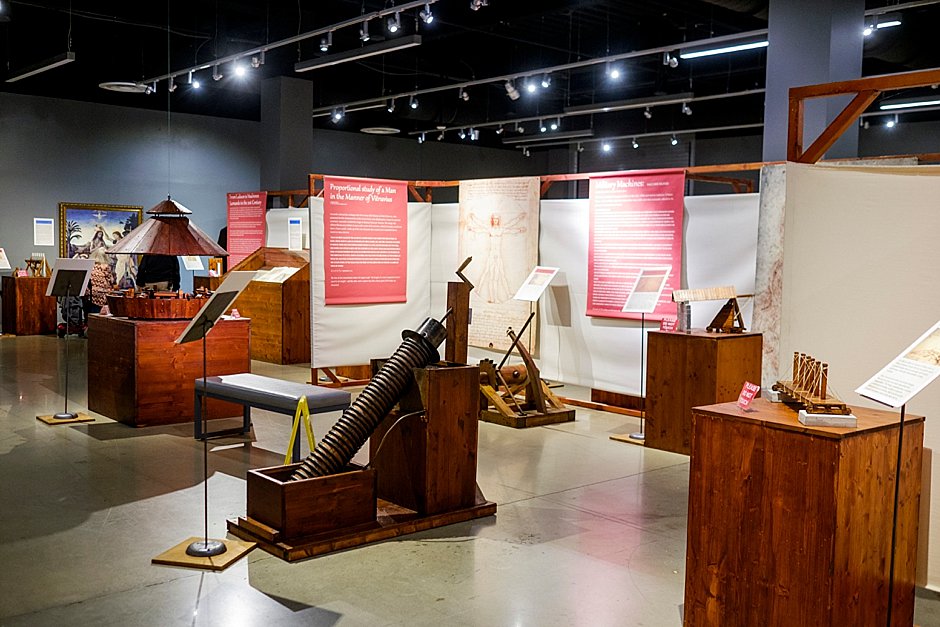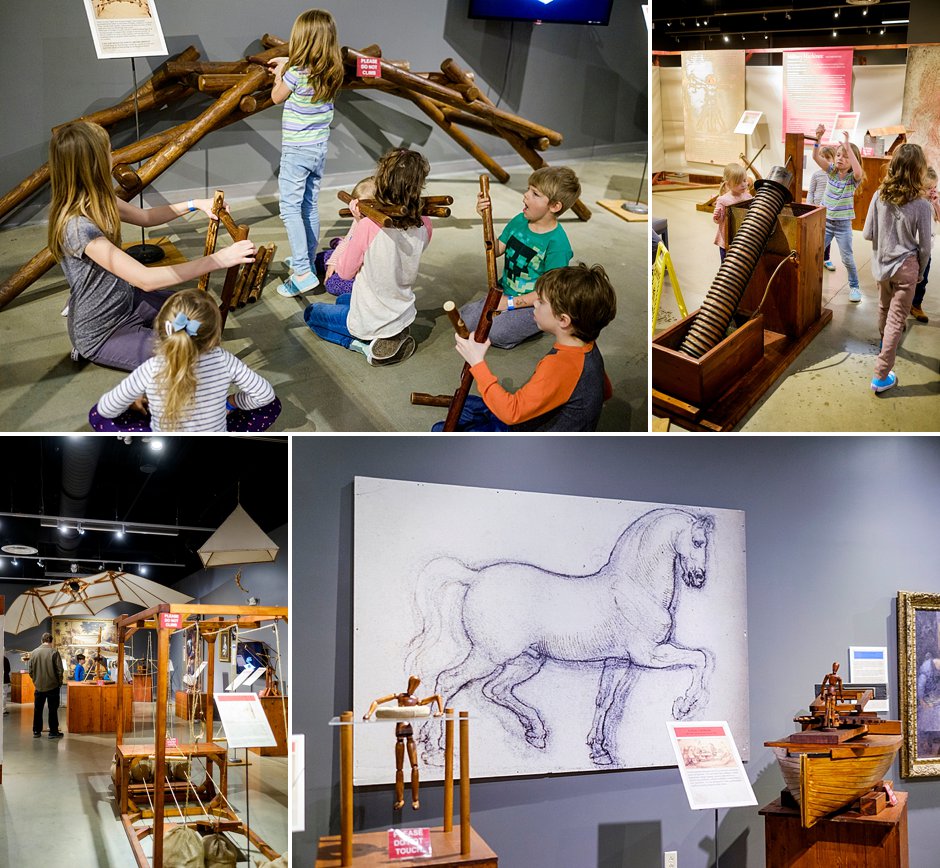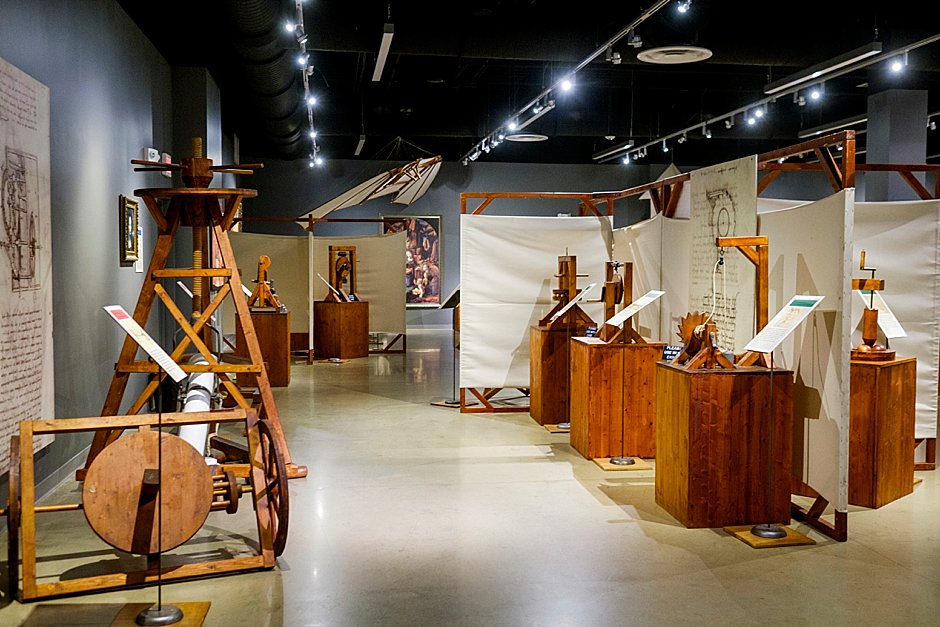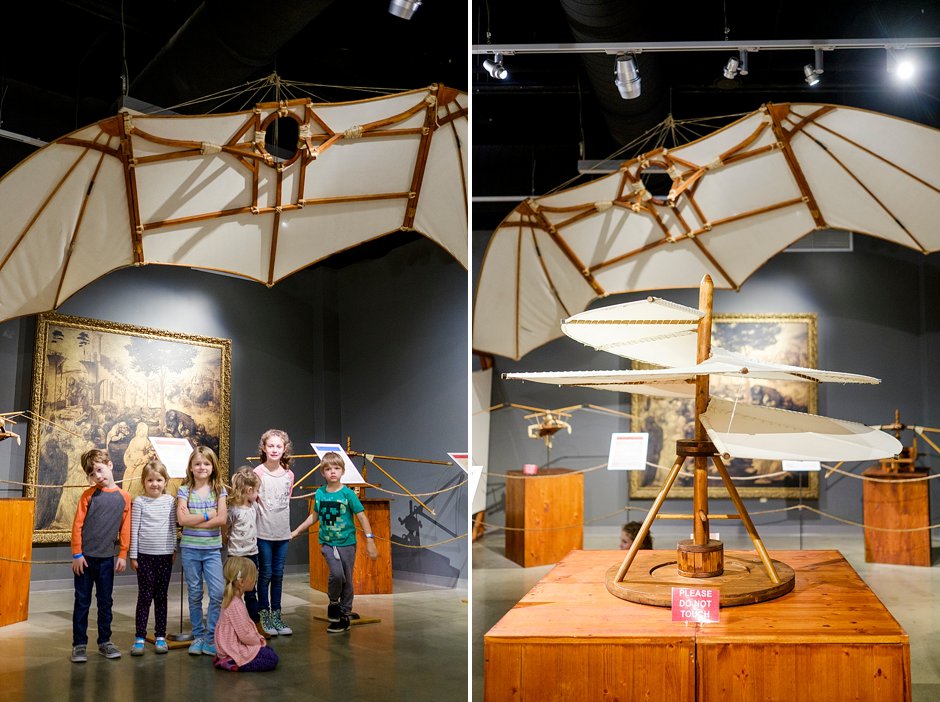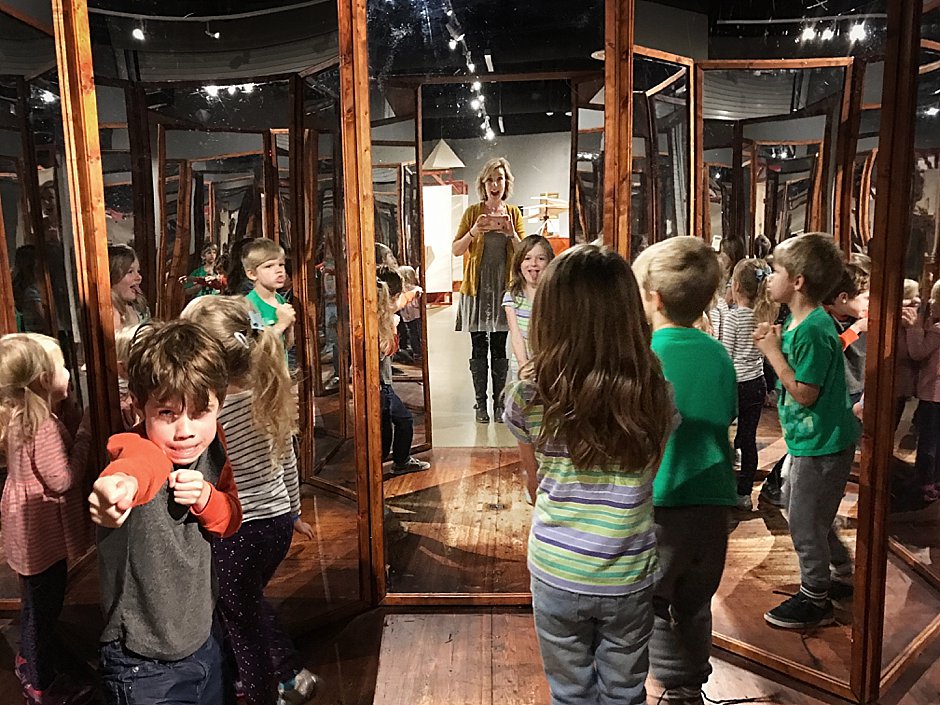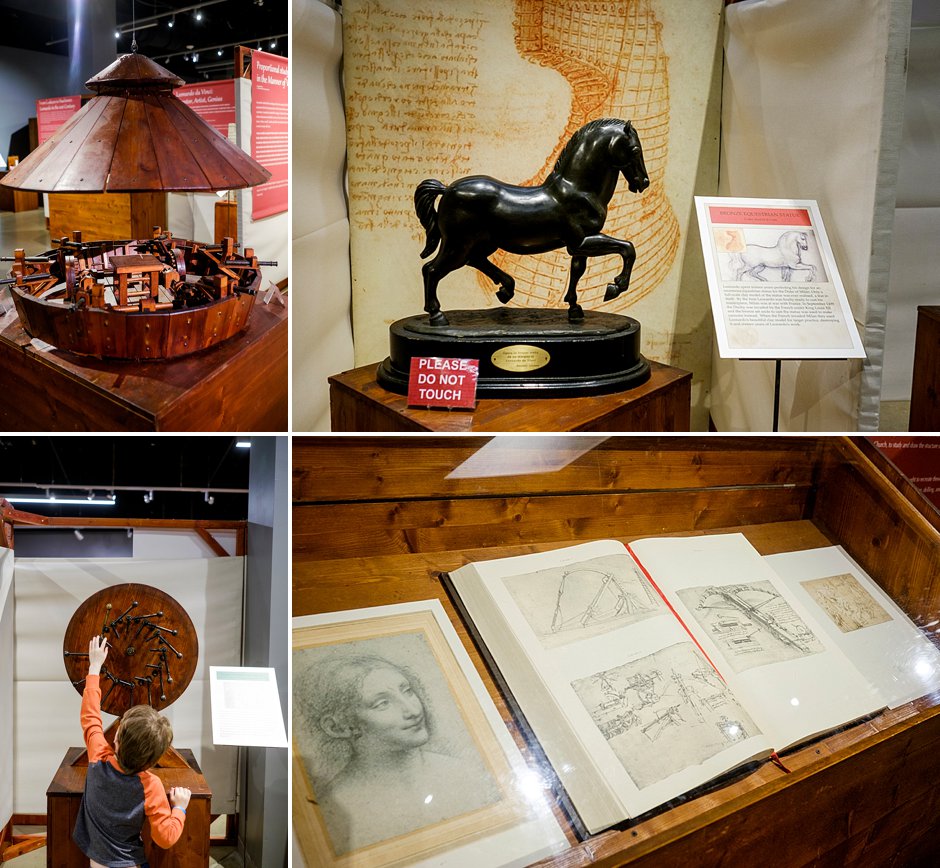 Our friends who went the year before had told us that they had also visited the Casey Jones Railway Museum on their trip, but thought it wasn't worth it because the Discovery Park's train area was so great. We opted to skip that site and I have no regrets. The train exhibit at DPoA has lots of train cars to wander through and explore, as well as a couple engines and a train depot. I can't imagine we would have gotten more anywhere else in the area.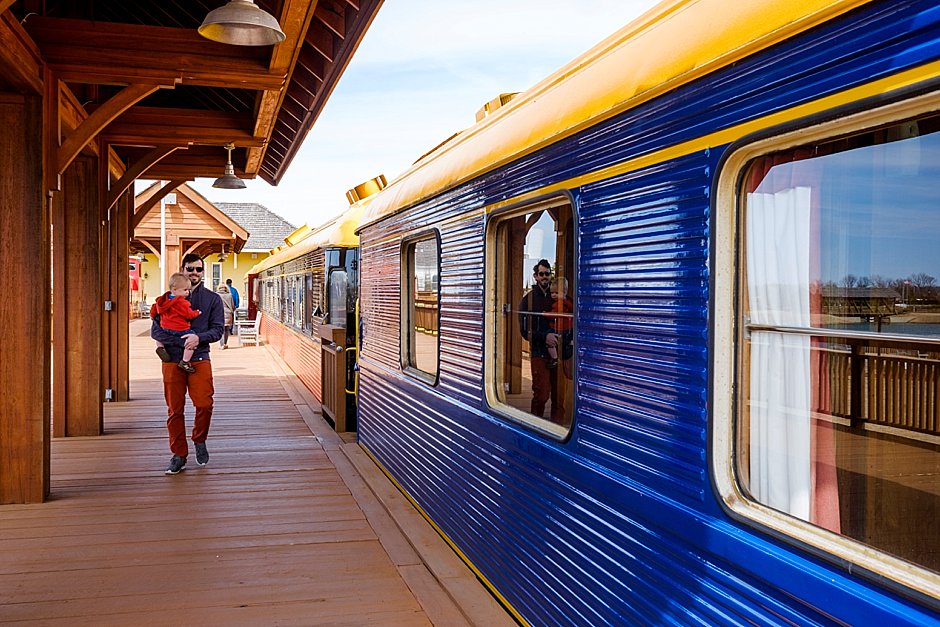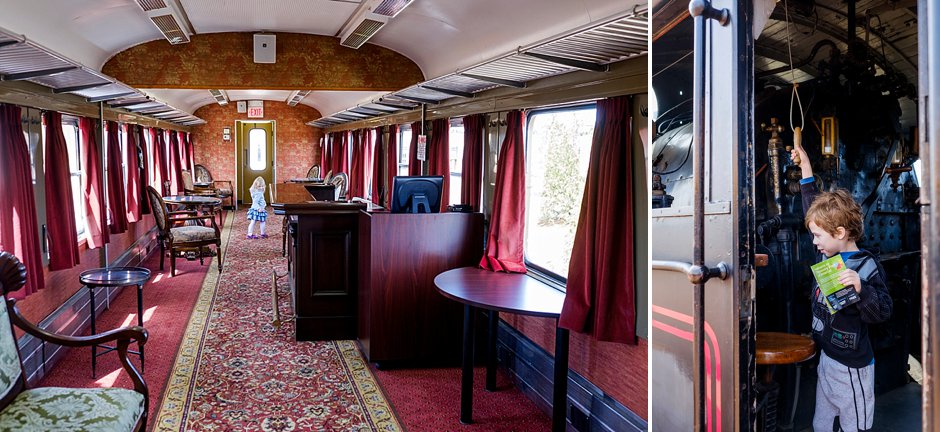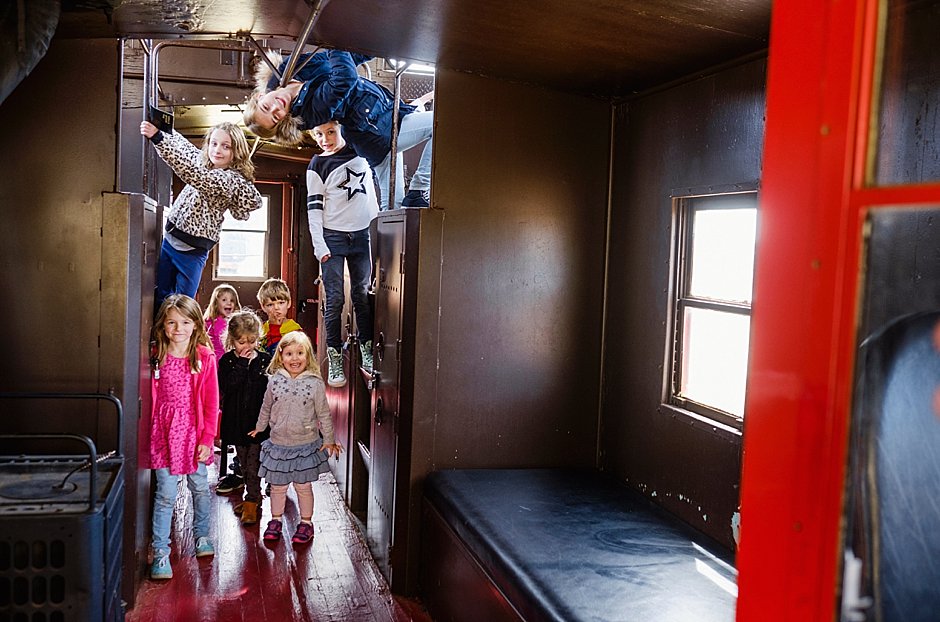 On our way home, we stopped at the Tennessee Safari Park. It's a drive-thru and walk-thru zoo in Alamo, TN. I honestly wasn't sure what to expect with this place. I mean, it was either going to be really cool or really sad and it can go either way with things like this. I was pleasantly surprised.
Most of the animals (and a really decent variety at that) roam freely in a huge open field with a 4-5 mile loop of gravel road that winds through it for cars to drive on. You can purchase feed buckets at the admission office and stick them out your window for very eager participants to graze from.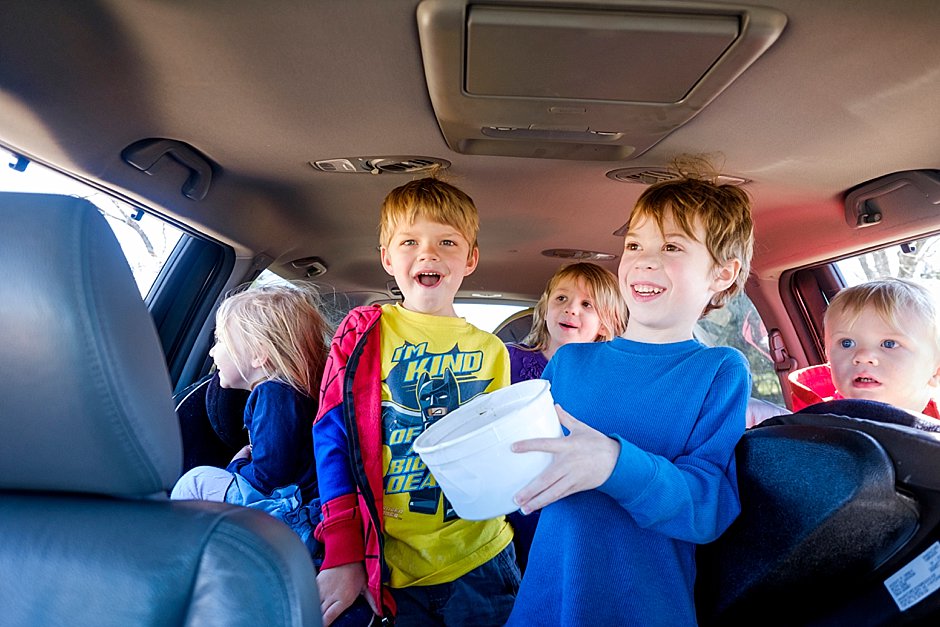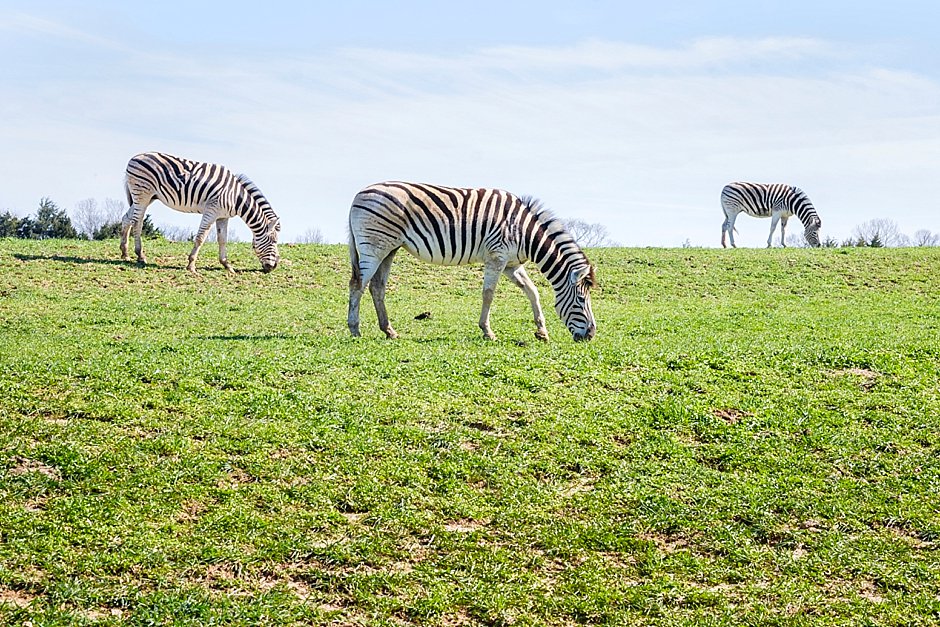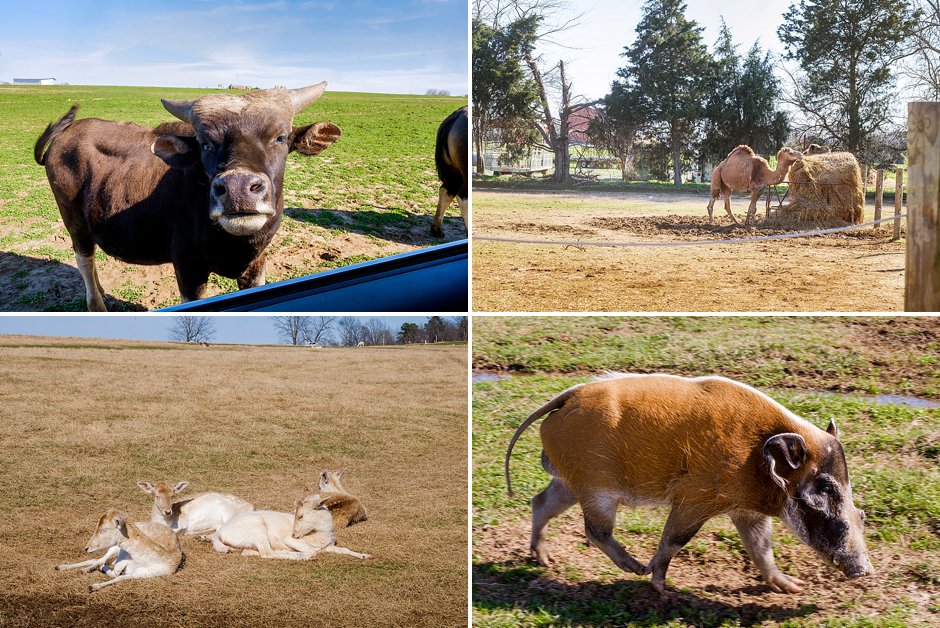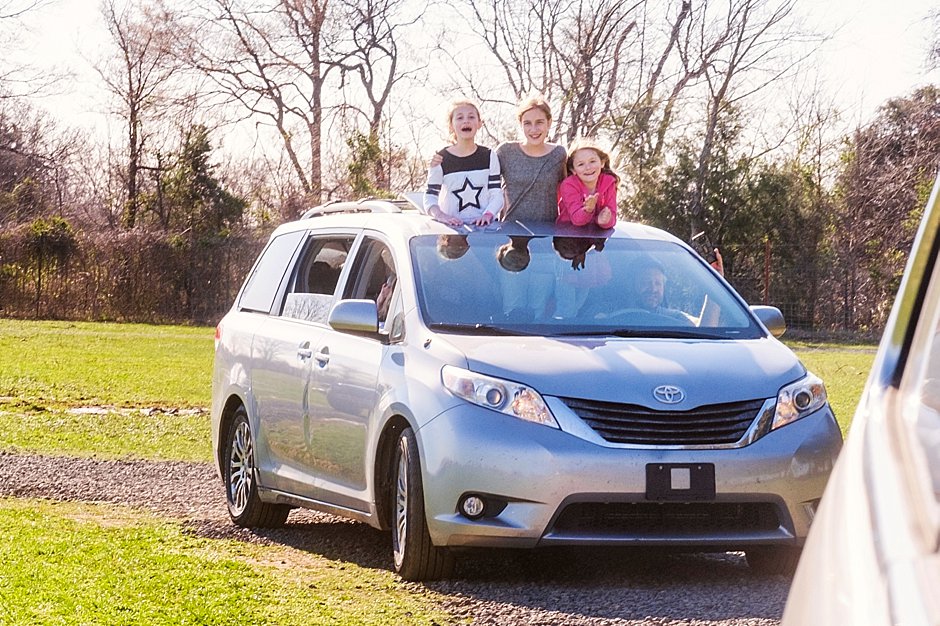 It was both thrilling and terrifying. Emus and Ostriches are pretty scary up close, y'all! We also ended up with a fair amount of animal feed inside the car since you can barely get the bucket out the window before the animals dig in, but it was worth it.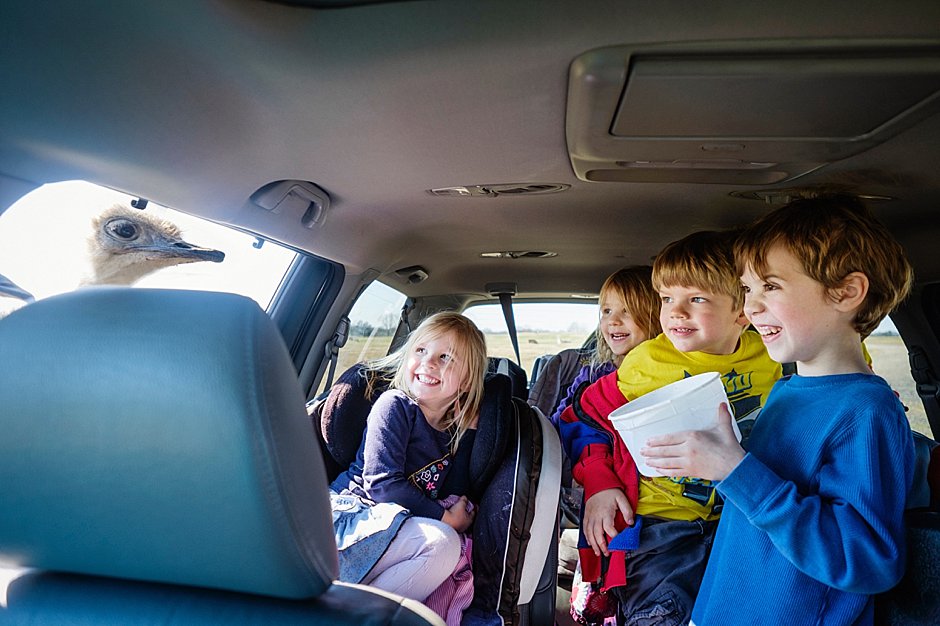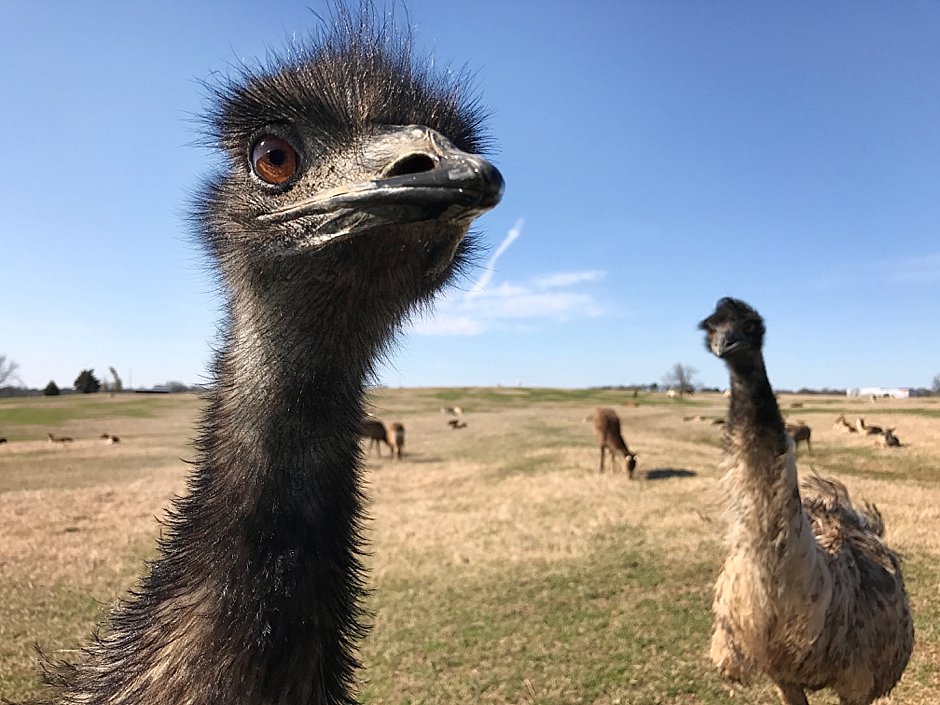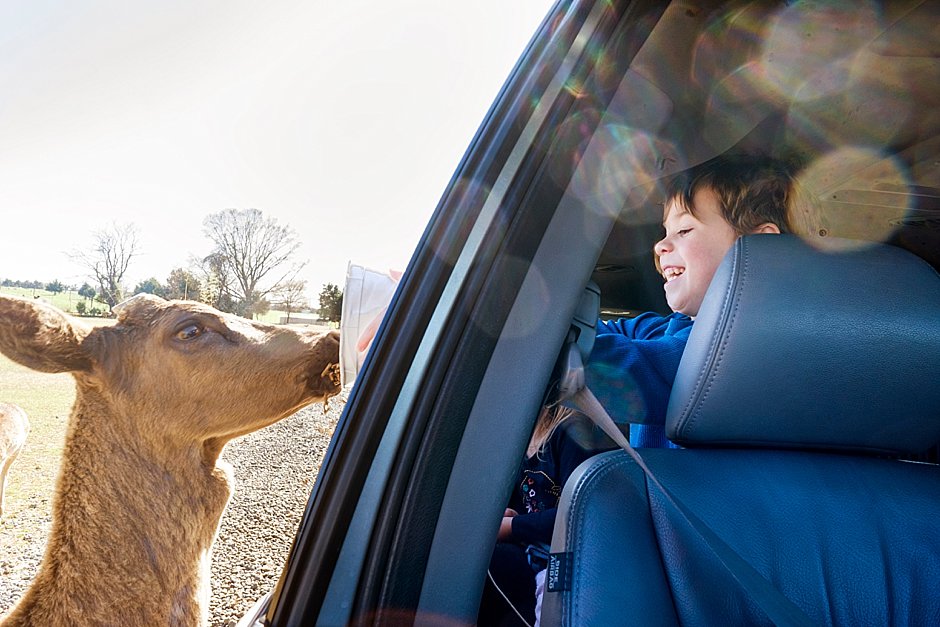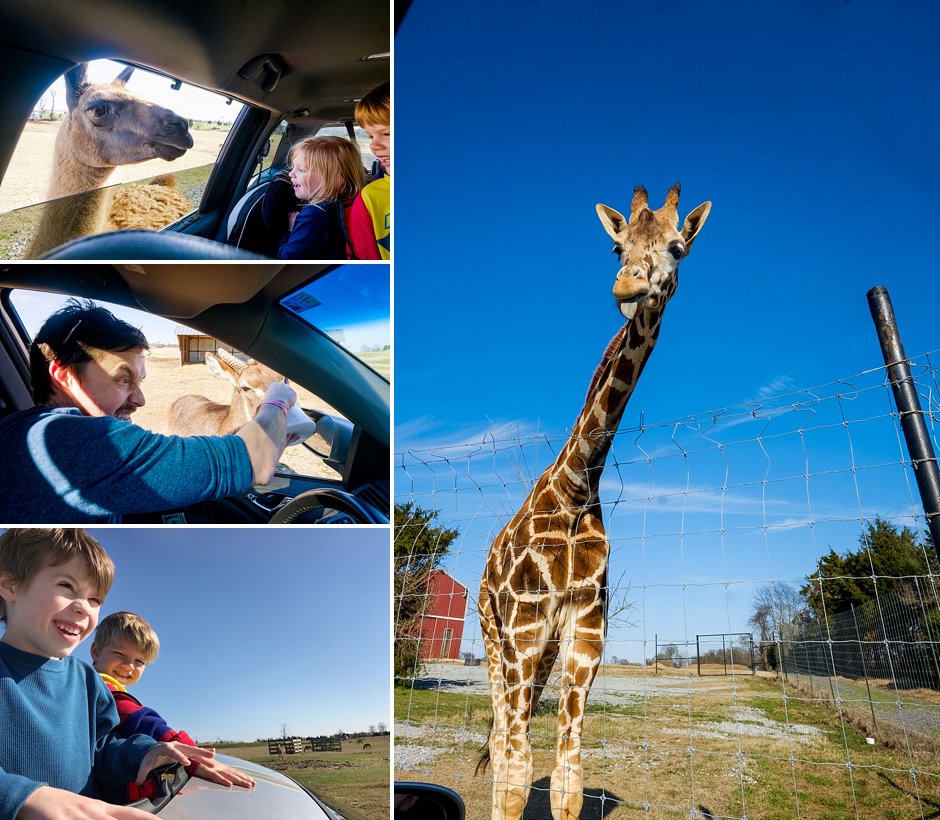 And now I'll share a video with you where I try to get my children to feed the terrifying birds that were coming in my window, a.k.a. I try to sacrifice my children to the terrifying birds in order to save myself. Spoiler: It did not work.
The info on the website says that the last car is admitted at 4pm so we got there around 3:30. If you go, I recommend giving yourself at least 2 hours. We kind of rushed through the walking part and didn't see everything. Still, it was an awesome experience and the kids had a blast!
Tip: the park is cash only, so be prepared.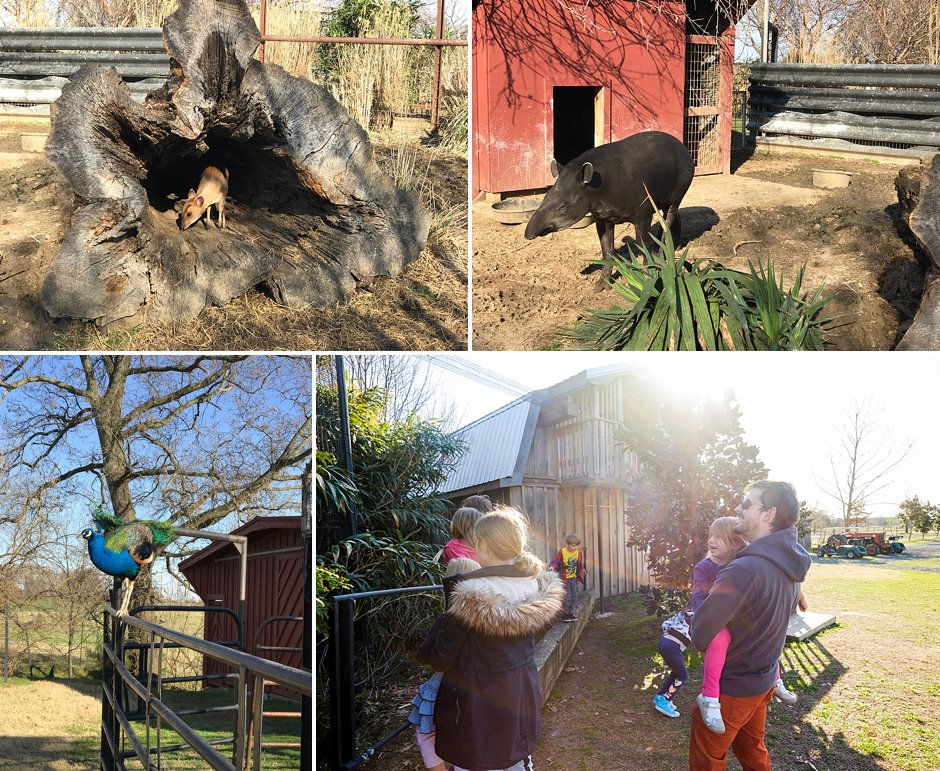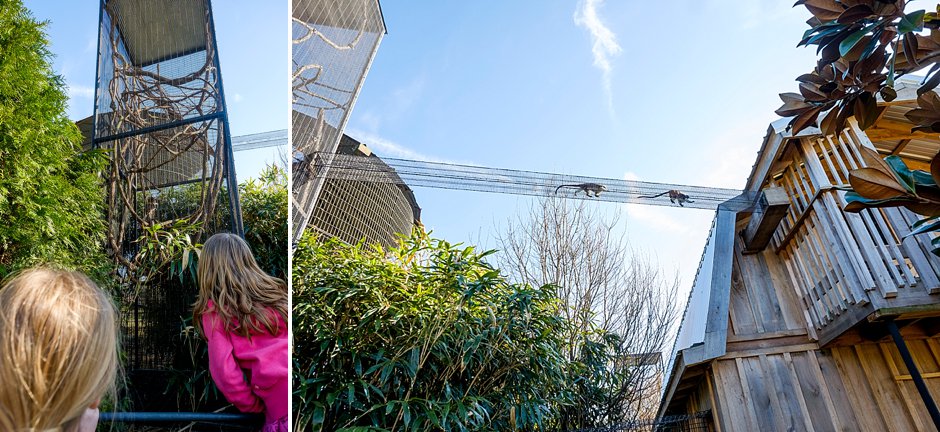 That concludes our trip! If you're in the area, or even if you're not, I think you and your family would have so much fun duplicating our little excursion.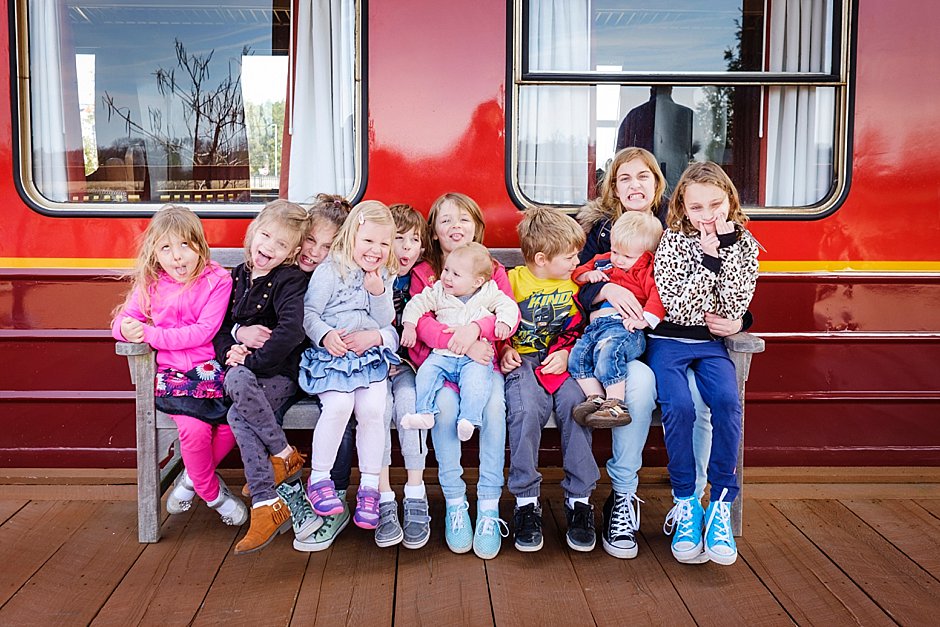 Hope you're enjoying these first days of Spring!