Our Great RV Trip to the West, Part 2
Jumping right back in from our previous post, we made our way down through Wyoming and into Colorado. Our first stop was the cute little mountain town of Estes Park.
Estes Park, Colorado
This place did not disappoint. It's just altogether charming and wonderful. I do not recommend trying to drive an RV through the middle of it, but it has lots of great walking paths with beautiful gardens, playgrounds and interactive musical installations along the way. The paths and shops wind around next to a big beautiful river and the mountains create the most picturesque backdrop.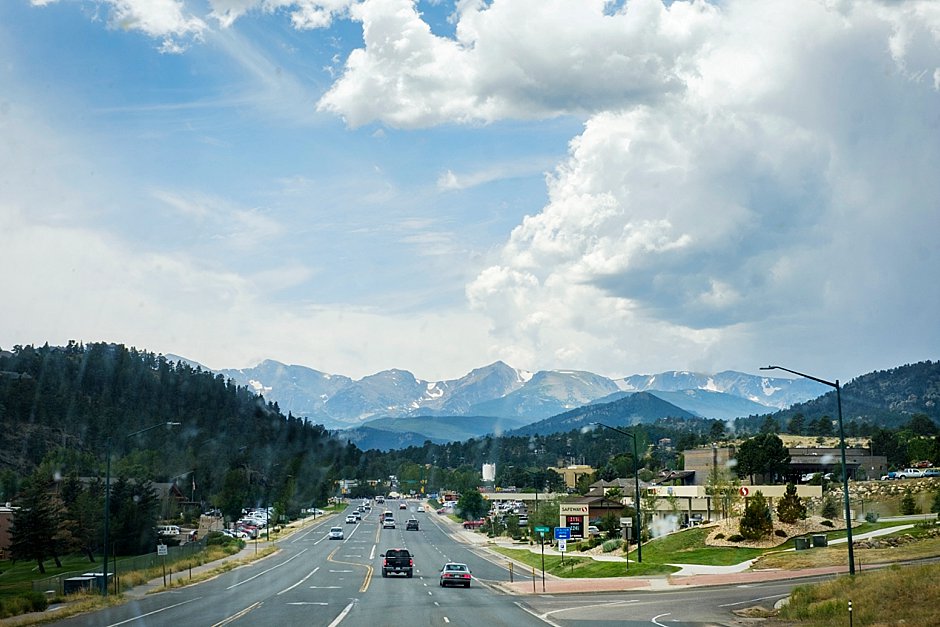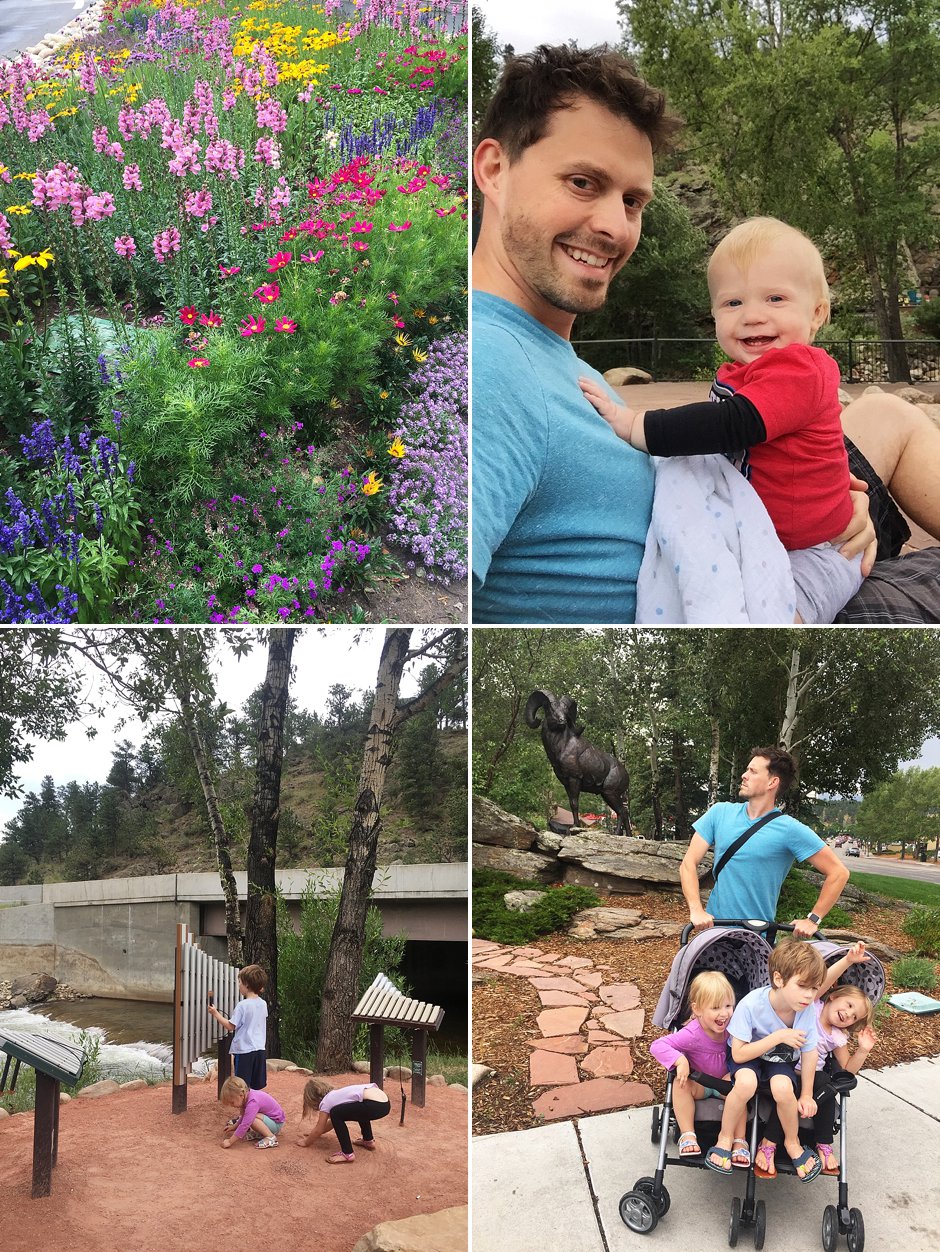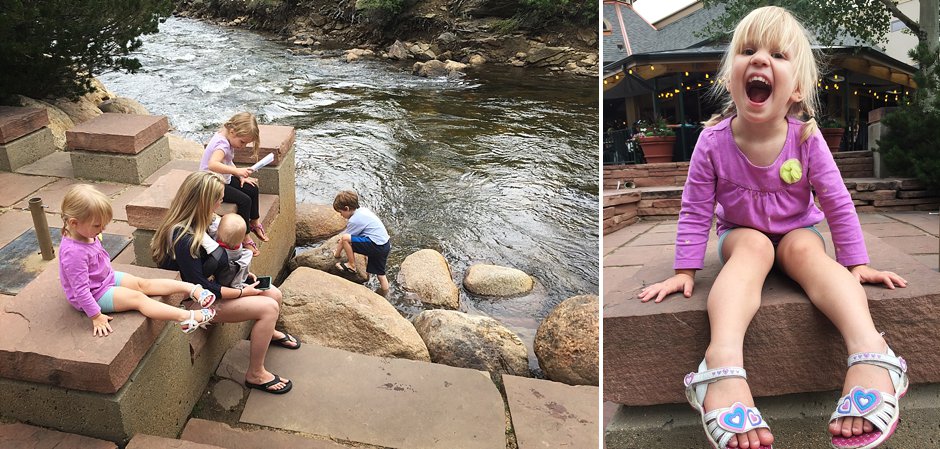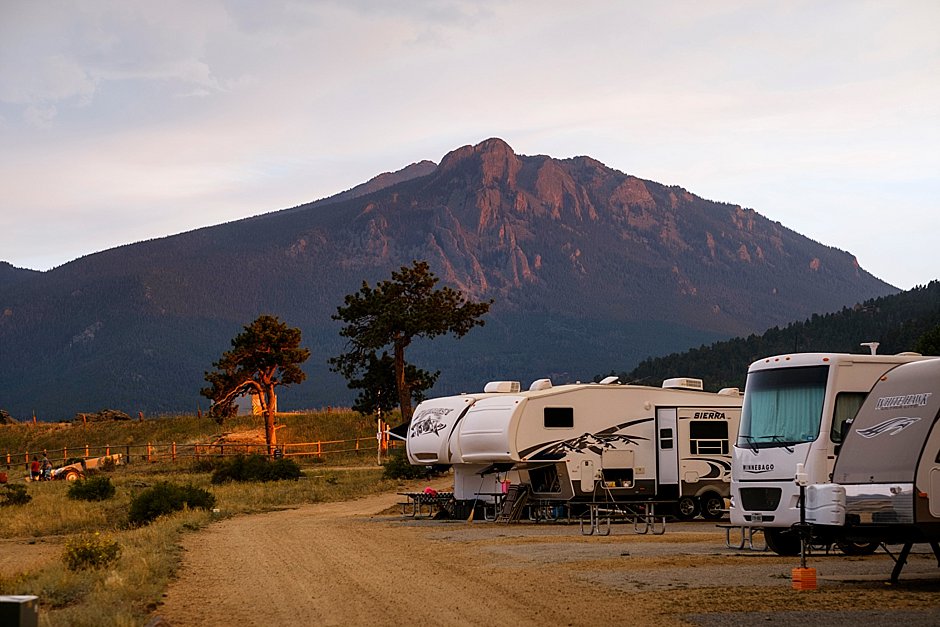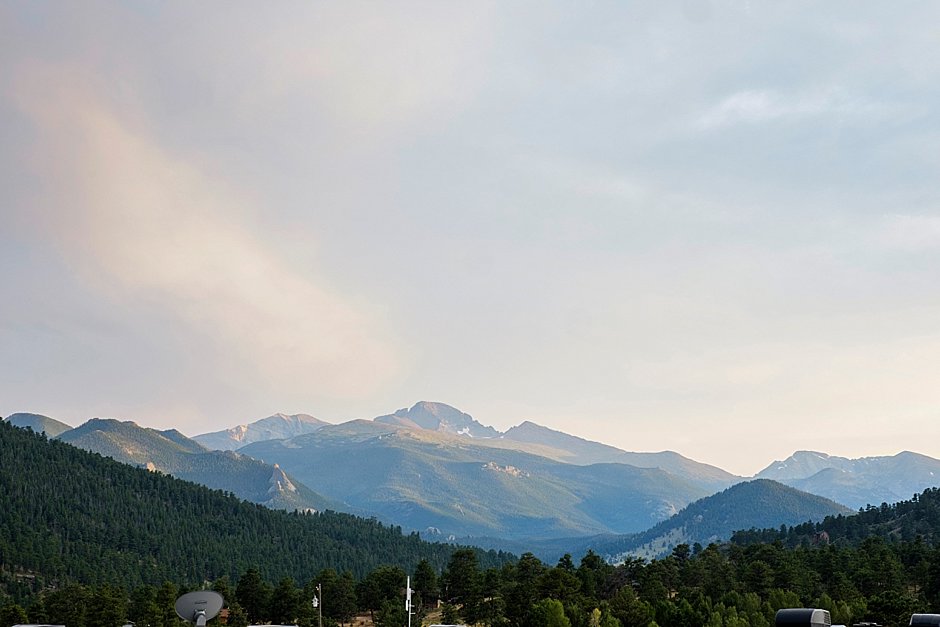 Rocky Mountain National Park: Bear Lake
From the Estes Park Visitors Center, we were able to catch a free shuttle up into the mountains to do some hiking. We opted for Bear Lake because it's rated as being one of the easiest and shortest trails.
It was the perfect length for our little people. They were actually still really happy at the end of the trail and seemed like they could keep going, but if you're a parent then you know how that goes. One minute everything is awesome and then the very next someone's energy immediately runs out it is Armageddon. When Armageddon is one possible possibility, you don't mess around. We opted to head back into the city and catch Secret Life of Pets at the local theater instead.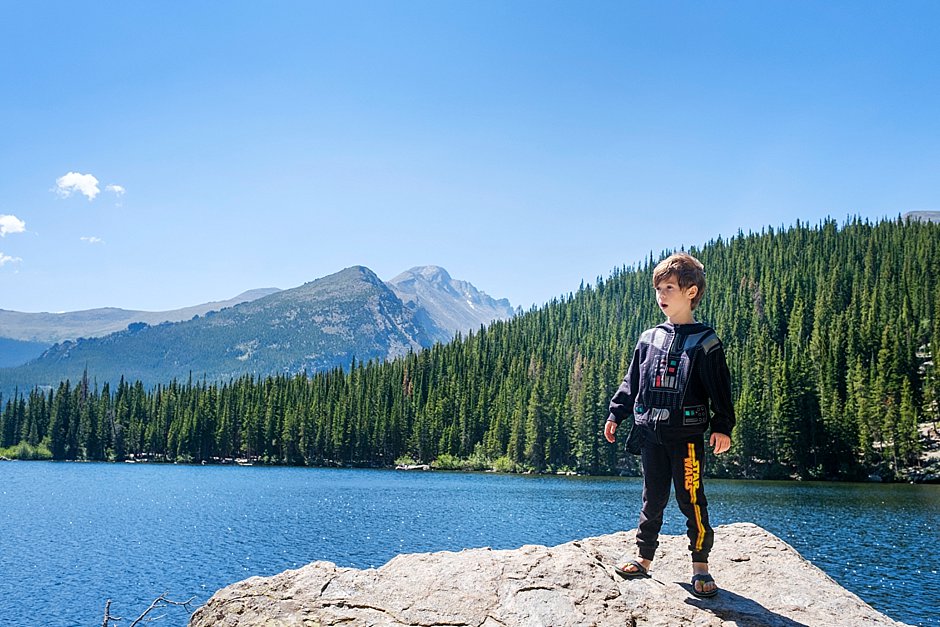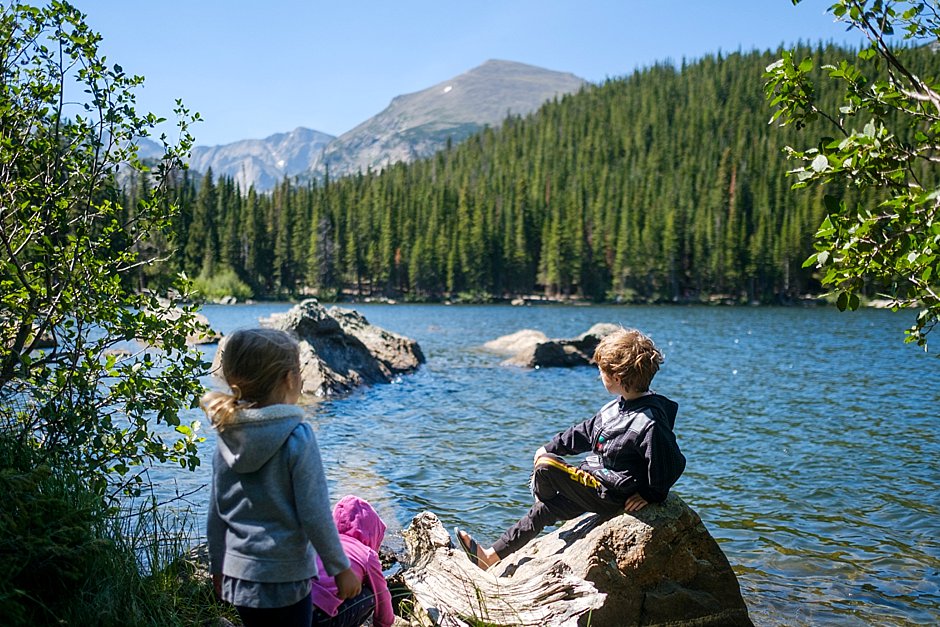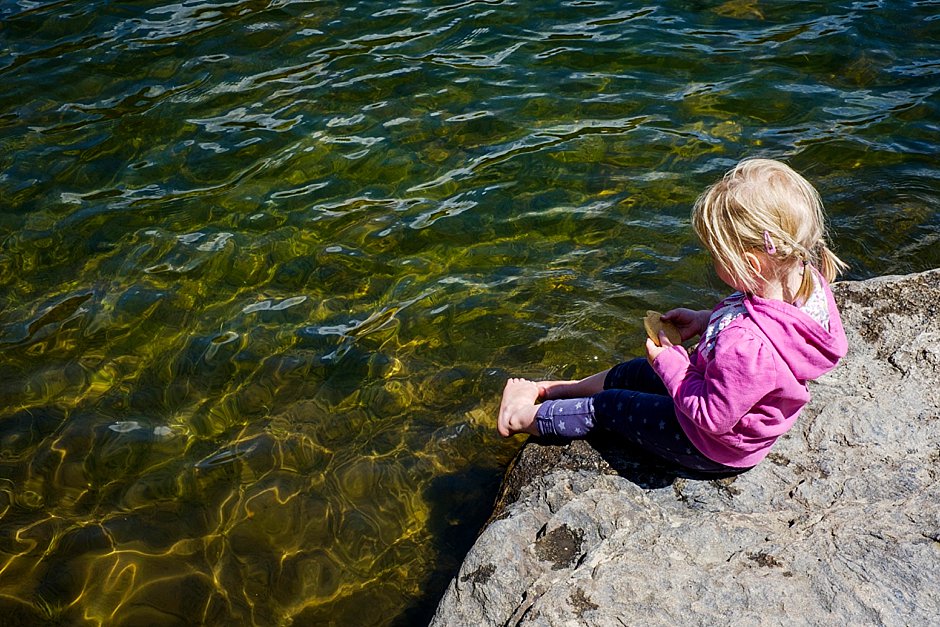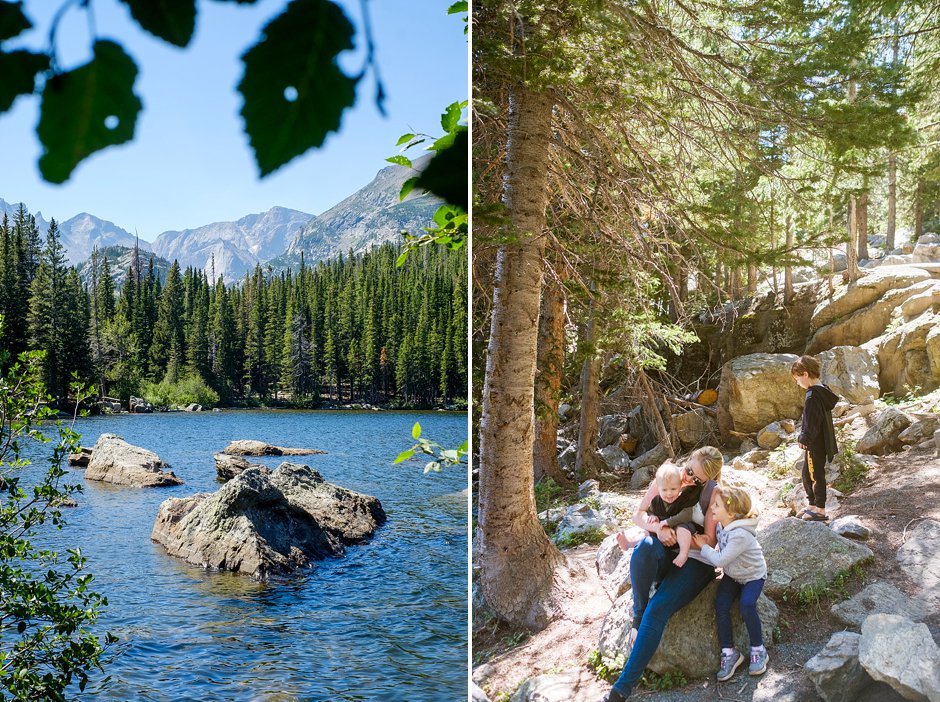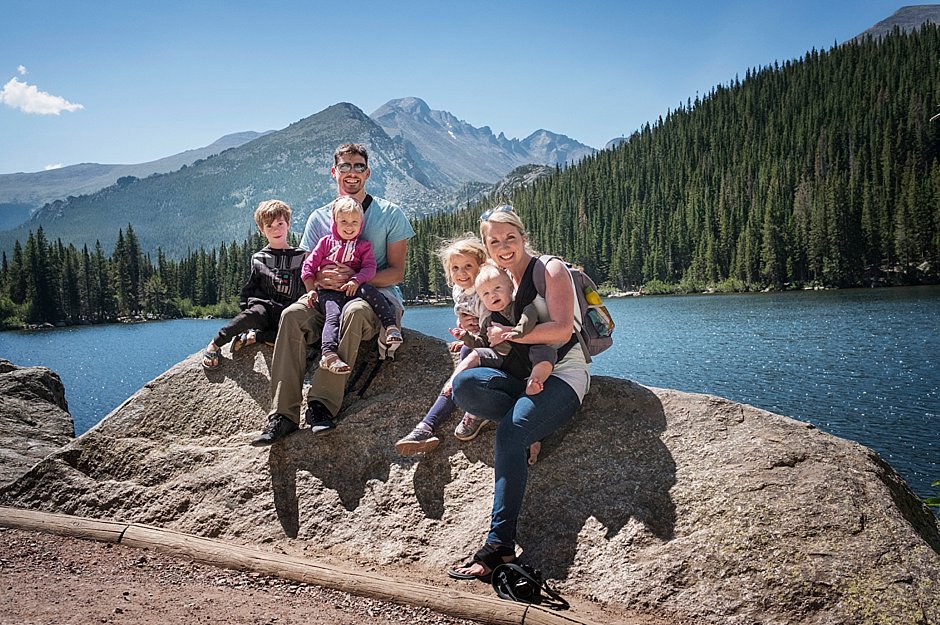 Rocky Mountain National Park: Trail Ridge Road
We weren't sure about driving the RV up Trail Ridge Road. We were seeing mixed reviews about the difficulty on the internet and Sean is still fairly new to this whole oversized vehicle thing. In the end, we decided to go for it and I'm so glad we did! The drive really wasn't bad at all. Seven was a little concerned about the amount of distance between the road and the cliff in some places, but the rest of us didn't mind and the views were amazing.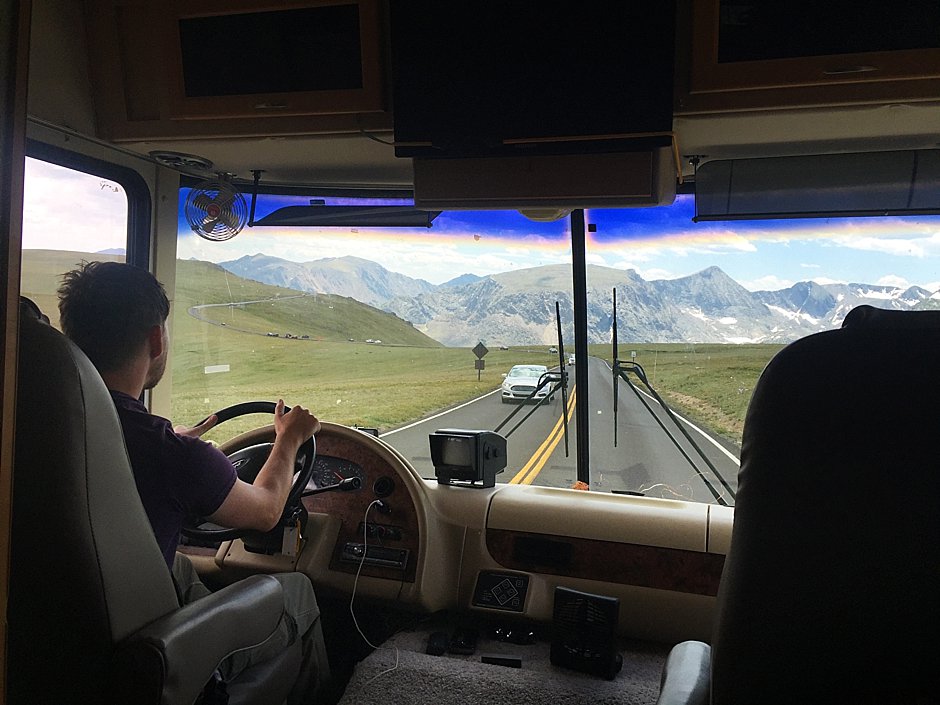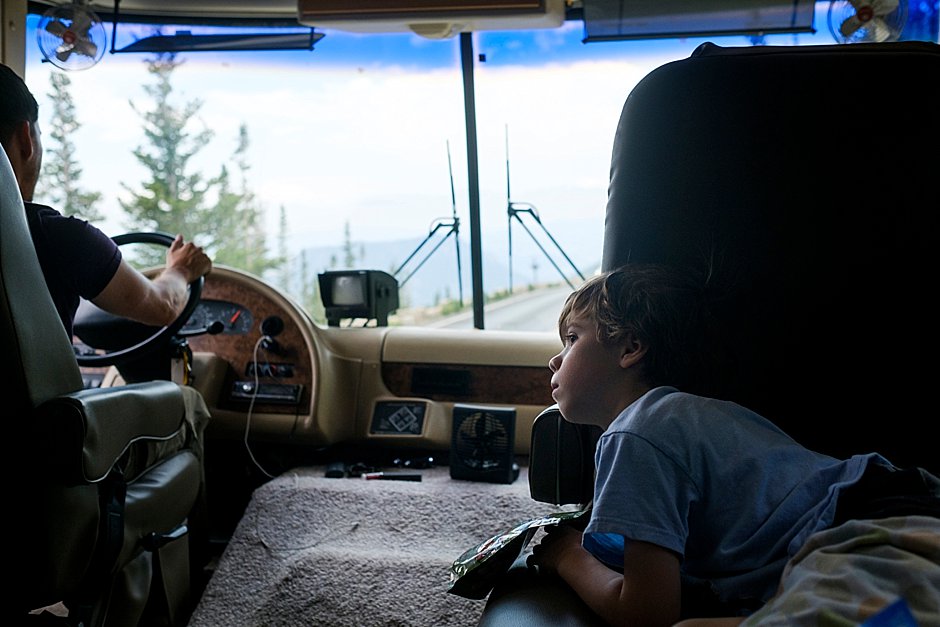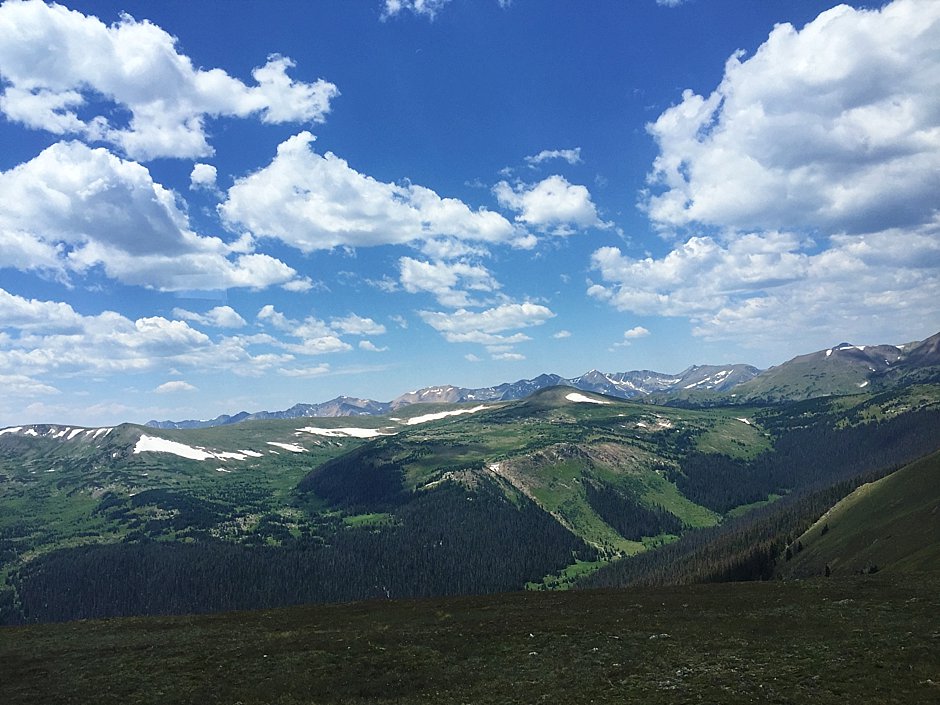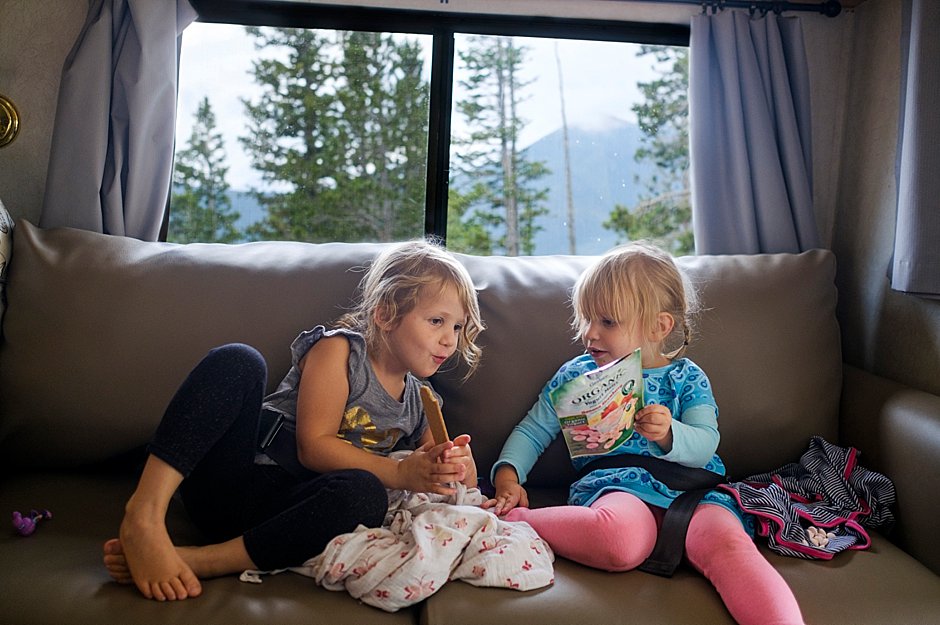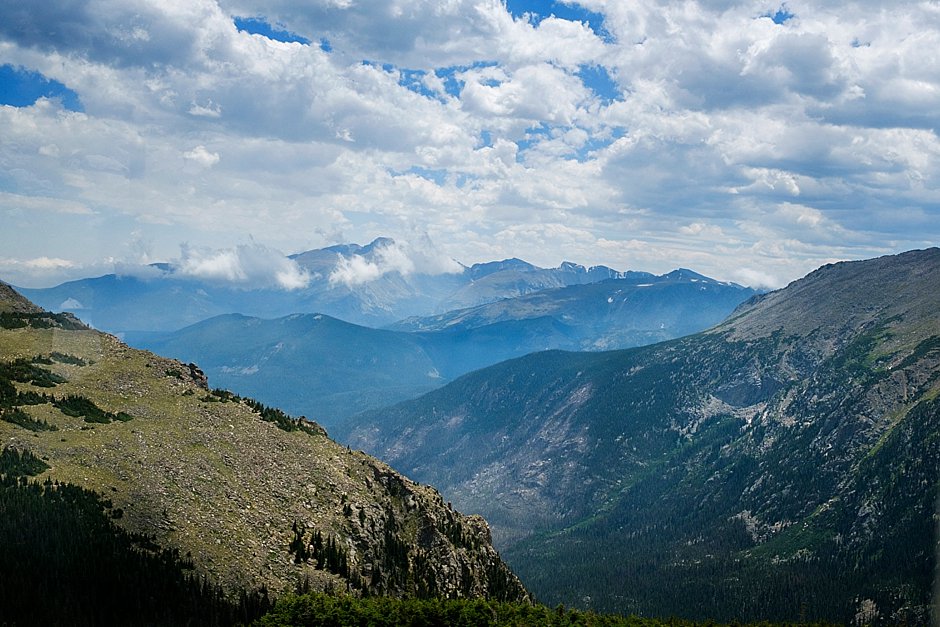 Besides, we had been telling the kids that we might find snow on this trip and we were on the hunt for it. We finally found some way up at the top of Trail Ridge in the high country. It was a small patch and pitifully muddy, but it was snow in summertime and we would take it! We made muddy little snowmen and had muddy snowball fights. It was pretty awesome.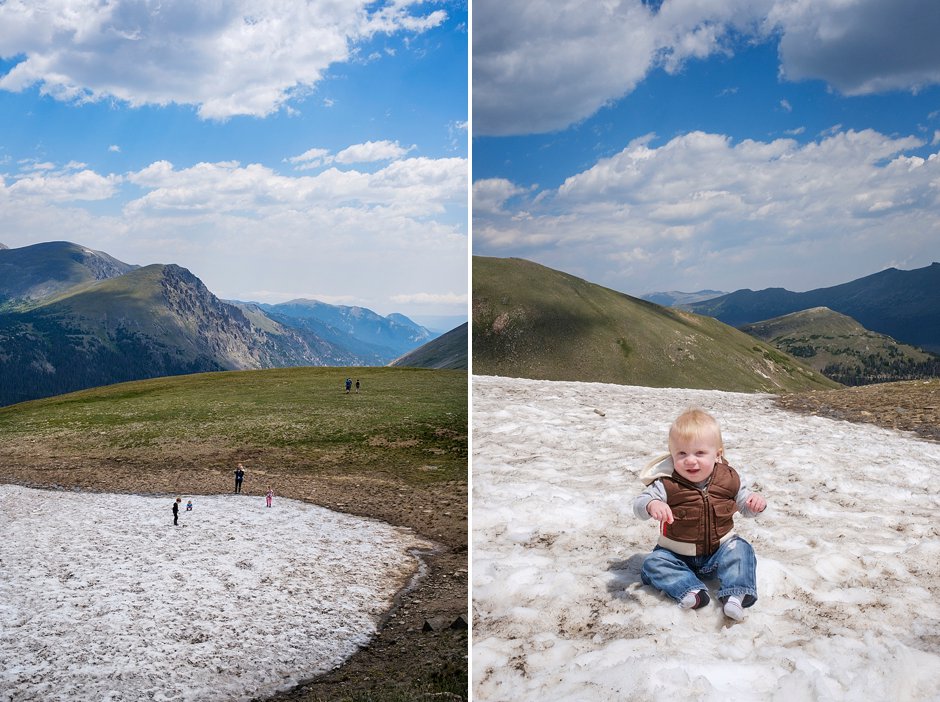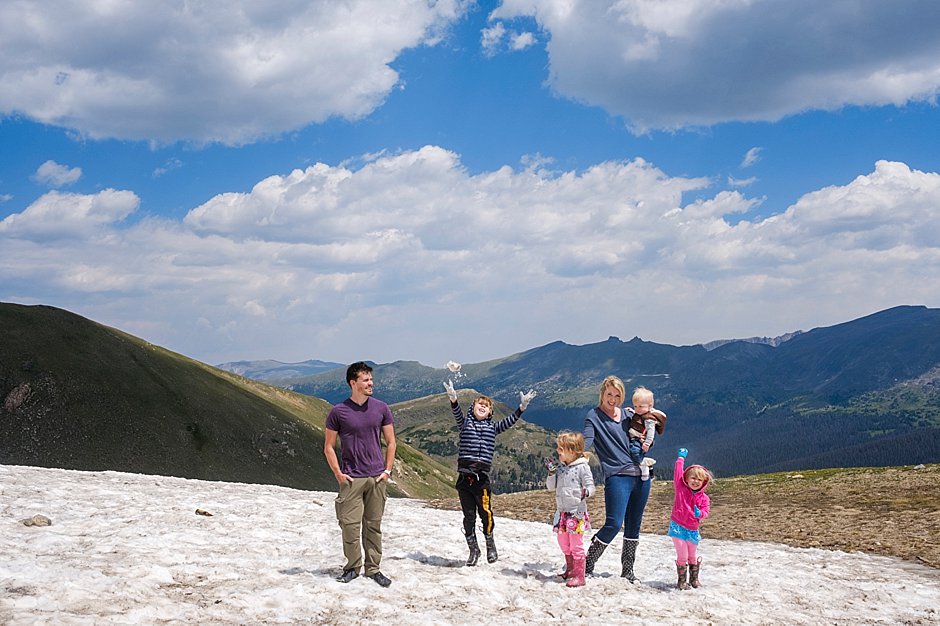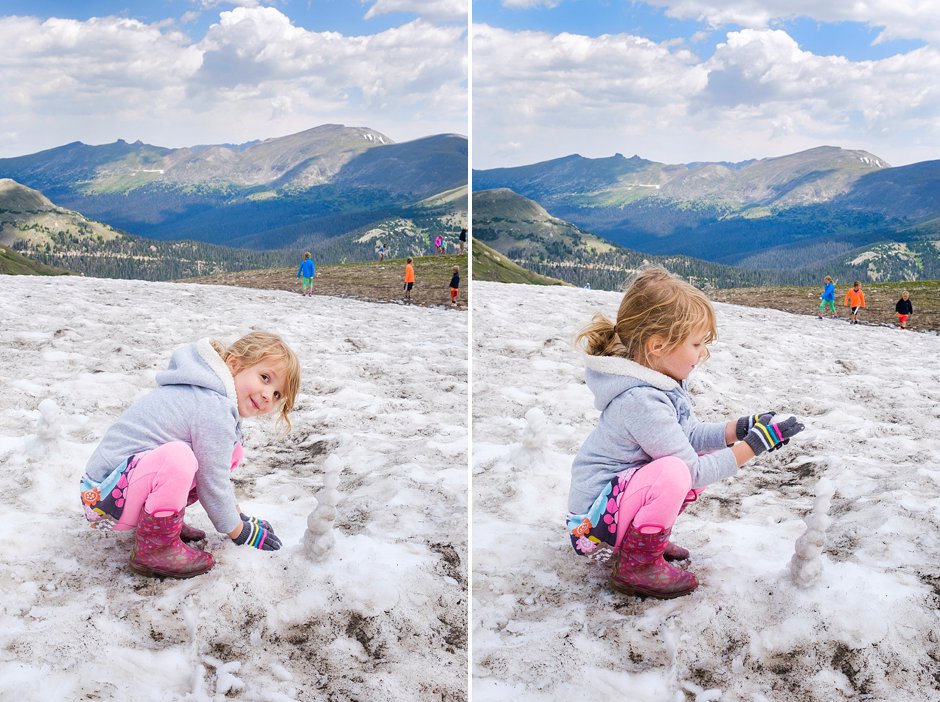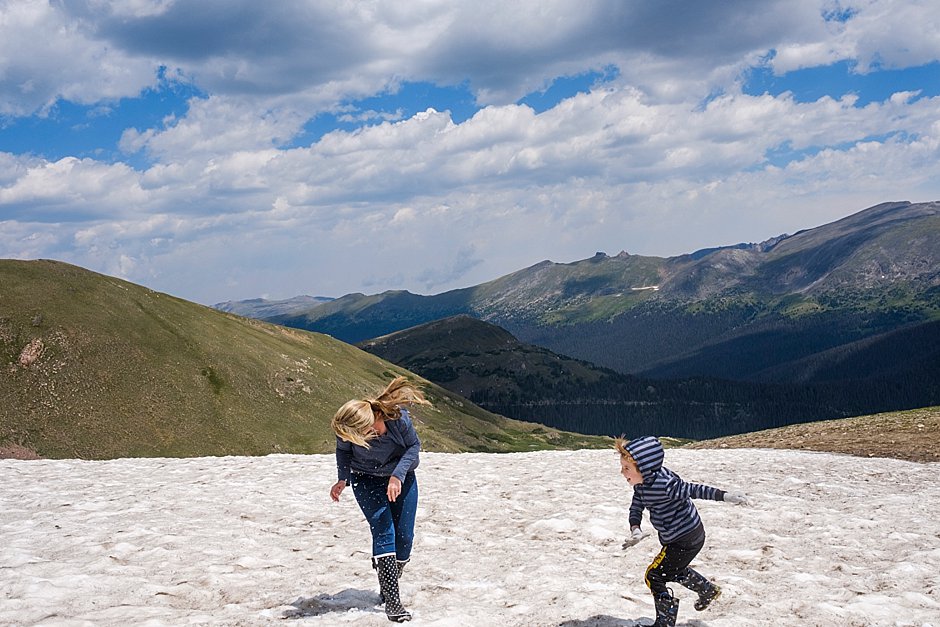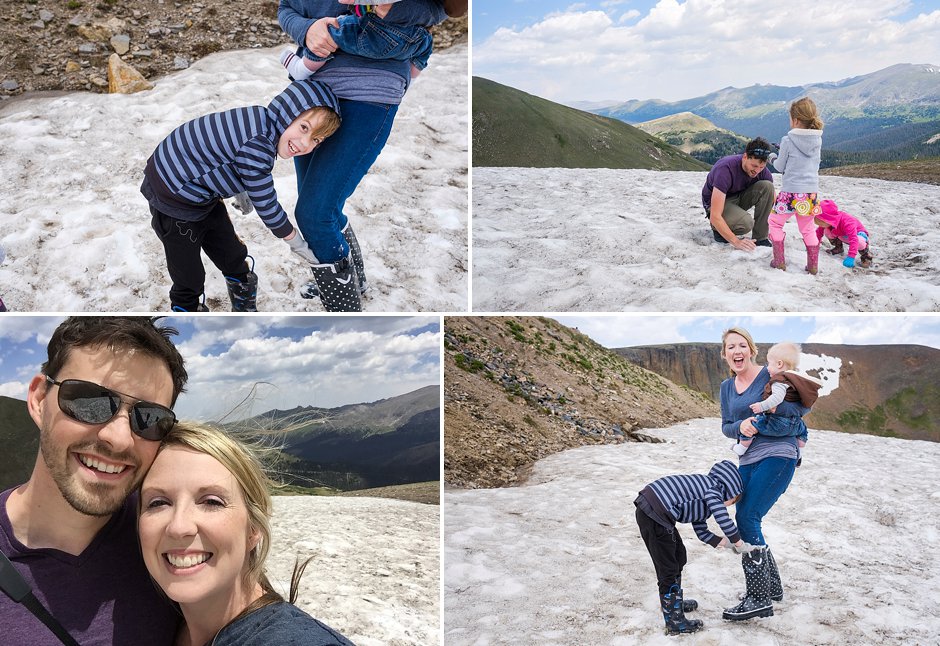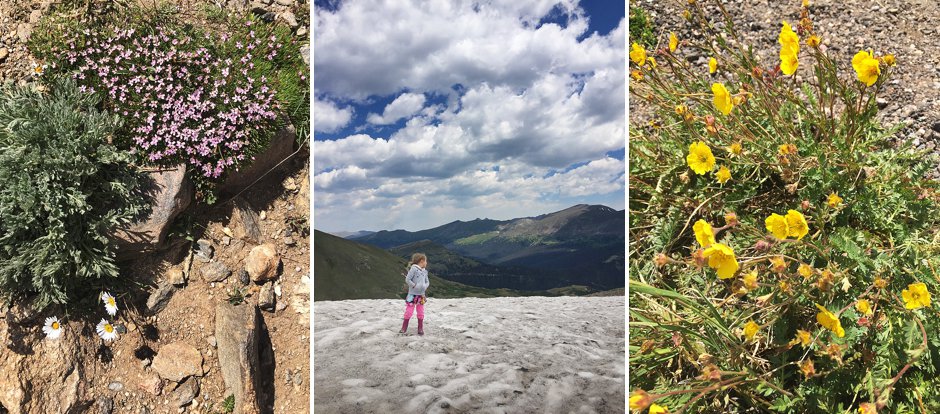 From Estes Park, we made our way on down just outside of Denver to stay with some friends on our way to stay with even more friends in Colorado Springs. I won't bore you with random photos of our kids just hanging out at our friends' houses.
Ok. Maybe I'll bore you with a few of them.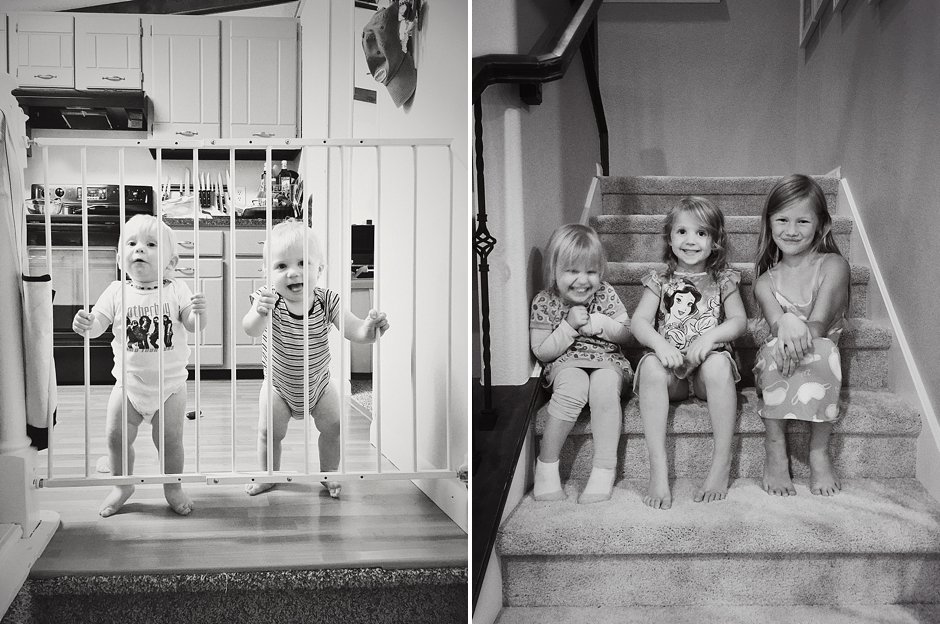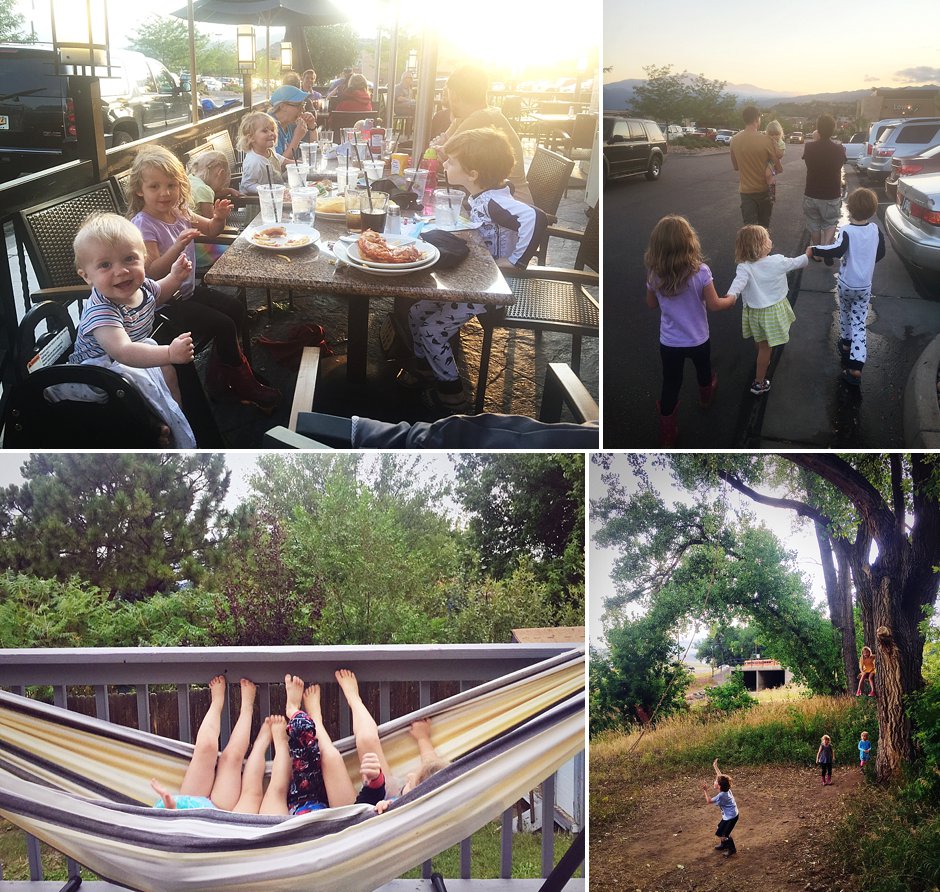 Colorado Springs, Colorado: Garden of the Gods
While we were in Colorado Springs, we made our way over to the Garden of the Gods, which used to be a family ranch and has since been donated as a park.
If The Garden of the Gods was my family ranch, I wouldn't hate it. Can you believe this place just used to be some family's property? It's breathtaking! How cool that anyone can explore it now and enjoy all this natural beauty.
We had a whole crew of children with us for this little day trip and they loved climbing and jumping and sliding around on all the rocks as we hiked.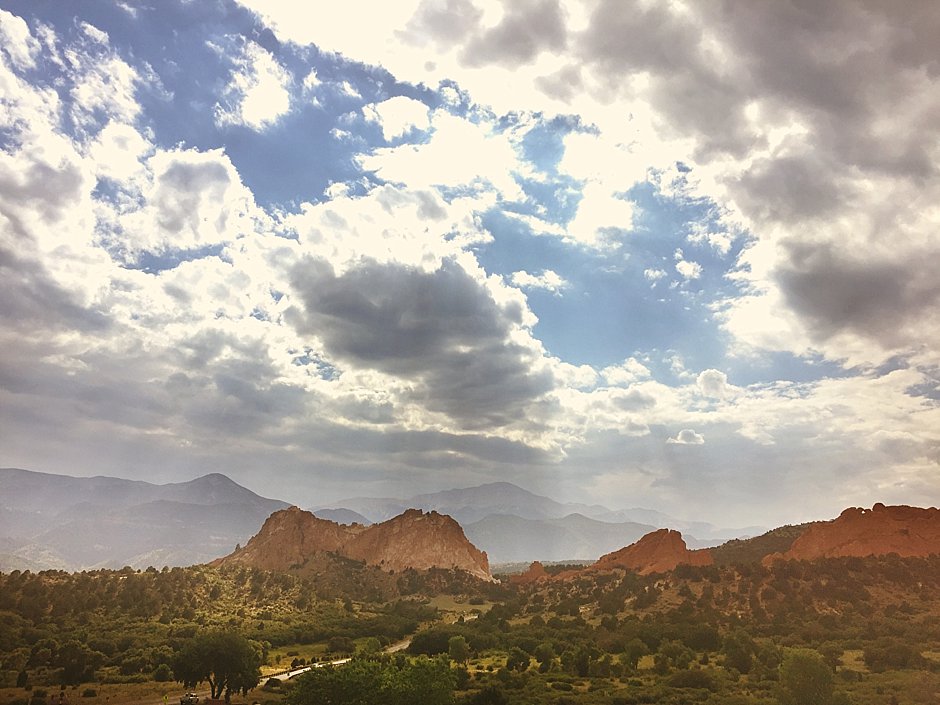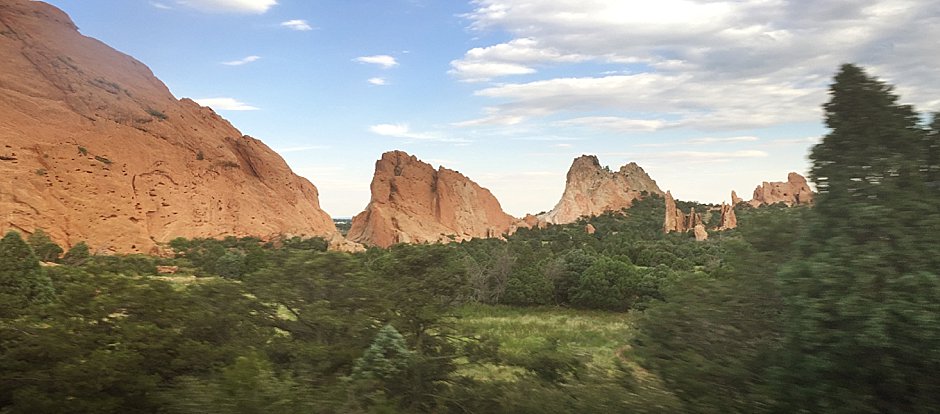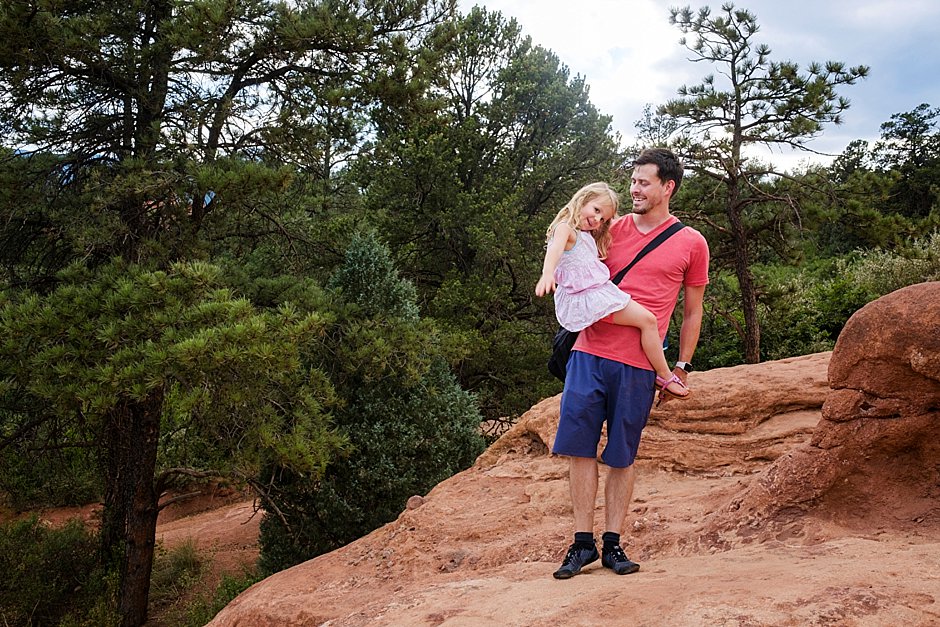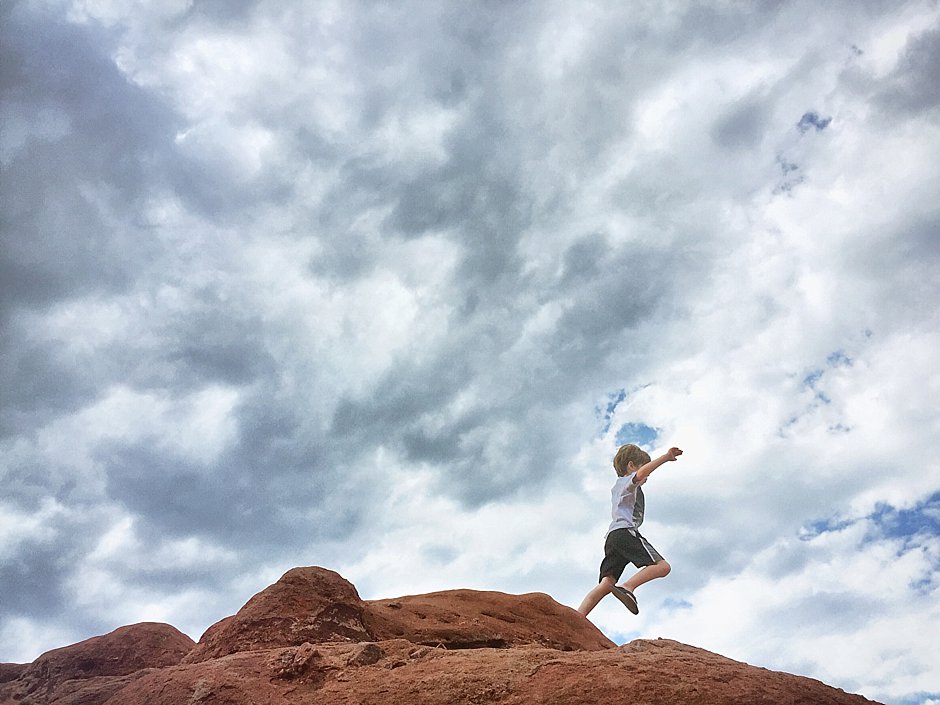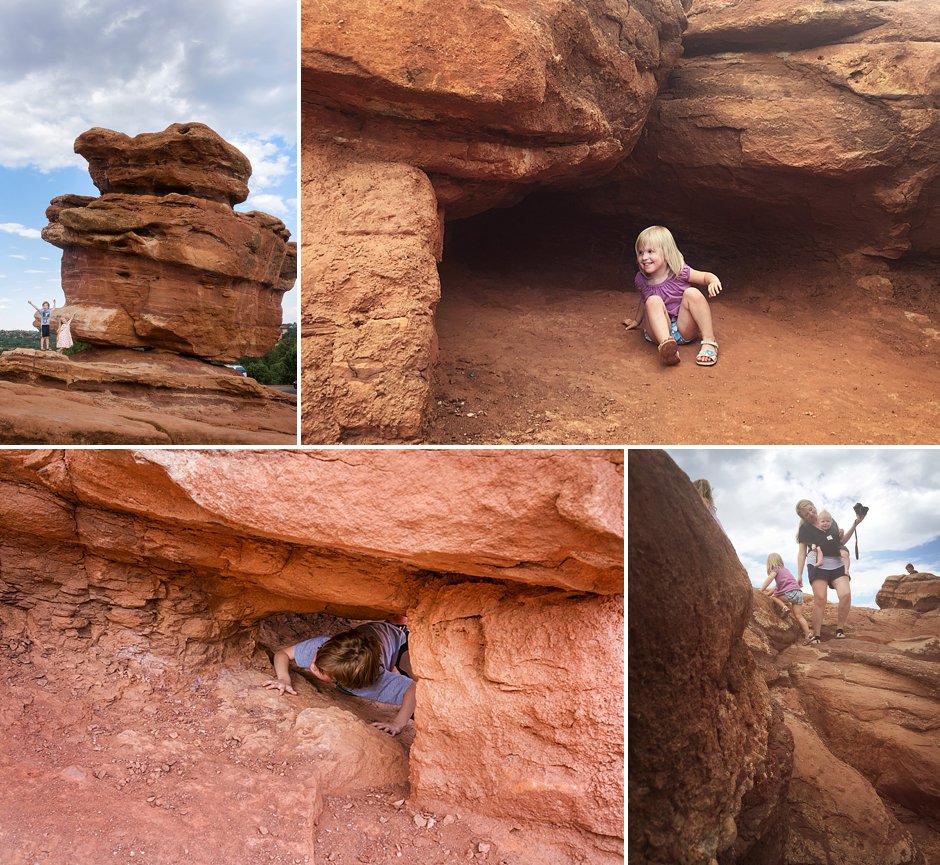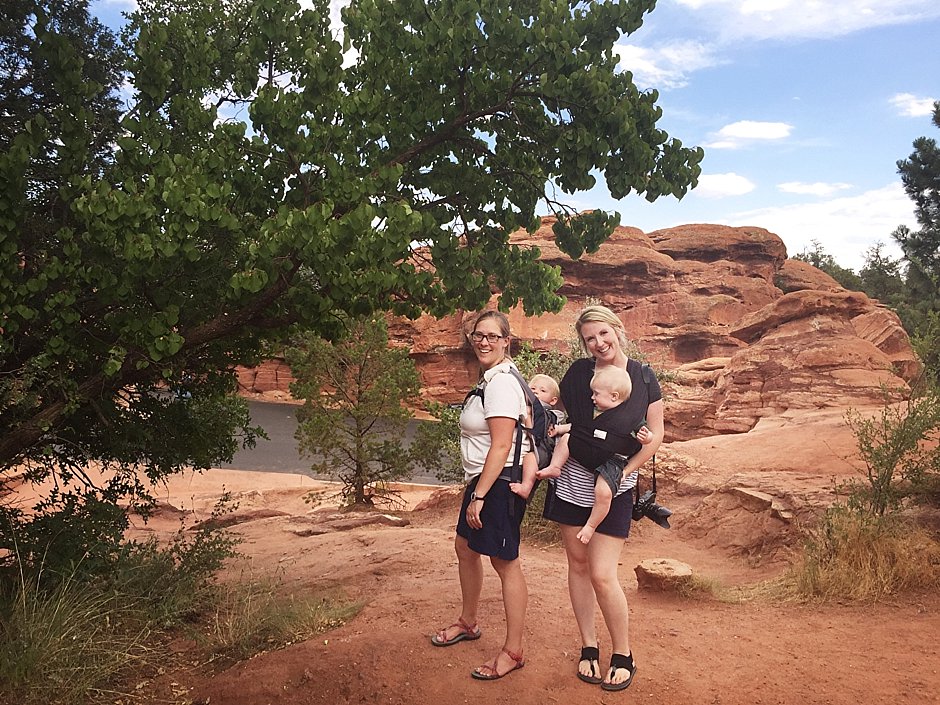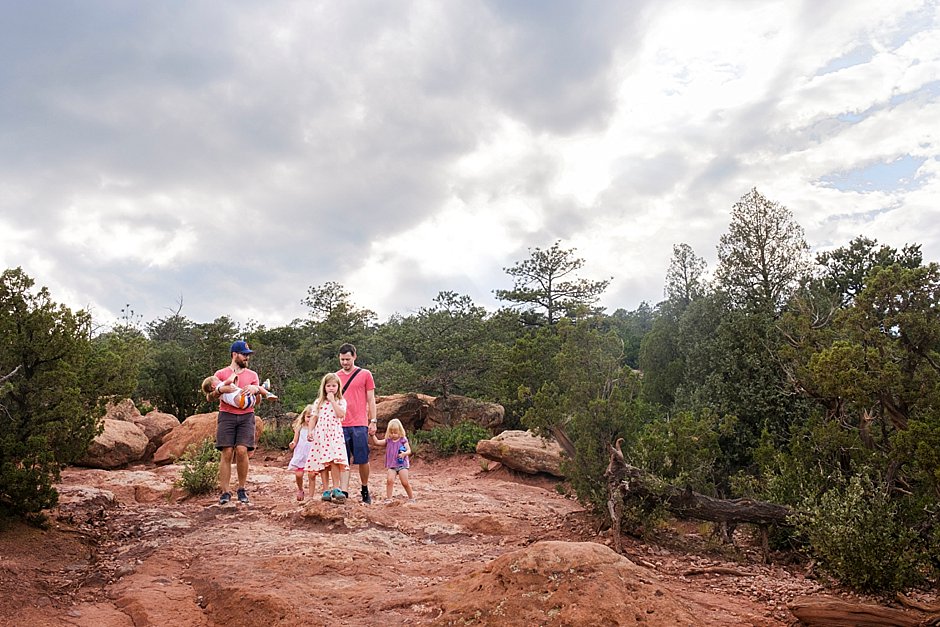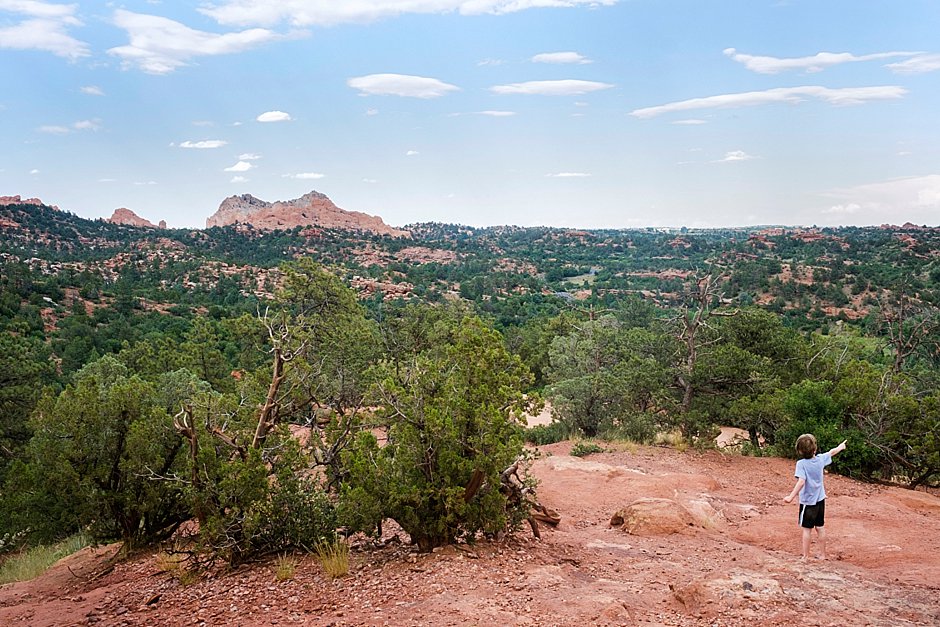 The big kids wanted to do a little more hiking after the little ones were worn out and this is when being in an RV becomes such a marvelous thing. You can hike in the Garden of the Gods, or you can sit and eat grapes and mac n cheese with quite the view out the window!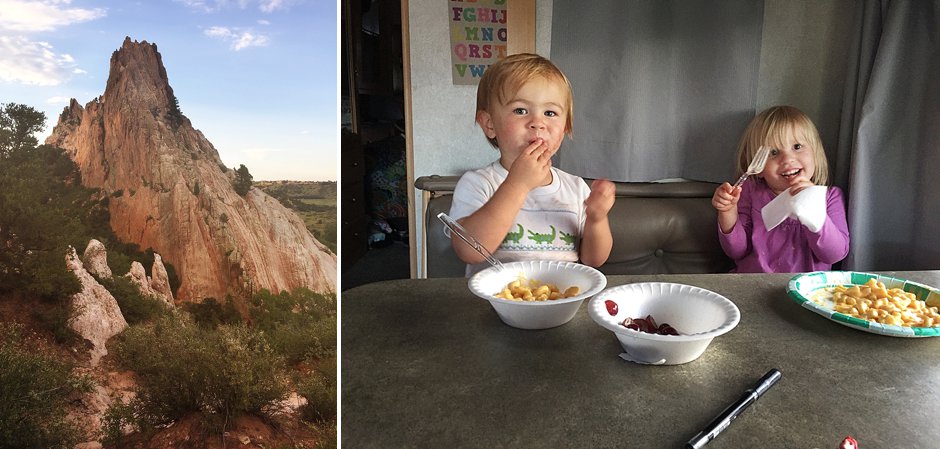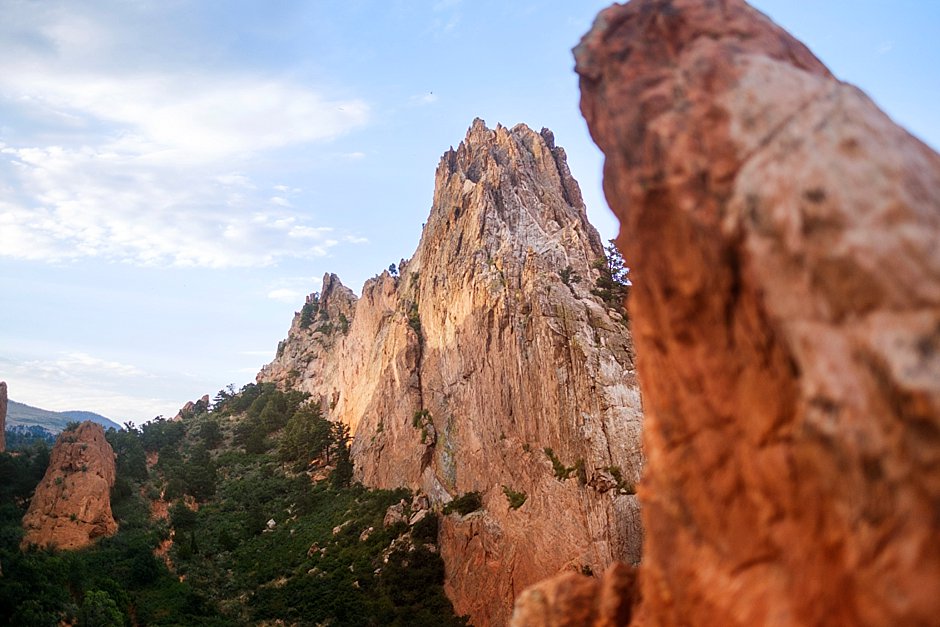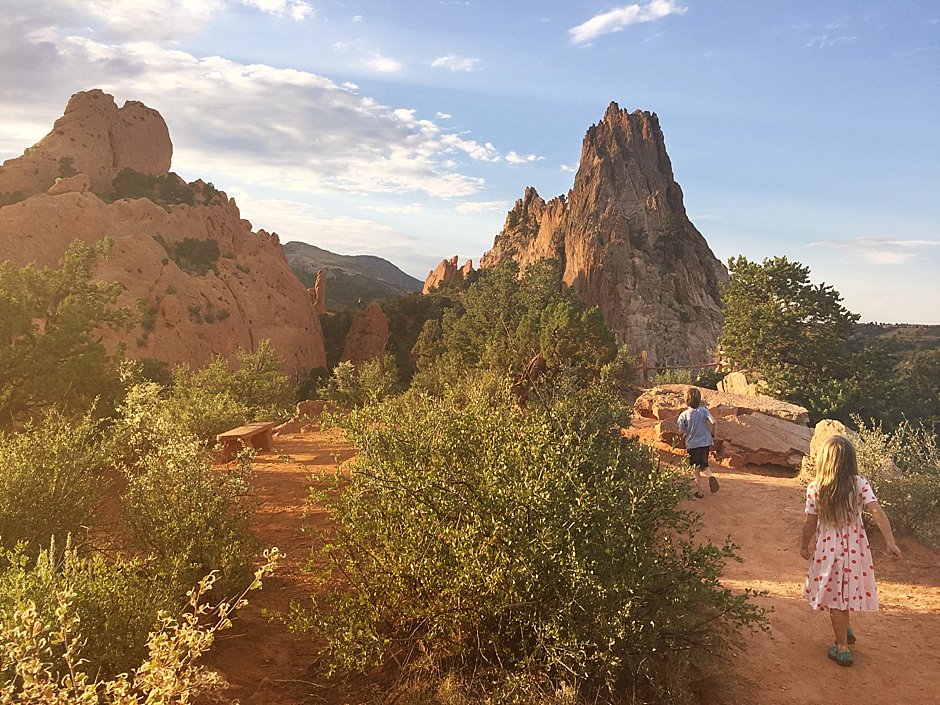 Manitou Springs, Colorado: Manitou Cliff Dwellings
Also nearby to Colorado Springs is the Manitou cliff dwellings.
Now, I heard a few people walking around who were mocking these cliff dwellings as being "such a joke" compared to the ones at Mesa Verde and those pretentious jerks are probably right. ;) BUT, if you haven't been to Mesa Verde then I think you'll like these just fine! We thought they were really cool actually. It's a small space, but you can climb all through it and get up close and personal with history. They also have a decent little Native American museum set up inside the gift shop area, so if you're in area, I say it's worth a visit.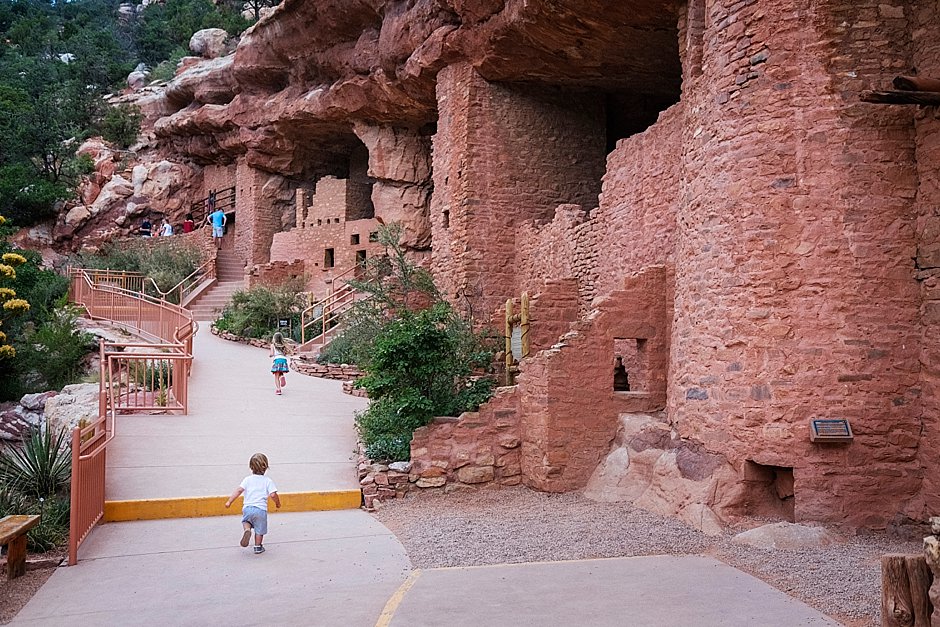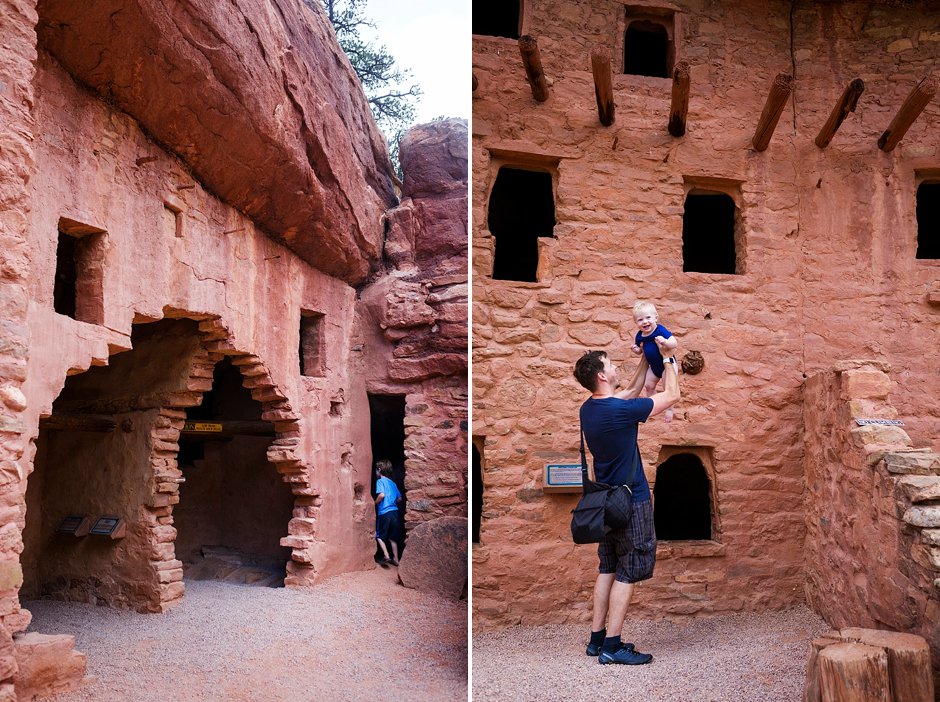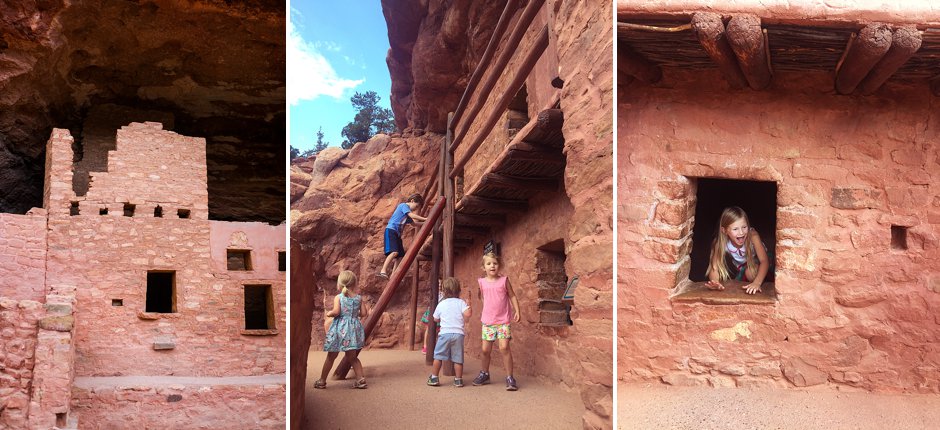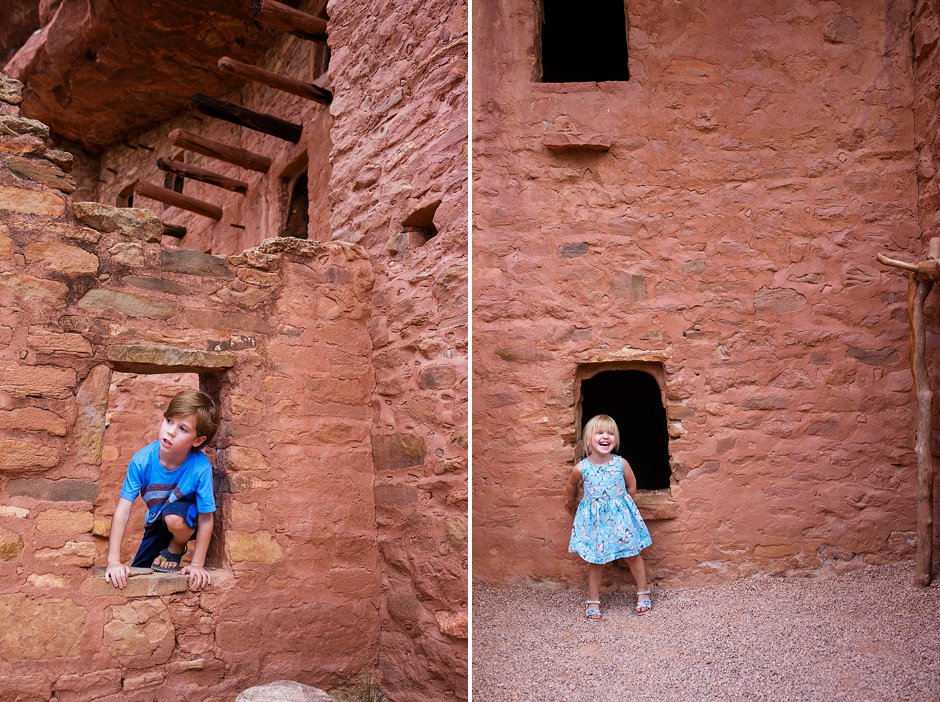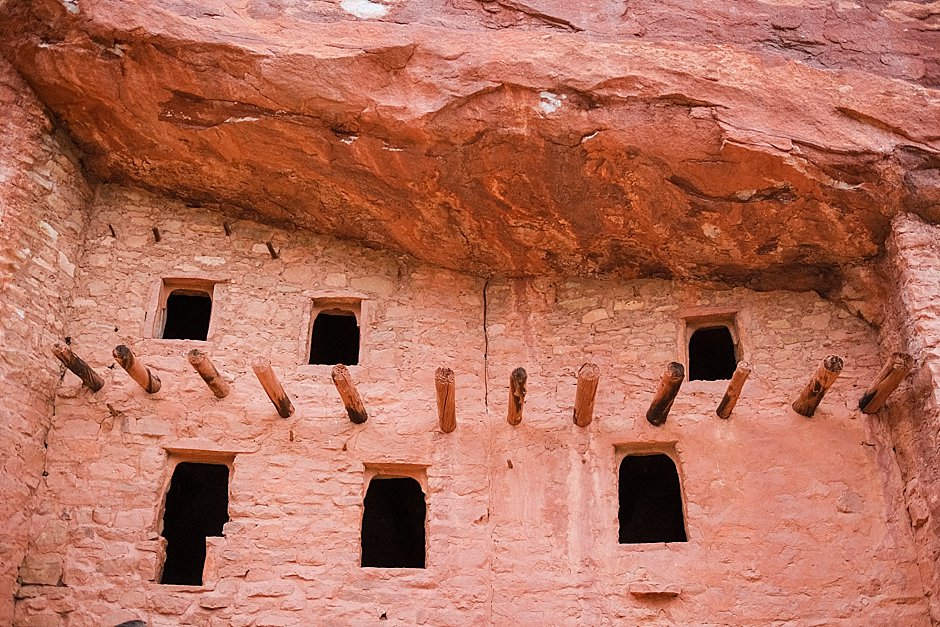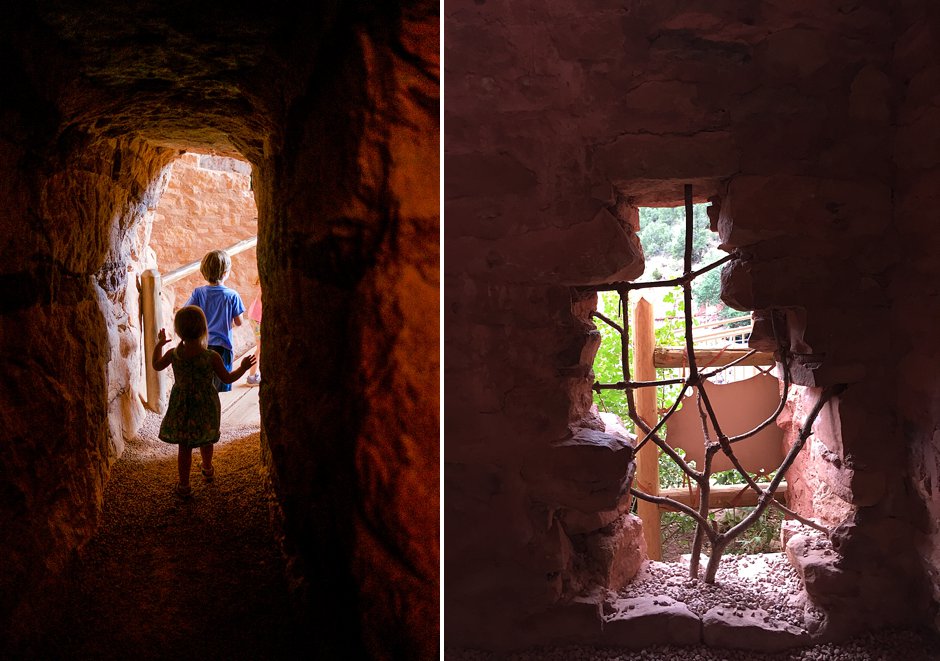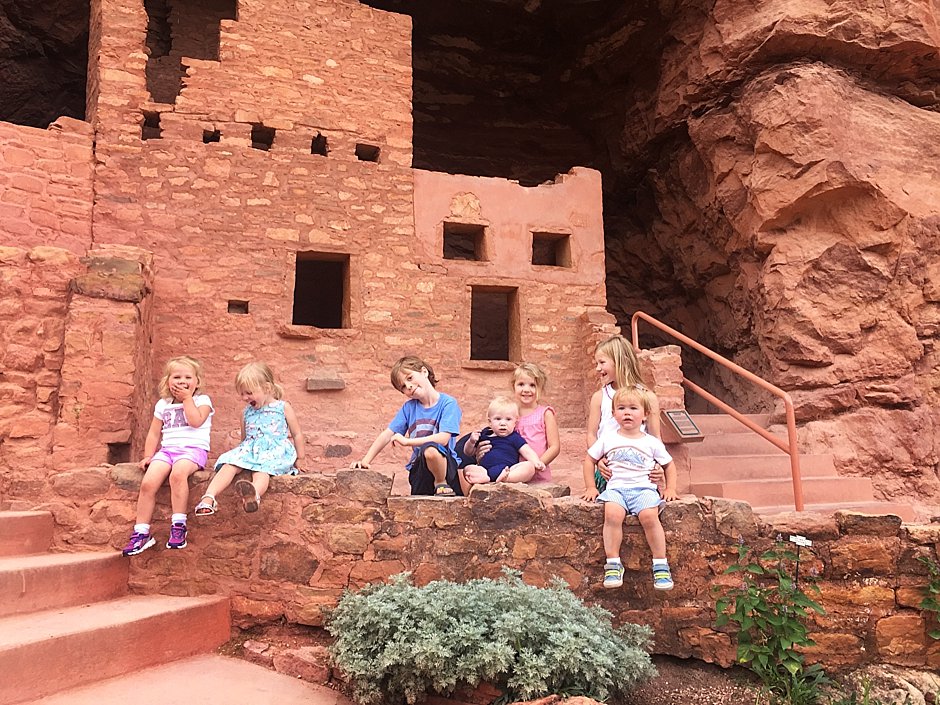 Colorado Springs, Colorado: The Airplane Restaurant
A totally random, but pretty cool find while you're in Colorado Springs is The Airplane Restaurant. They literally built a restaurant in and around an old Air Force plane. As we walked up to the very lack-luster front door, I was thinking it might end up being a highly questionable choice, but once inside, this place is seriously impressive! There are photos, memorabilia and aircraft parts everywhere.
We ate under the airplane wing (the food was pretty decent too, btw) and then went up to play in the cockpit afterward.
The photos are not great. Sorry. We didn't carry the nice camera to dinner with us so you get cell phone shots only here, but you get the idea!
The kids were in love. They want an airplane restaurant where we live too so they can visit anytime they want.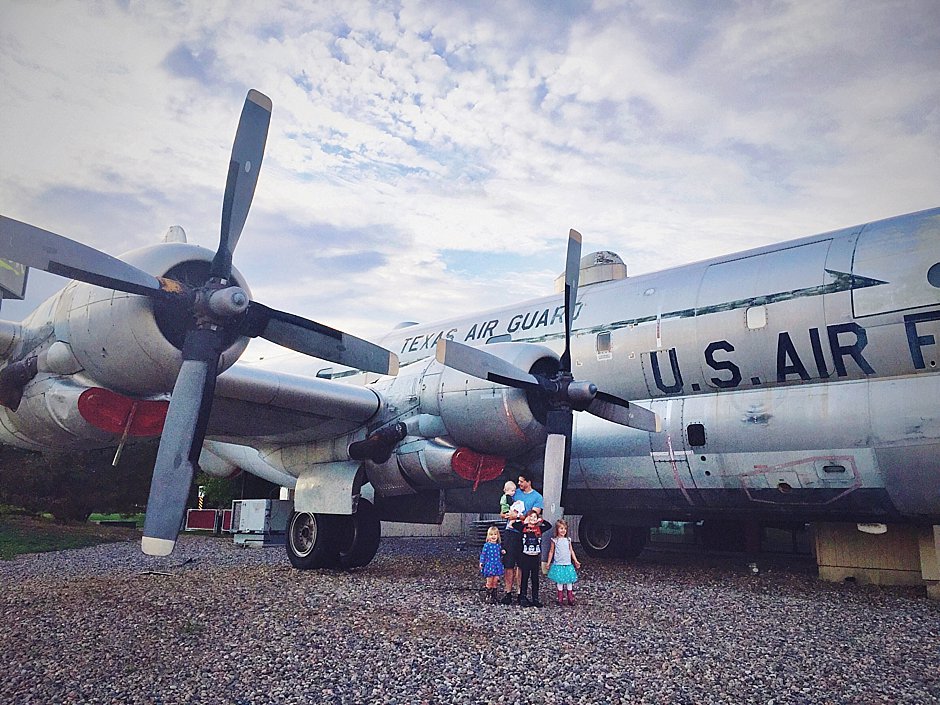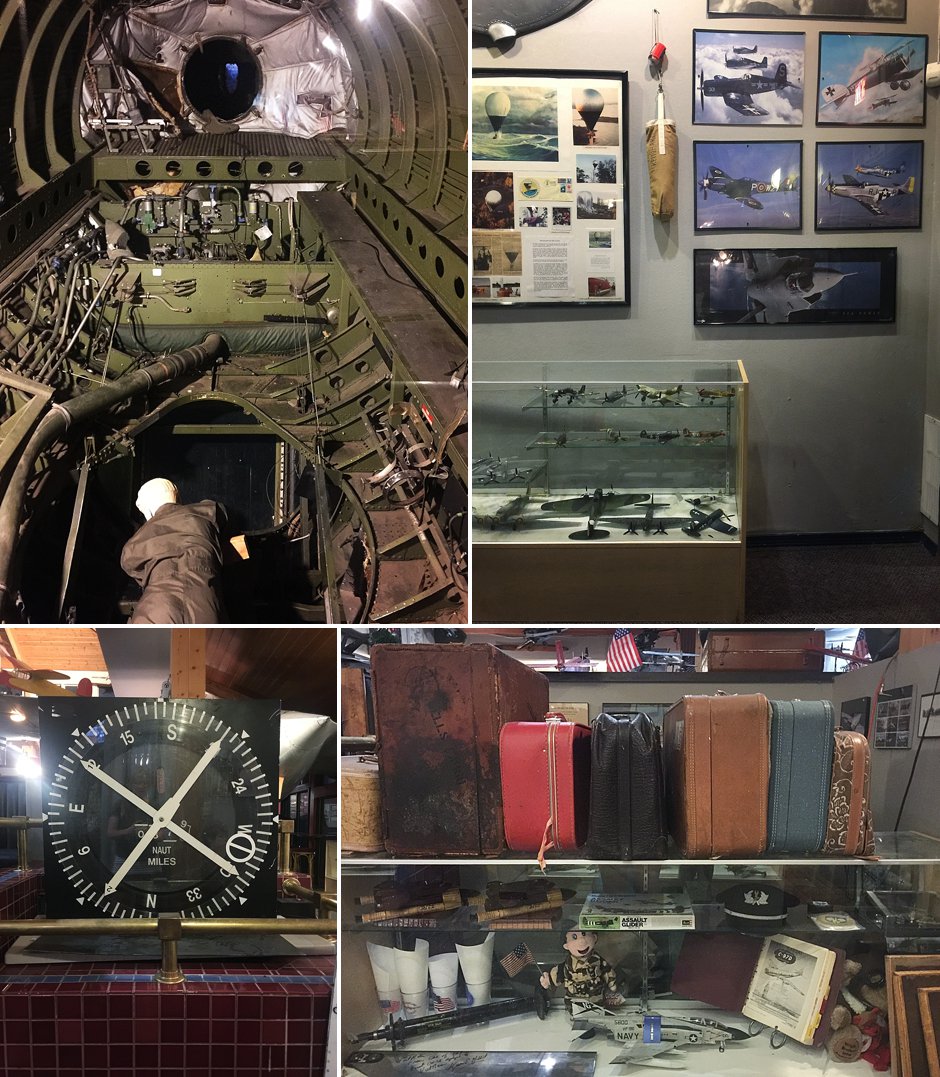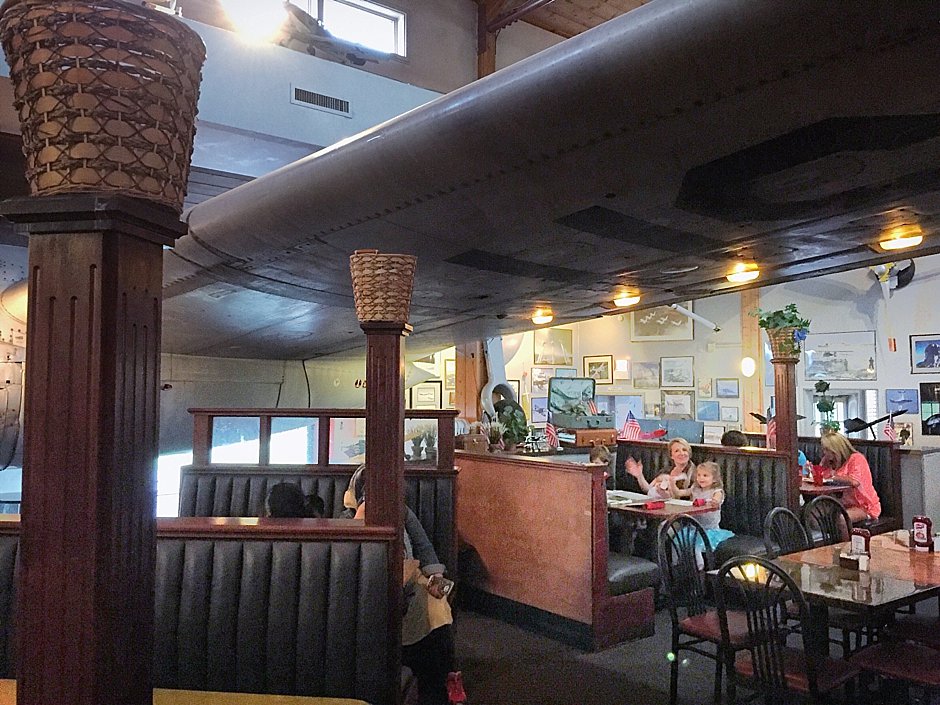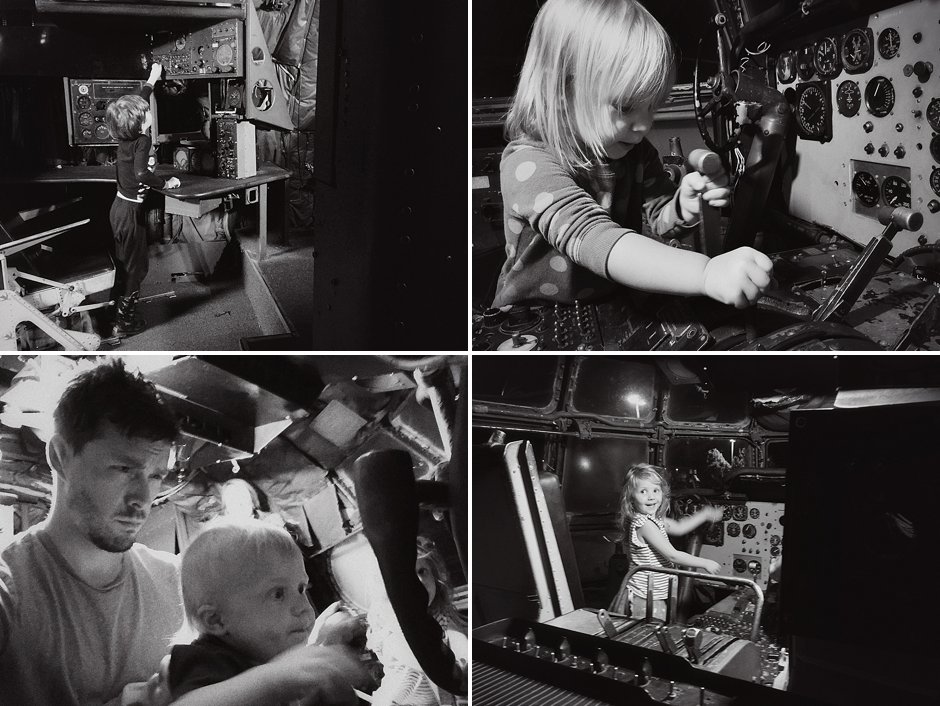 Great Sand Dunes National Park and Preserve
Once we left Colorado Springs it was time to head home. We had a friend's wedding to get back for so we didn't have as many stops planned for the route back, but we knew Great Sand Dunes National Park was going to be a must-see.
It was not at all what I expected it to be! I've only ever seen photos of the dunes, so I thought we would be driving out into the desert. Wrong.
It's like a giant wind swept up a huge chunk of sand and just dumped it at the foot of these lush, green mountains. Combined with the shallow creek you cross on foot to get to the dunes, it was all around even more spectacular than I ever could have imagined.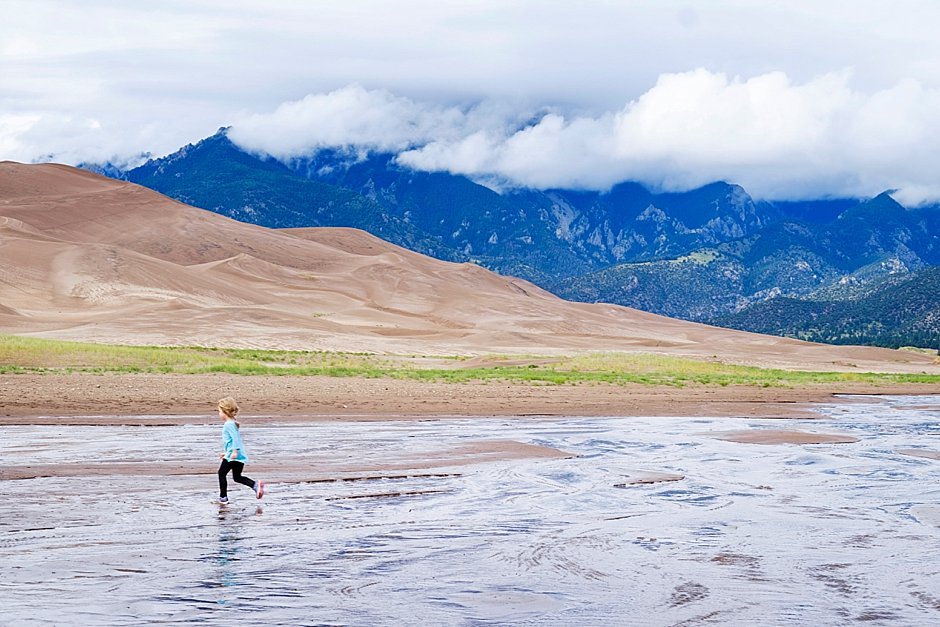 Also, I think we can all agree that Seven's free-style posing skills are totally on point. ;)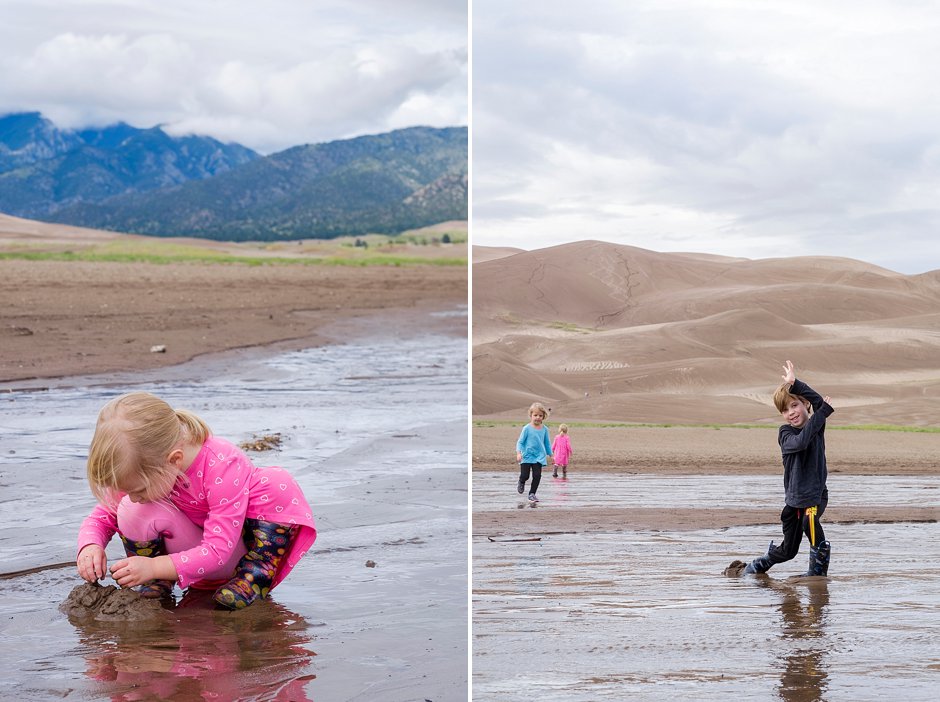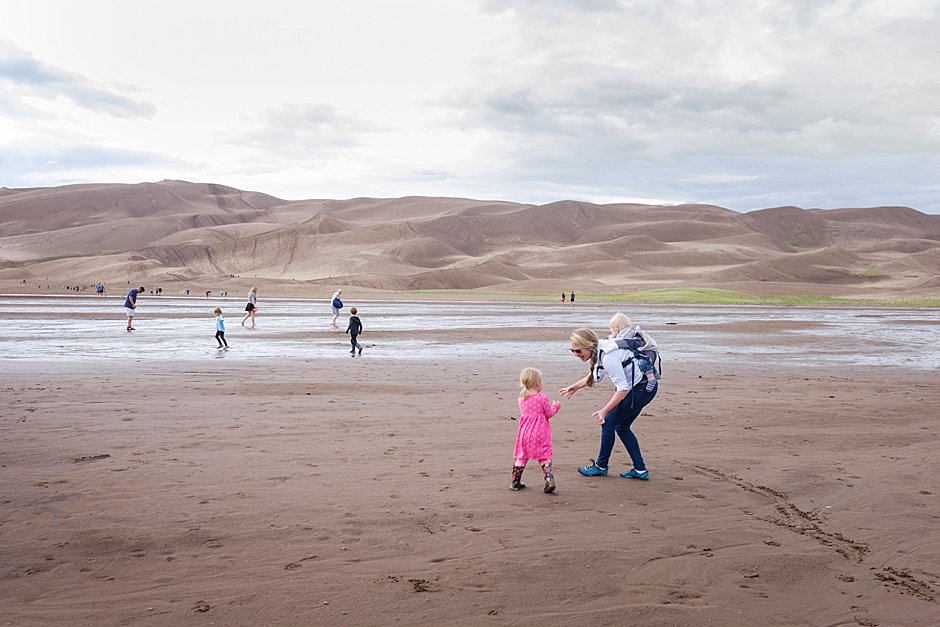 You can normally rent sand sleds from a little place just before you reach the visitors center, but it had just rained when we arrived which made sand sledding impossible. That was kind of a bummer, but we opted for just lots of rolling down hills instead.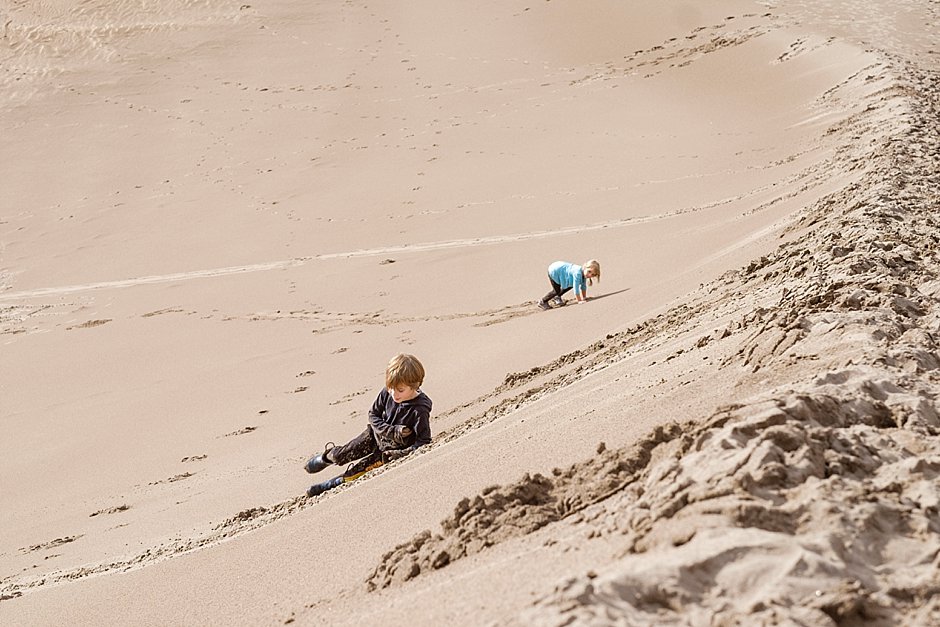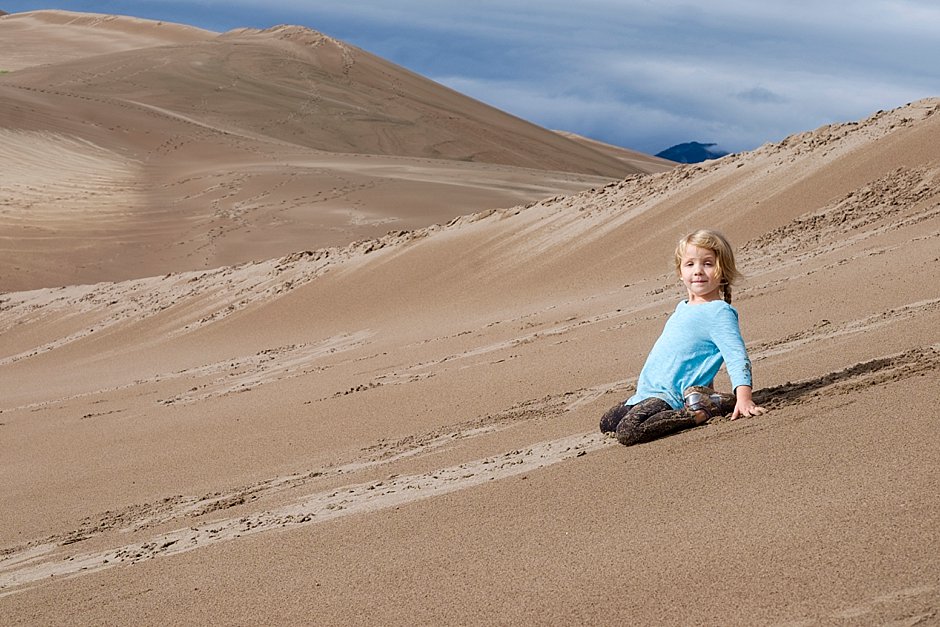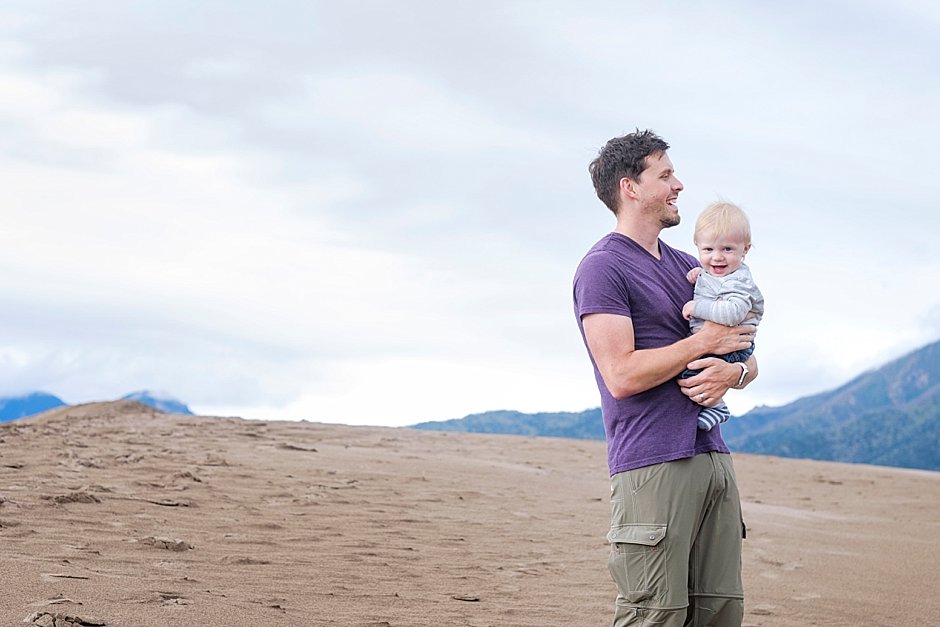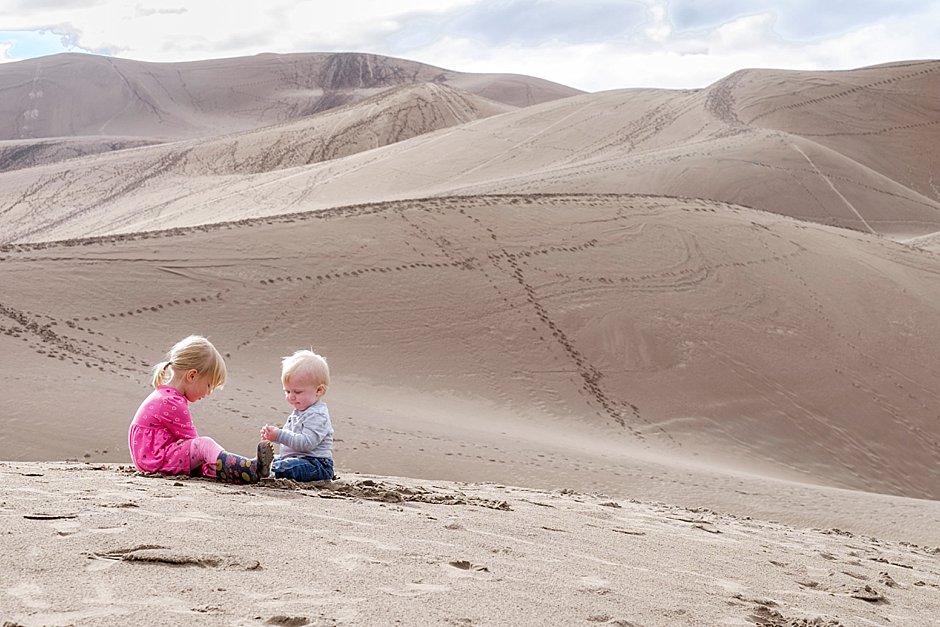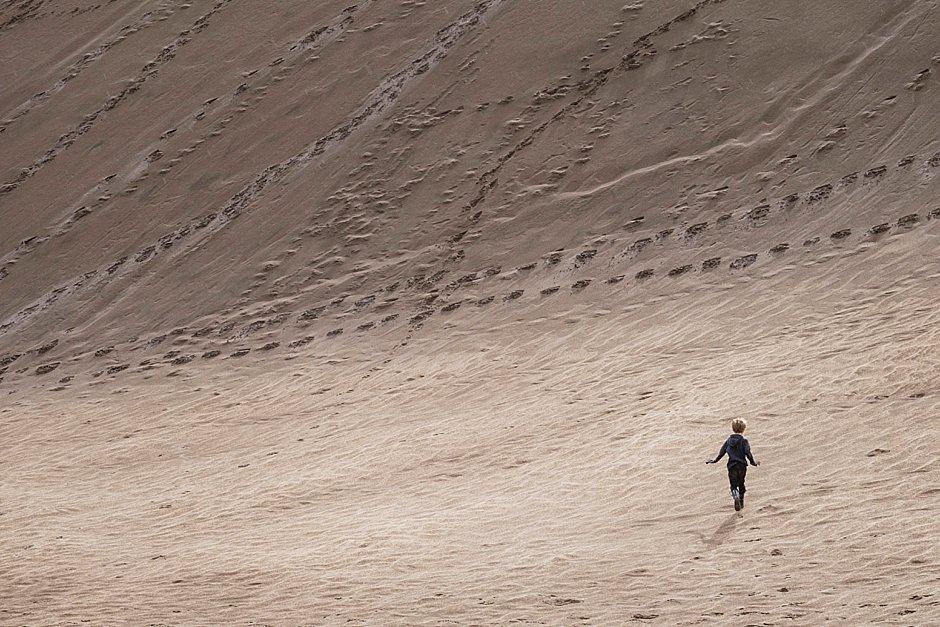 We stayed until the sun was just about to set and came back to the RV worn out and so dirty! It was worth it. This was maybe our favorite stop of the whole trip.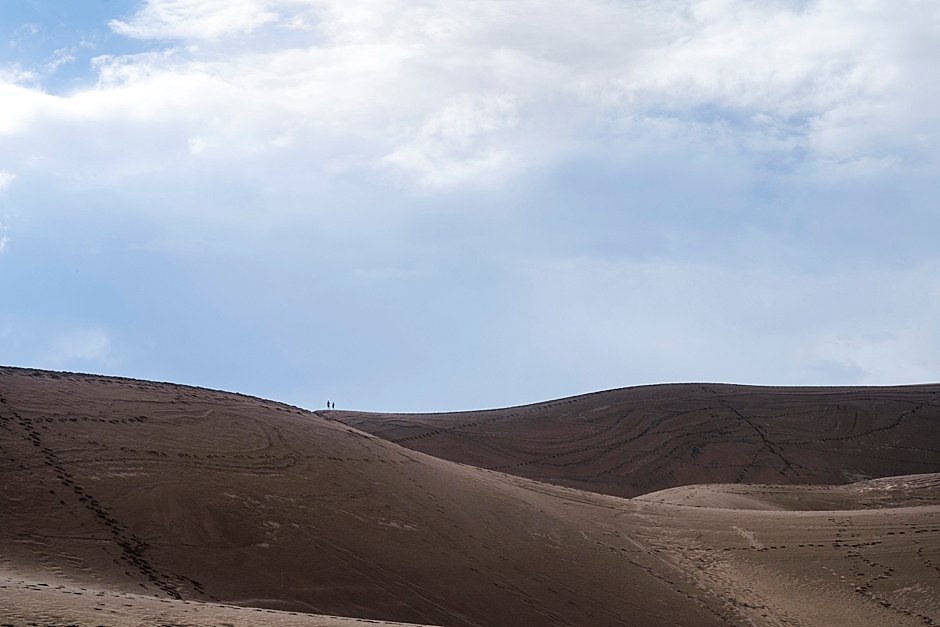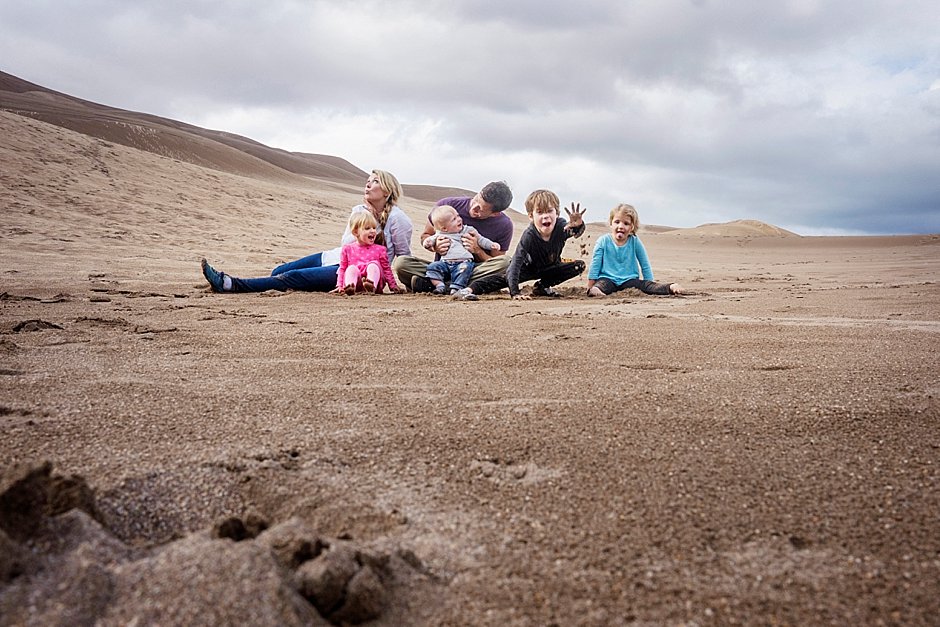 Amarillo, Texas: Cadillac Ranch
When you arrive somewhere much later than anticipated and it's almost dark, you become very thankful for good low-light capability in your camera! We got to Cadillac Ranch just as the sun had set and there is zero artificial light out there, but there was no way we were going to miss an opportunity to spray paint some cars.
Small children and free reign with cans of spray paint is a great idea, right? I mean, sure – there may have been paint stuck to us in all sorts of places for practically forever after this, but it was THE. BEST.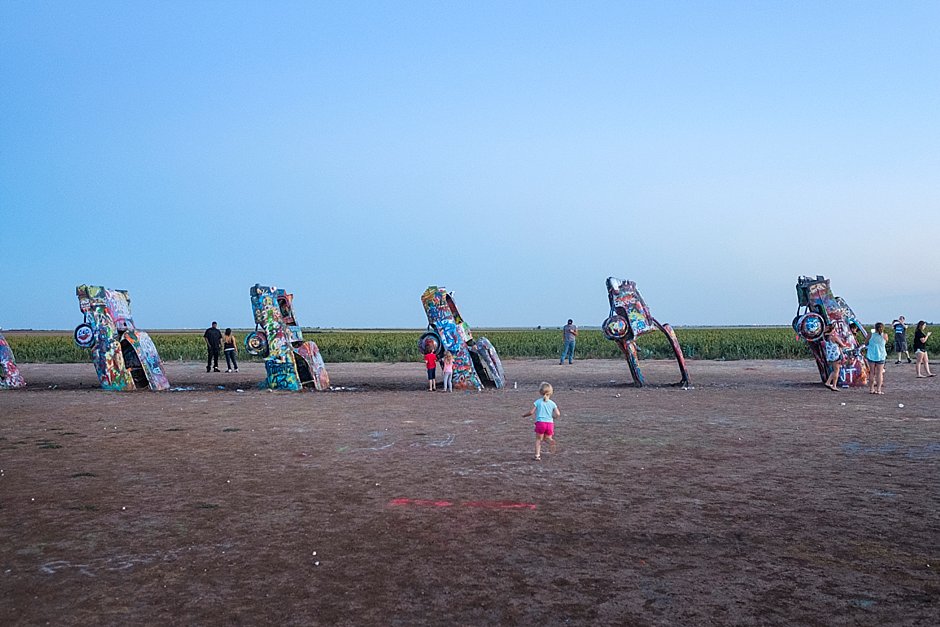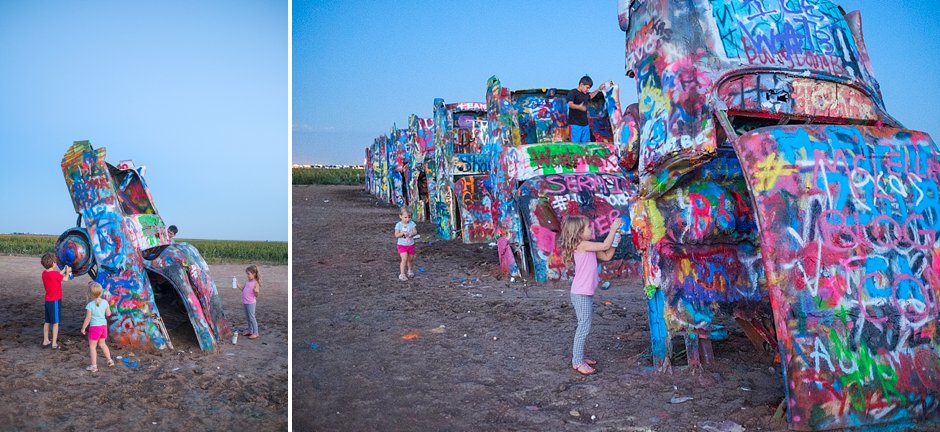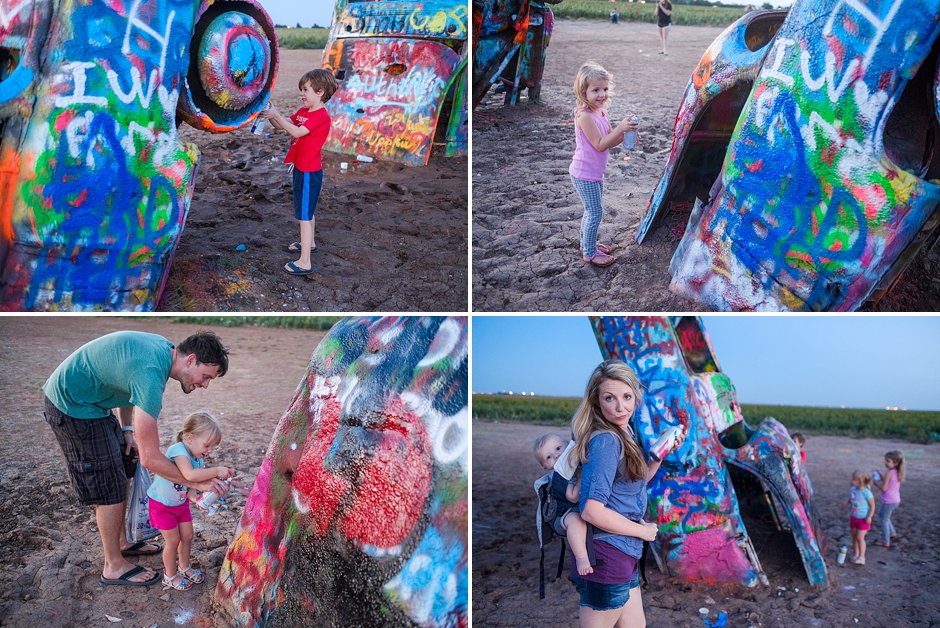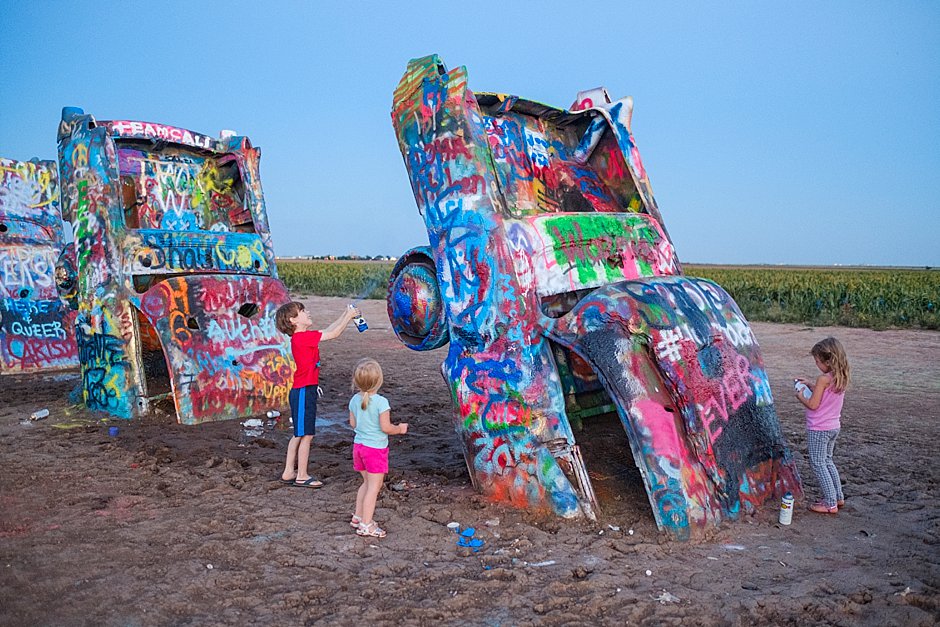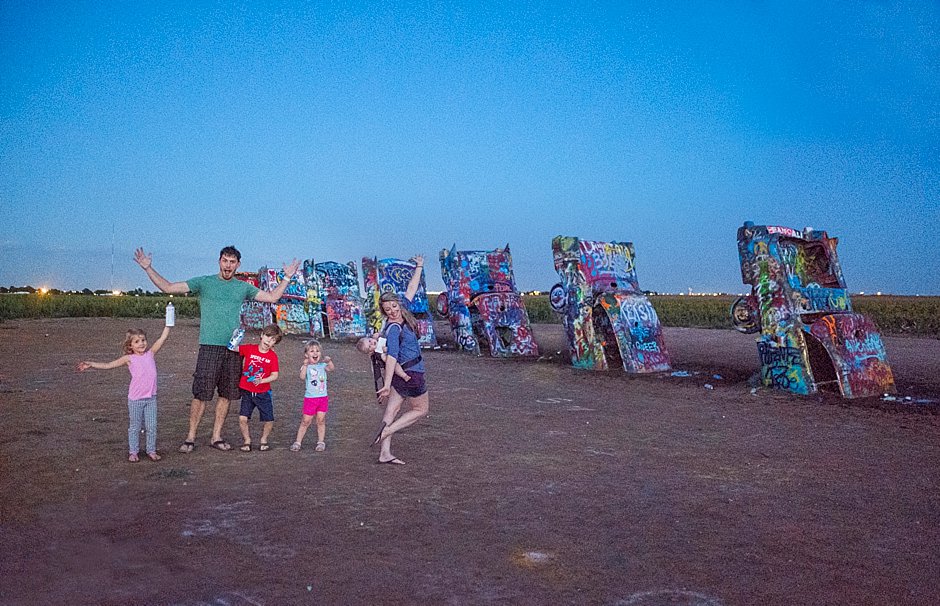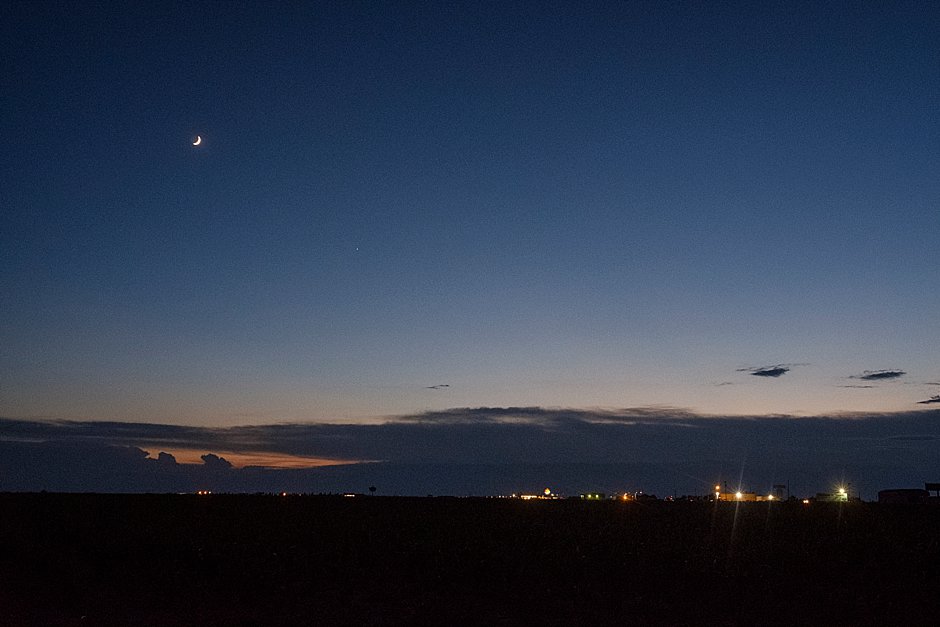 Shamrock, Texas: Route 66
We have big plans for Route 66 on a later trip, but since we were so close, we couldn't resist a quick glimpse of the mother road while we were there.
We stopped in for lunch at a local diner and checked out the town's adorable visitor's center. I would like everything in my life to be from this era. Please and thank you.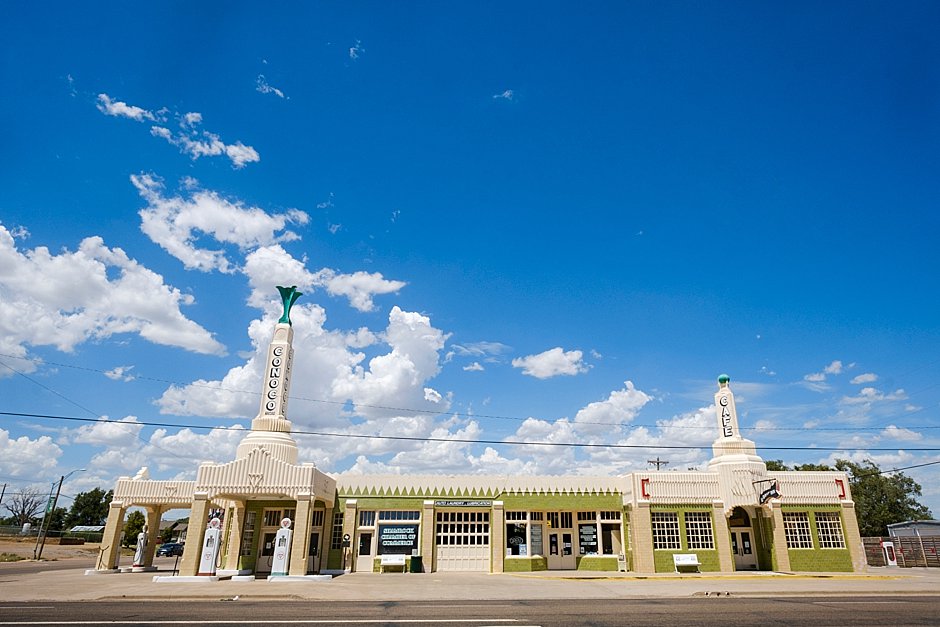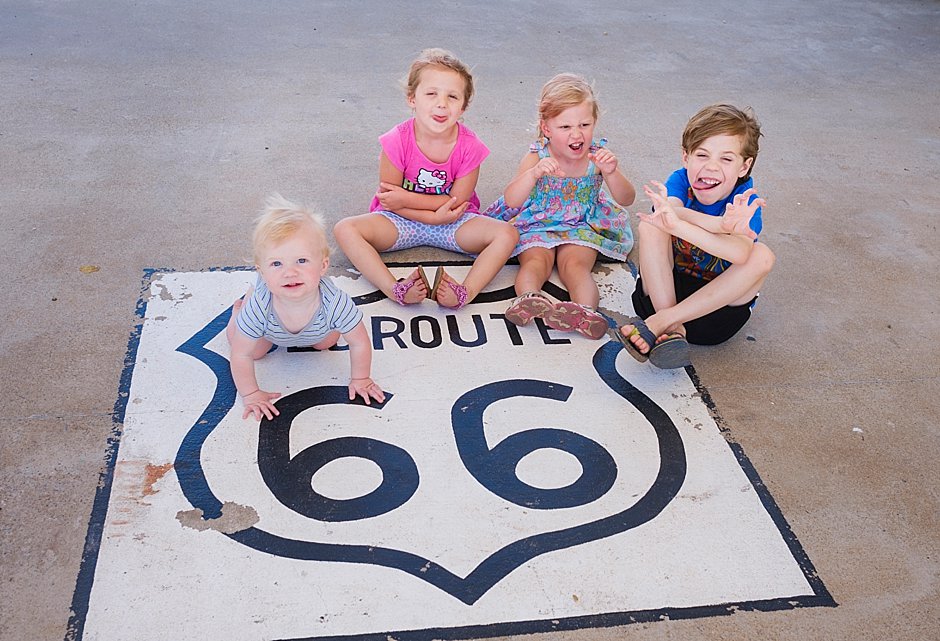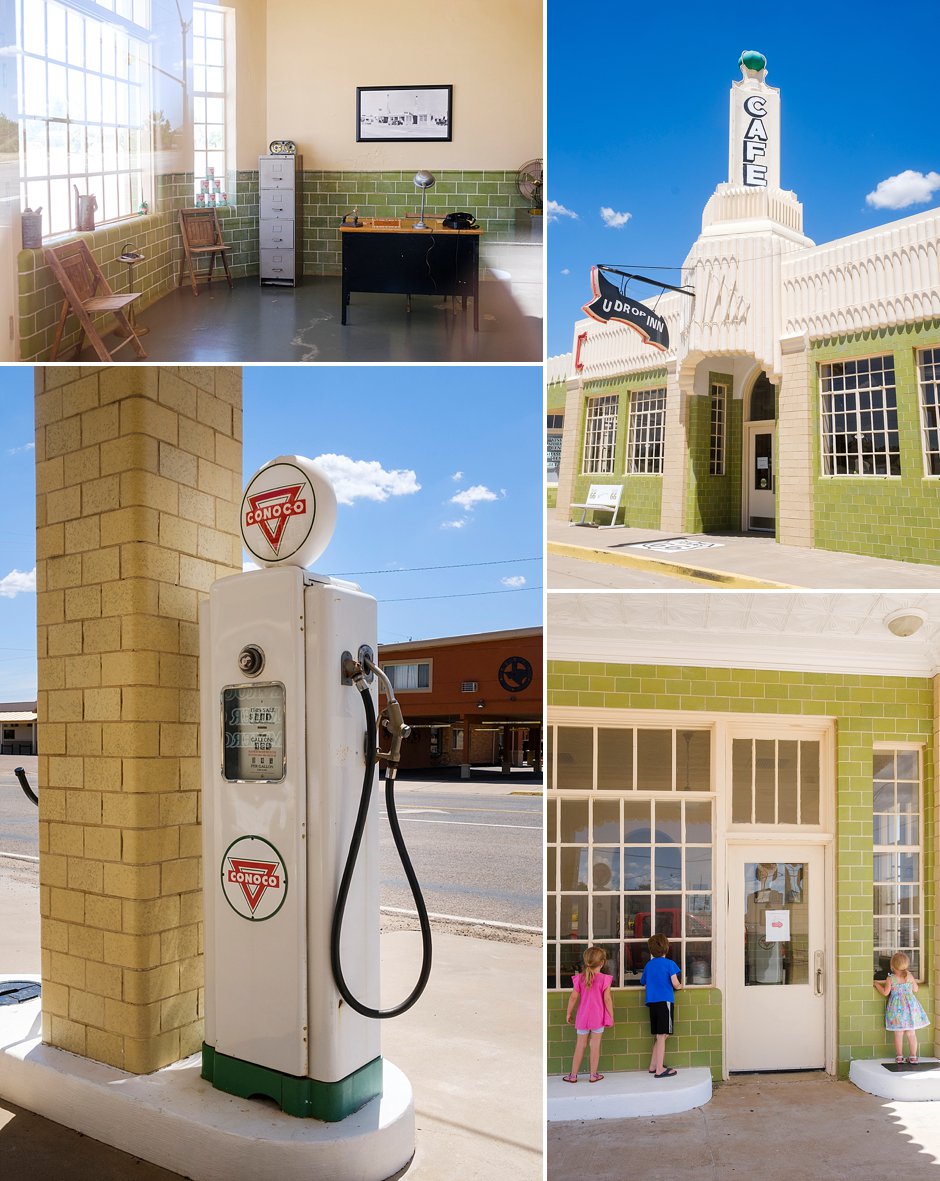 You might be wondering why they're so shadowy in the picture below. That is because my people are lightweights about the Texas heat, and were literally huddling in the shade of a telephone pole. Obviously we'll be visiting in winter next time.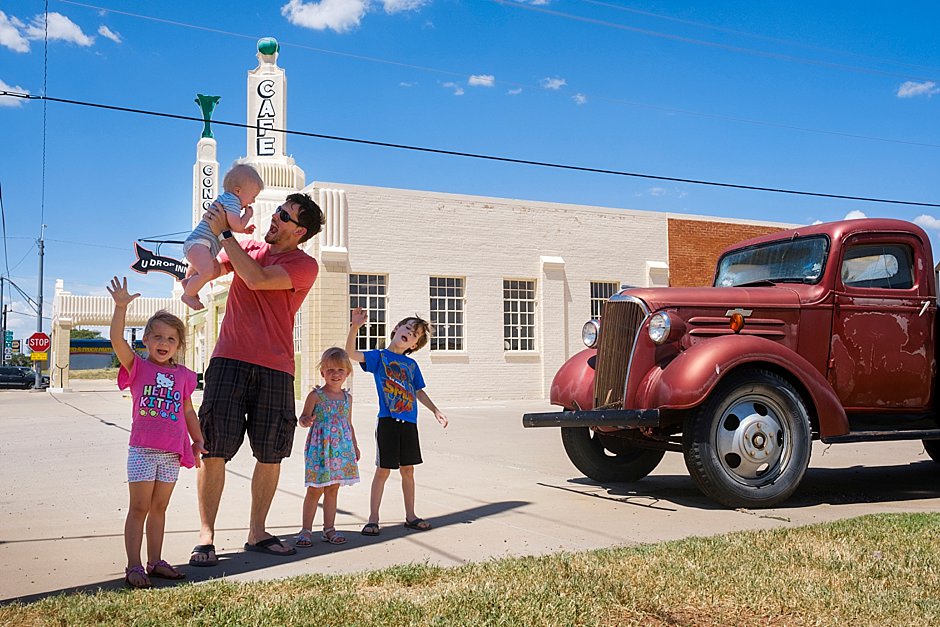 Norman, Oklahoma: Sam Noble Oklahoma Museum of Natural History
After we had already passed all of the major dinosaur things on our trip, Seven decided that he really needed to see some dinosaur bones before we got back home. We were lucky to find this natural history museum as our final stop — both because we needed dinosaur things, and also because I'm not sure there's a whole lot else available to break up Oklahoma. ;)
I wasn't clear on just how big the museum would be based on what I could find online, but it turns out it was fairly sizable! There were all kinds of permanent exhibits featuring interactive stations and lots of displays of both dinosaur models and skeletons.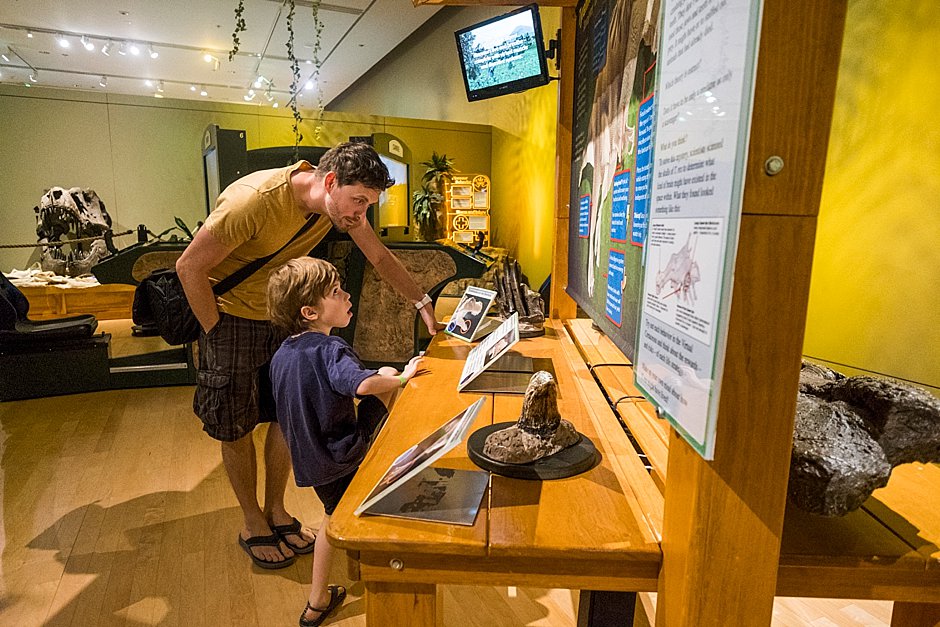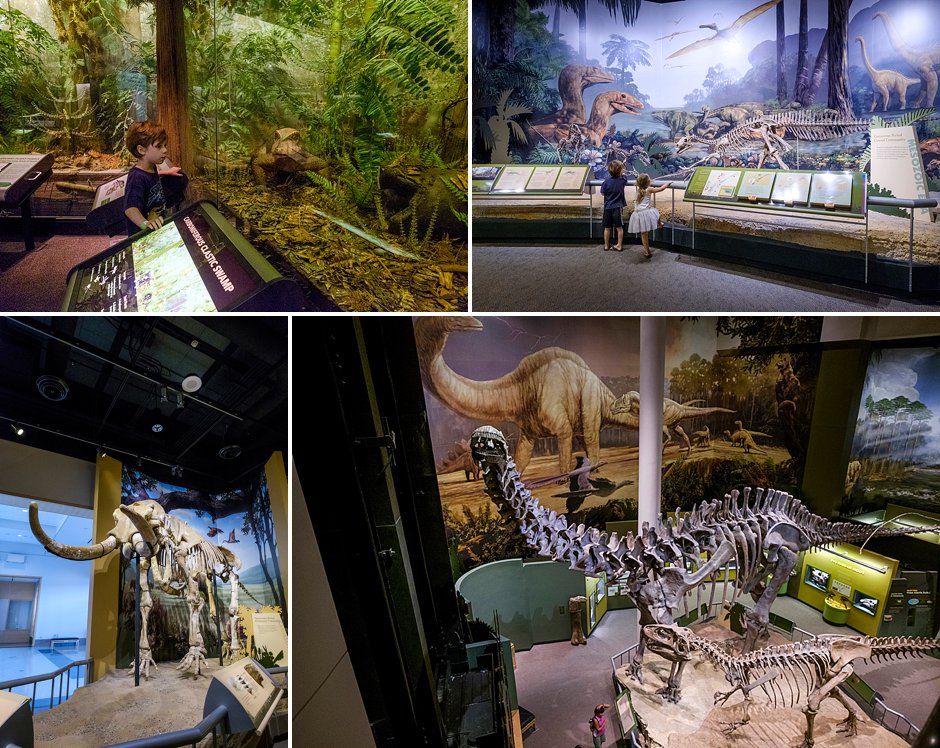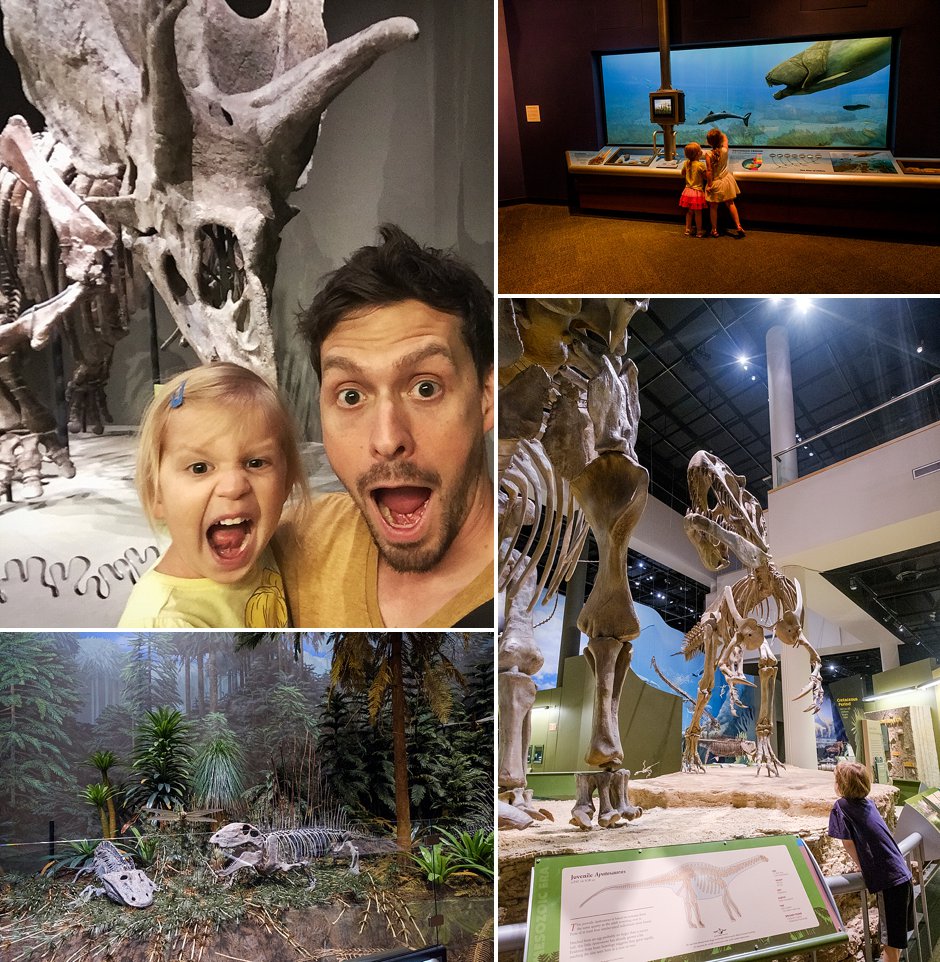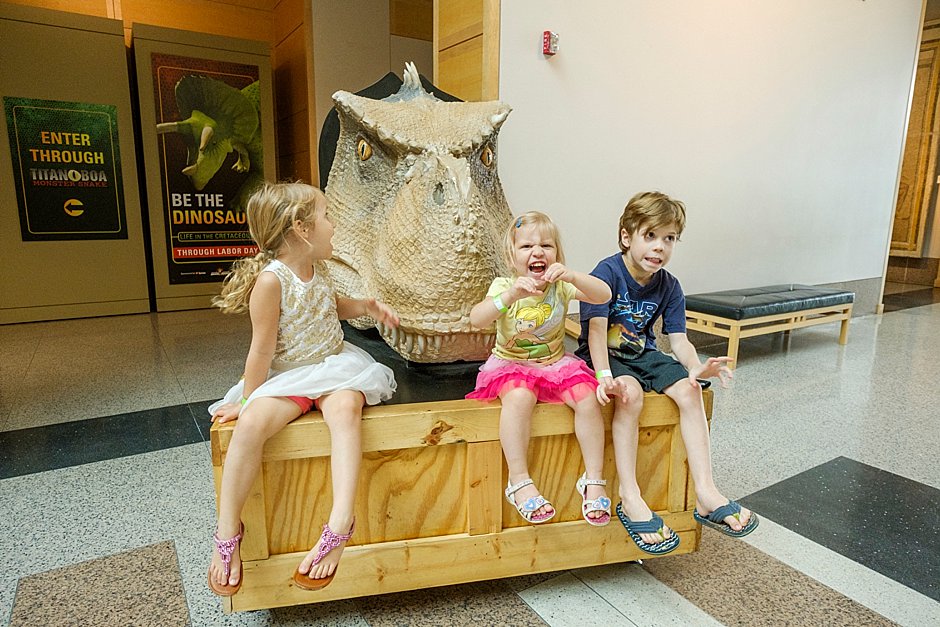 After this we just made a beeline to Franklin, TN. A month away on the road was absolutely glorious, but there truly is no place like home.
I hope you enjoyed a little peek into our trip and that it's inspired you to take an amazing adventure of your own!
We're starting to plan our next few trips right now. If you know of something incredible we should check out, I hope you'll share it with us! :)
Until next time…
Xo,
Mel