How to Enjoy Disney World with Multiple Small Kids in Tow
Seven and I were just hanging out in the kitchen the other day when he randomly said, "I think I'm about ready to go back to Disney World."
Me too, buddy. Me too.
Before I had kids, I would have told you it would be crazy to attempt Disney with small children. My plan was to wait it out until we were past the stroller phase at least. But now here we are with 4 kids that are all pretty stroller-worthy, by Disney-trekking standards at least, and we've done Disney World three times with three, and then four, little ones.
And you know what? I don't feel crazy for having done it. In fact, it's been great!
I do think there are a few factors that can make or break your Disney-with-toddlers experience though. I'd like to share my tips and experience with you all today in hope that it might help you make your own Disney trip awesome.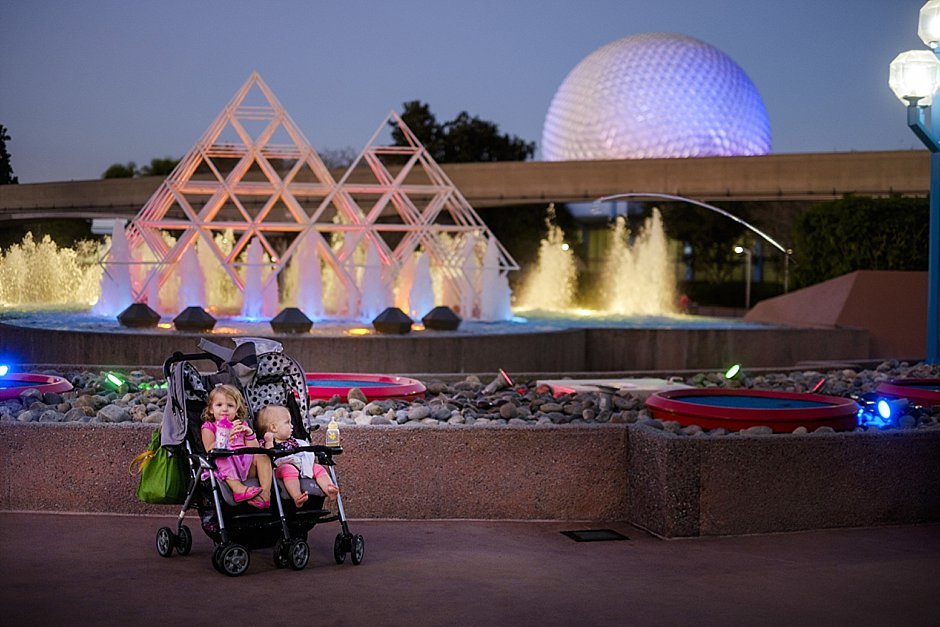 1. Go with the idea in mind that you'll come again.
If this is going to be your once in a lifetime Disney World experience, then maybe hold off for a while before going. However, if you think you'll be able to go back at some point, by all means, go now! Just remember that you'll be back and you don't need to experience everything on this one trip.
I've seen people stress over getting to all the things, and even without kids, you would go nuts trying to do that! There are still plenty of rides we have yet to ride and shows that remain unseen. That's ok.
We approach Disney as we do so many other things involving traveling with our kids. We're going to enjoy a nice sampling of what Disney has to offer. We'll soak it in when it's enjoyable and we won't push it when everyone is tired and it's just not fun anymore. There's always next time.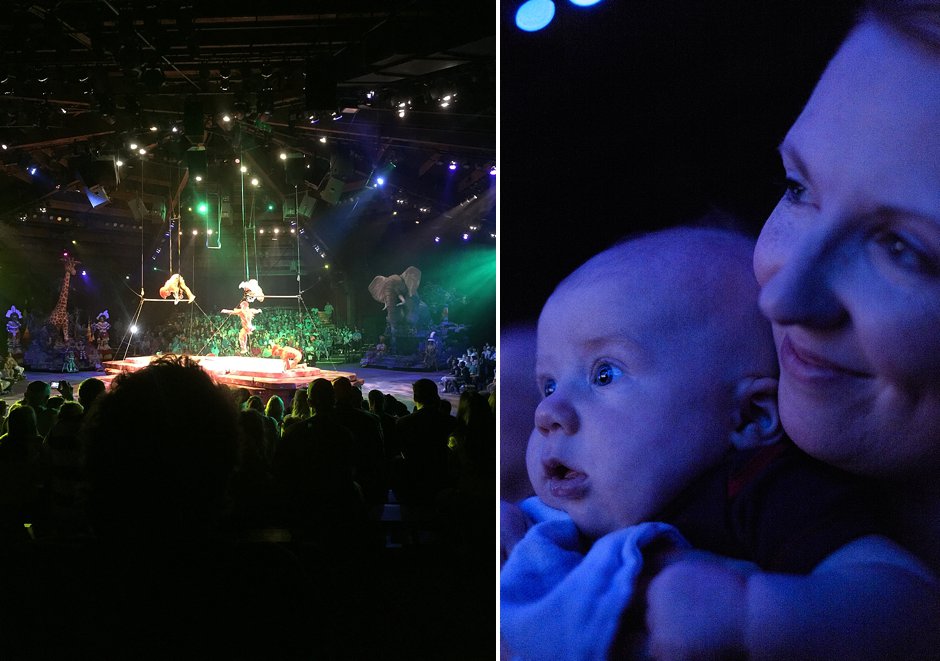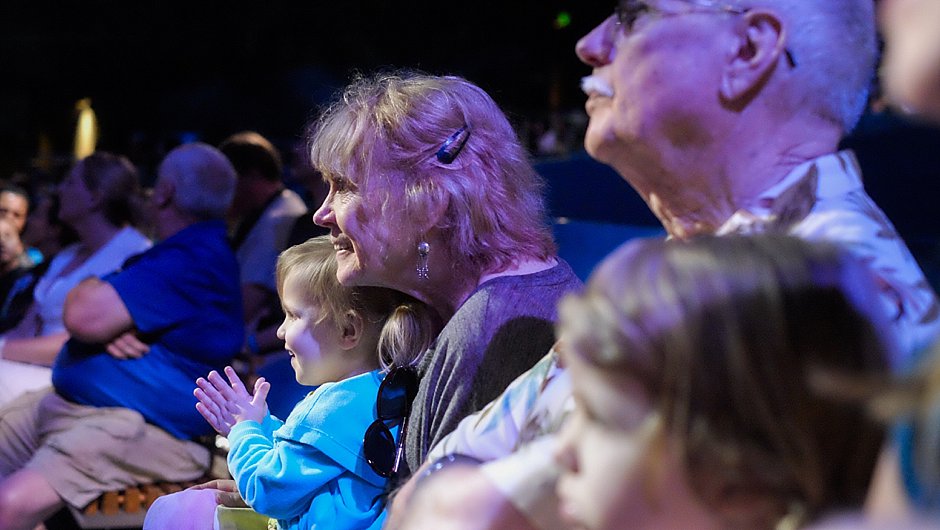 2. Don't over-schedule
Along the same lines, we don't over-schedule our days at Disney. We set Fast Passes for late in the day and move them back even further if we're moving slowly. Much of our time is spent just seeing what we see and taking a look at what's happening nearby to where we happen to be at that moment. There are so many options, it's not possible screw up a park day, and going with the flow is much less stressful.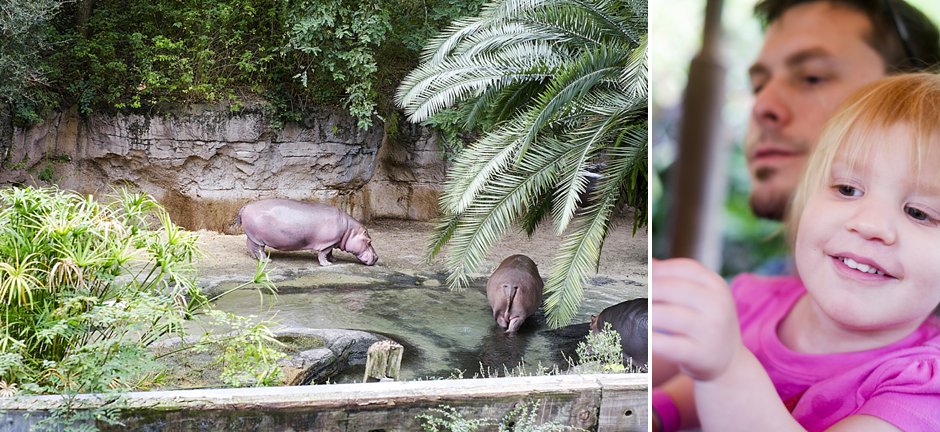 3. Take advantage of Rider Switch Passes
For rides that are not for little ones, Disney has you covered. One person in your party can secure a rider switch pass, and then go through the line and ride. When they come out, the family member who has been waiting with the kids can go ride while skipping the line. All the details can be found here on Disney's website.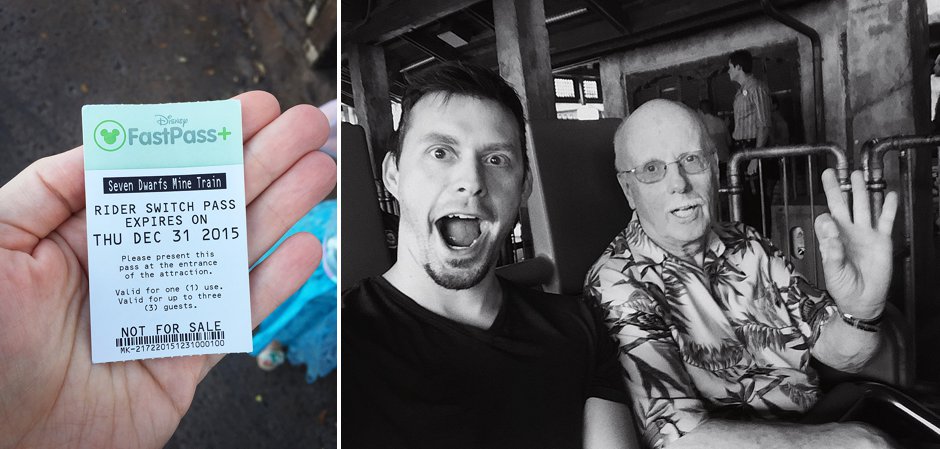 4. Plan for days off.
Disney World is fun and wonderful, and also — it will wear your out! The first time we visited the mouse, we did six back-to-back days and we were exhausted.
On subsequent trips we've planned for 2-3 days at a time, followed by 1-2 days of just hanging out at the hotel and resting. Those are good days to sleep in, watch too much TV and relax at the pool. Going this route lets us recharge and enjoy every day in the parks instead of dragging through them.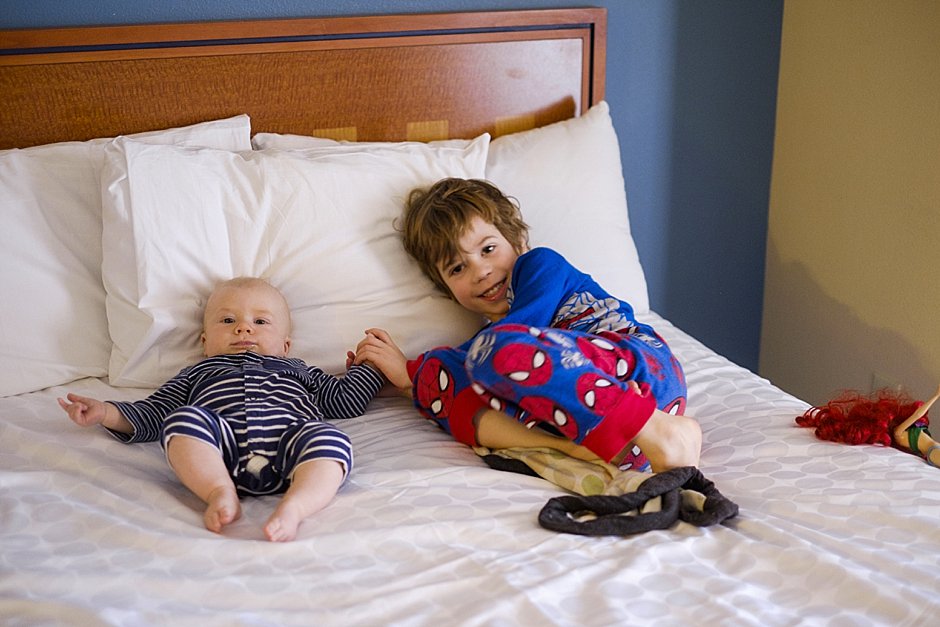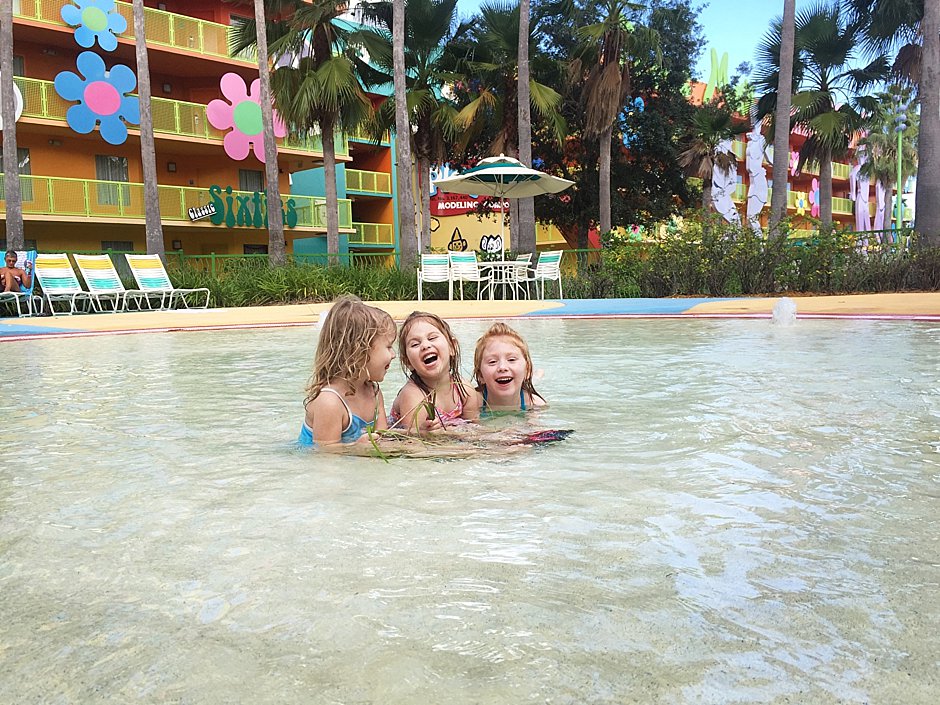 5. Bring in breakfast.
Even Disney's economy hotels have mini fridges in the rooms, so pick up some basic breakfast items on your way in. It will make the start of your day so much more leisurely if you can feed everyone in the room as they wake up. Making a mad dash out the door with everything and everyone you need for a full day before people get hangry is no bueno.
For the kids we bring cereal, milk, plastic spoons and paper bowls. For us, we prepare individual servings of our favorite breakfast shakes and shaker bottles.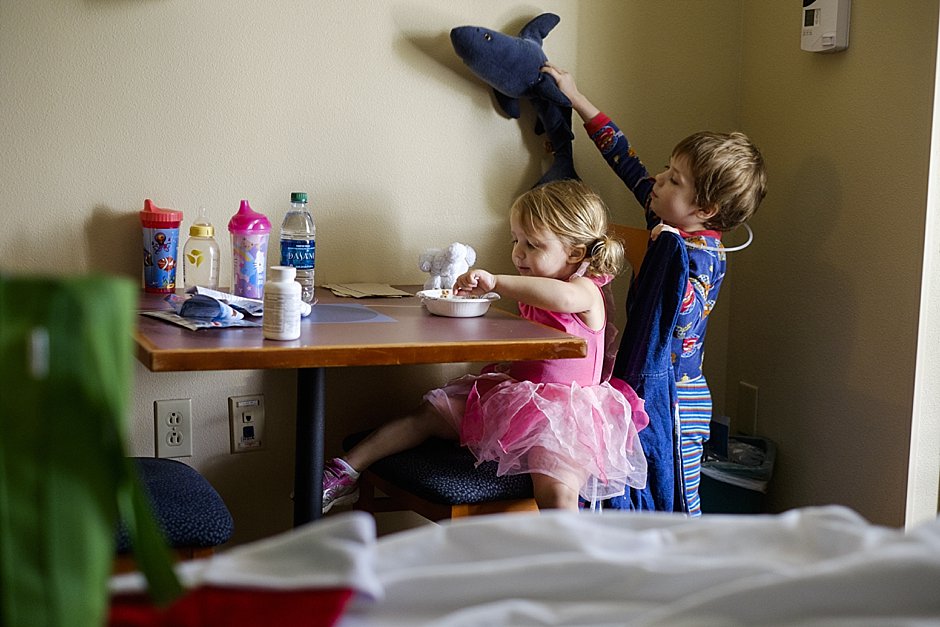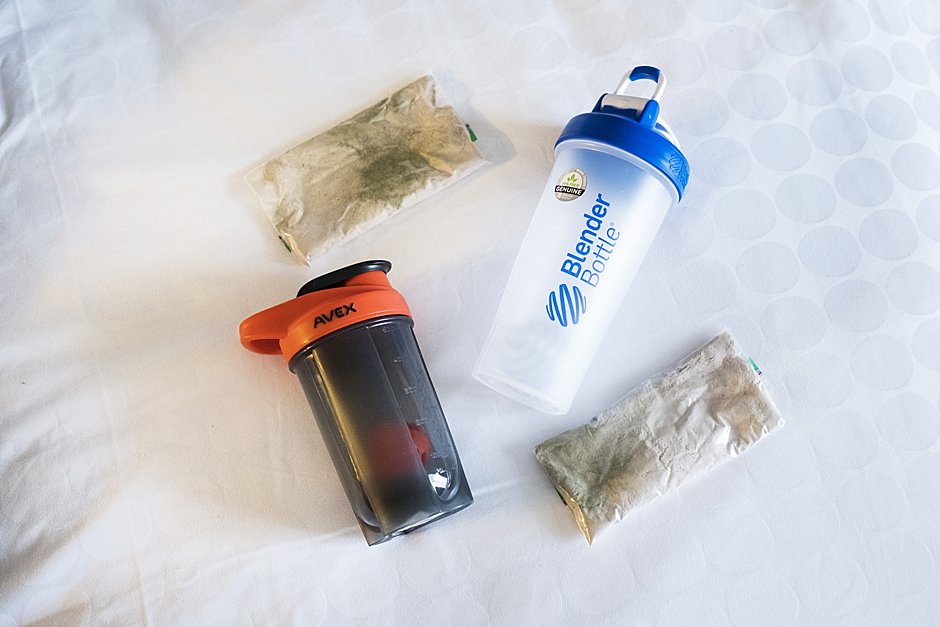 The Avex Shaker Bottle (afflink) is my favorite because it has a heavy plastic ball inside instead of your typical wire spring ball. It works great for mixing things up really well!
6. Pack appropriately for the park.
I wrote a whole post about what we bring into the parks with us each day. You can find that here: What to Pack for a Day in Disney Parks with Small Children.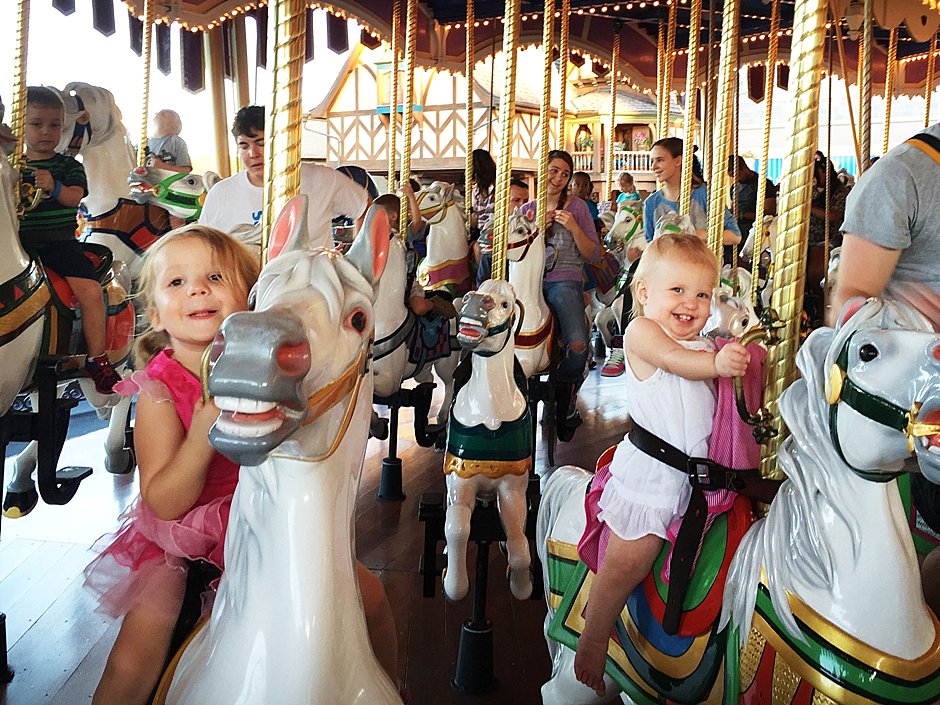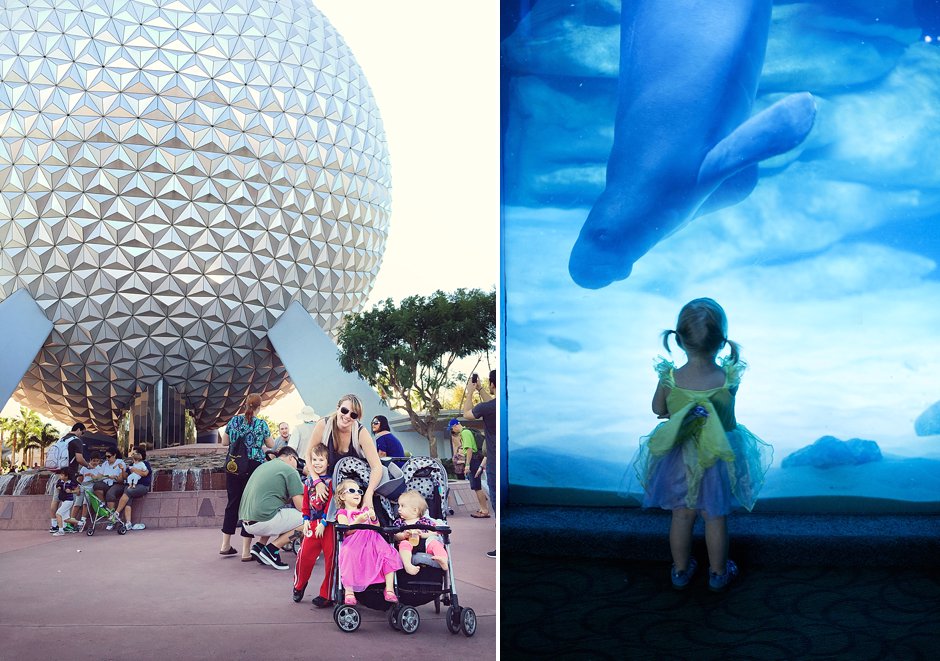 7. Just suck it up and bring enough strollers.
Disney world is a lot of walking about for little legs. I highly recommend having a stroller seat available for each child under 7, at least. Our oldest is 6.5 right now so I might up that recommendation over time.
I know, I know. When you start talking about more than 2 kids, the stroller situation feels like it's getting out of hand, but trust me. We've attempted going with one double stroller and three children. We tried again with a giant triple stroller and four children. Both came with their meltdowns and struggles.
By far, the most enjoyable trip was our last one when we took with two double strollers so that everyone had a seat. Two doubles was much easier for us to maneuver than the big mamma-jamma triple stroller, and if any of our littles got tired, they had a place to rest without fighting someone for it.
It was a win for everyone and we won't be going without two double strollers again until the kids are so old that it's just plan embarrassing to still be riding around in them.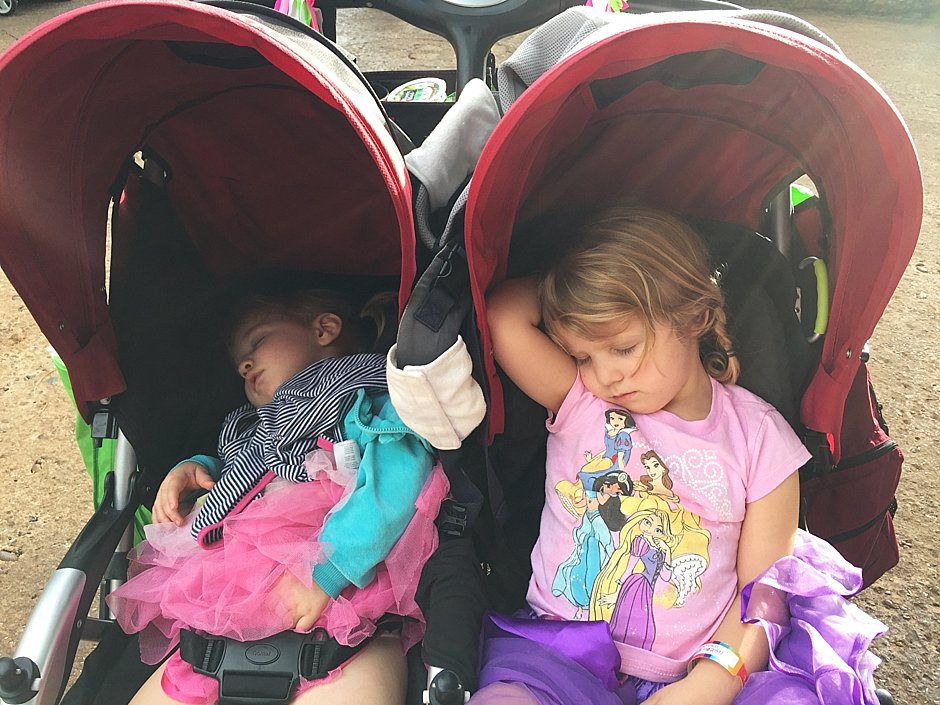 You can rent double strollers at Disney parks for $31/day (2016 rates). The only problem with that is that you have to pick them up and drop them off at the park gates, which leaves you to lug your children and belongings beyond that point. This can be pretty extensive ground to cover.
We bring our strollers with us. Our favorite double stroller is the Combi Twin Cosmo Umbrella Stroller. It folds up easily and is pretty compact for a double, with a good bit of storage underneath as an added bonus. It also fits through a standard doorway, which we've learned the hard way is not a given with double strollers. It's just an all-around good workhorse stroller.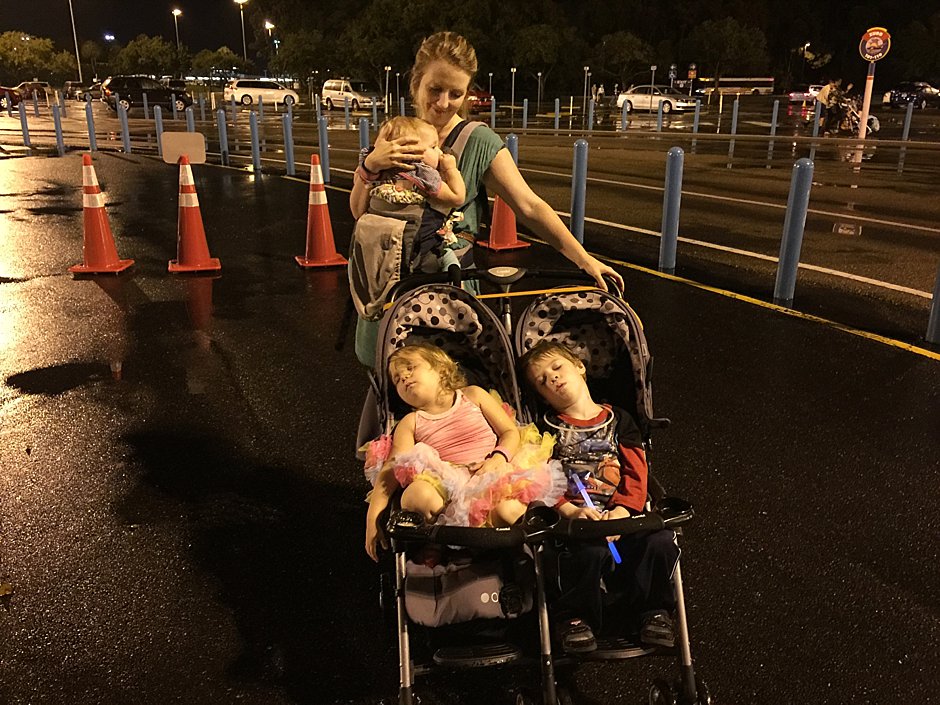 We still bring (and use) the baby carriers, but it's nice to not have to carry someone all the time.
8. Remember that you're there to have fun.
When things get rough and we're in the thick of it, I think we parents sometimes forget that we don't have to just power through. Disney World is supposed to be fun! Family vacations are supposed to be enjoyable bonding experiences! If you or your family are feeling tired, stressed, or just otherwise not enjoying yourselves, it's time to switch things up. Remember what you're there for in the first place. :)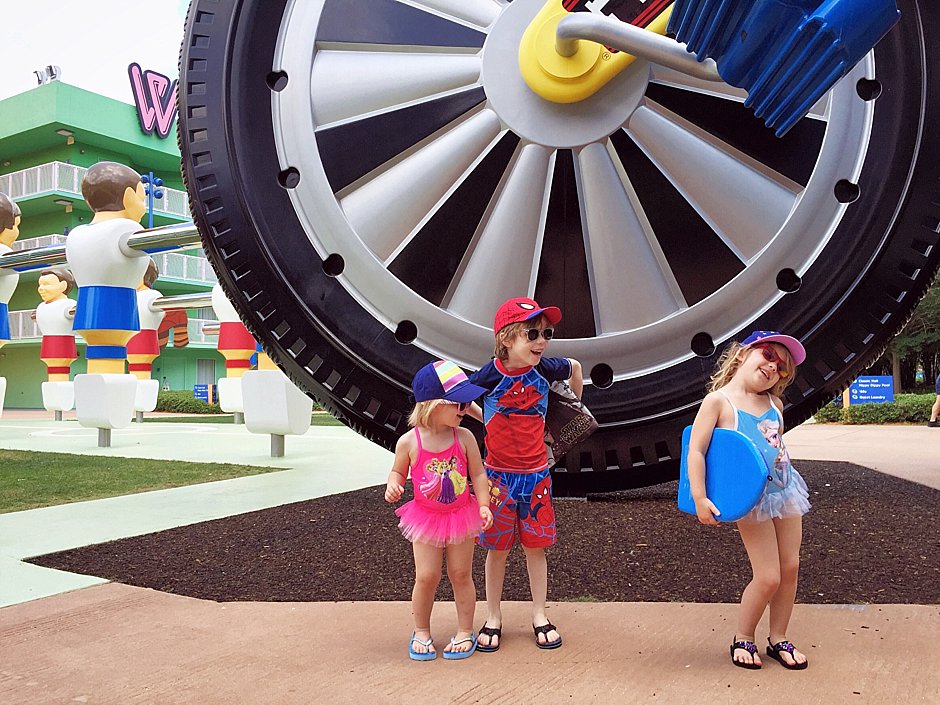 With these things in place – mindset included – spending several hours in the parks with a bunch of munchkins for several days in a row is actually really enjoyable.
When your friends see you breezing through Disney with all your littles in tow without a care in the world, they'll think you have super powers – like Elsa with a lightsaber. Serai and I are pretty sure that's the most super-powered combination possible.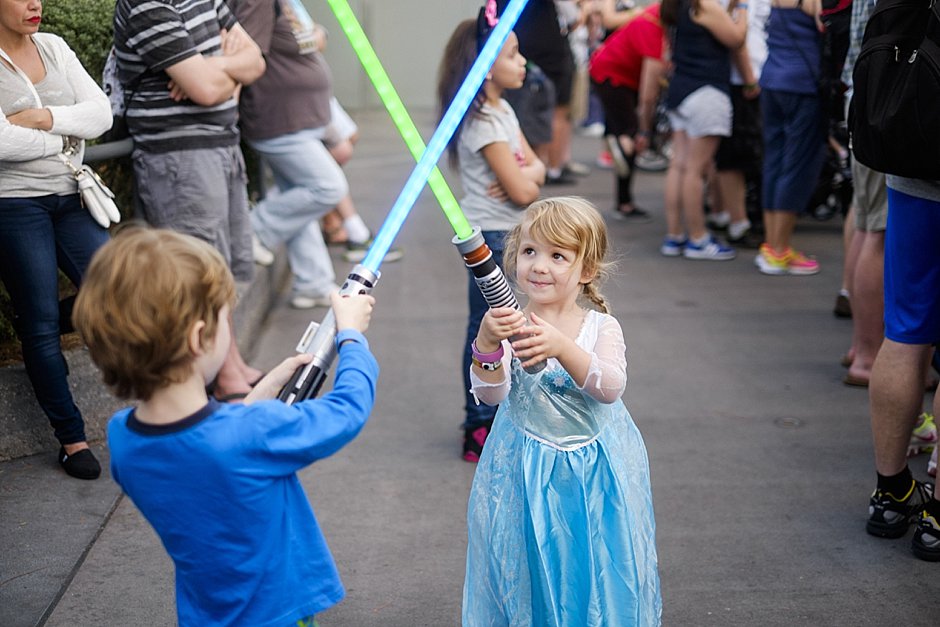 As for us, I think Seven's right. It is about time to go back to Disney World. :)