The Danger of "While We're At It"
Someone once told me that the most expensive words in home renovation are, "while we're at it…"
I think they were on to something.
It all started with the roof. When we first looked at the house, the inspector told us that the roof needed to be replaced yesterday. His words were in fact, "I don't know how it's not leaking already". That is never good. So we held our breath and a year later we set out to replace the roof.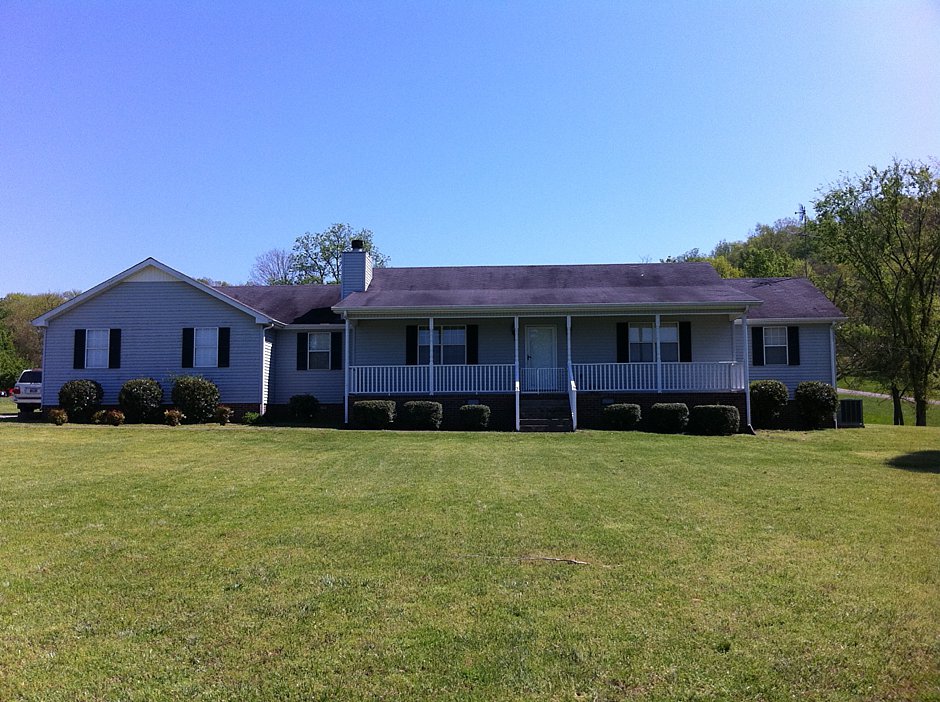 That's when the "while were at it"s started.
We wanted to do a tin roof on the house. We like the look and it's super durable so that's what we went with. One problem though: tin roofs are not easily added onto later, at least not in the way we planned to add on.
The house had what we not-so-affectionately referred to as a "faux porch". You know the kind – they were popular in the late 80's-early 90's and are so narrow that you practically have to turn your chair sideways to sit in the poor excuse for space between the exterior wall and the railings. (Ok maybe it's not quite that bad, but it's awfully close!) I can't for the life of me figure out why anyone would build a porch like this in the first place, much less how they ever caught on. Whatever the case, we were having none of it.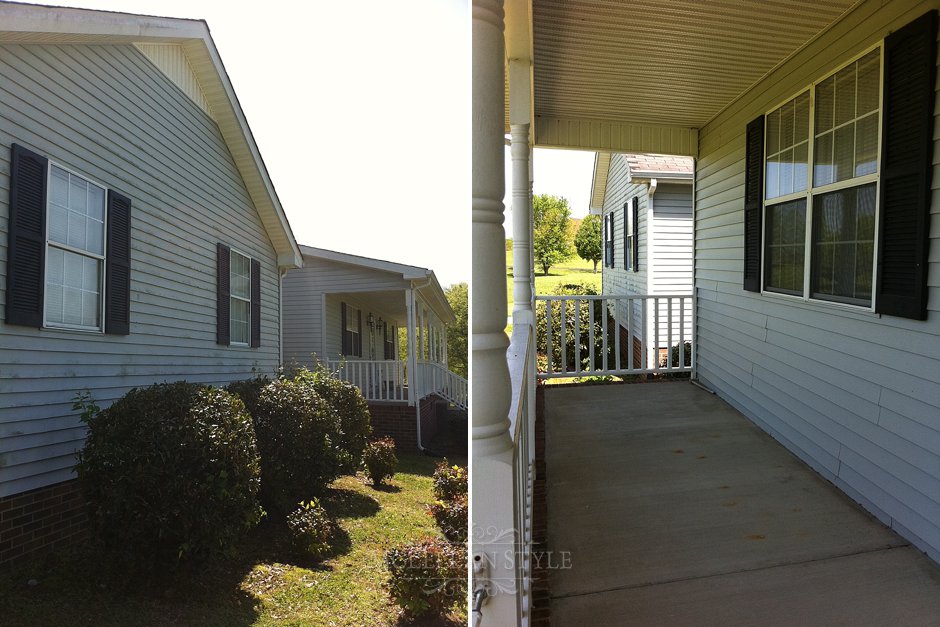 In the "see? We can live here and not hate it" sketches that I made before we bought the house, I had drawn on a much larger porch and that's what we wanted. We made plans to extend the depth of the porch out to 12' and add an extension that would carry it to the end of the house. In order to do the roof replacement right, we would have to extend the porch at the same time, while we were at it.

Thank goodness for my Uncle Bryan (Uncle Duck as we call him)! He took the cobbled together mess of my drawings, computer-generated mockups and random photos plucked off of Houzz and created an amazing design. I don't know how we would do any of this without him. He lives 2 hours away so he pulled his camper into our front yard in October and got to work.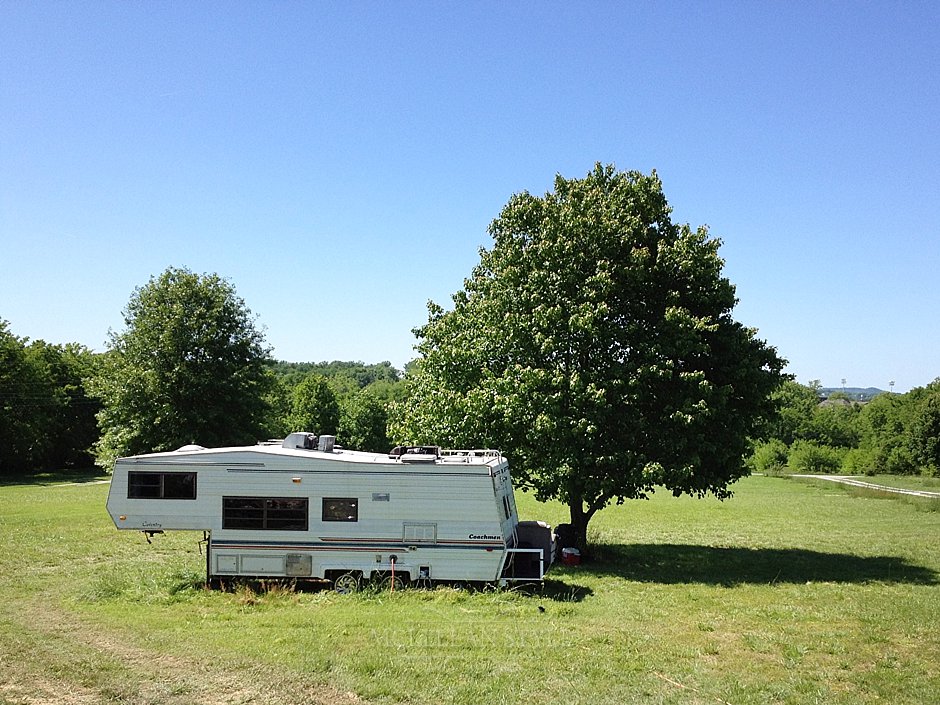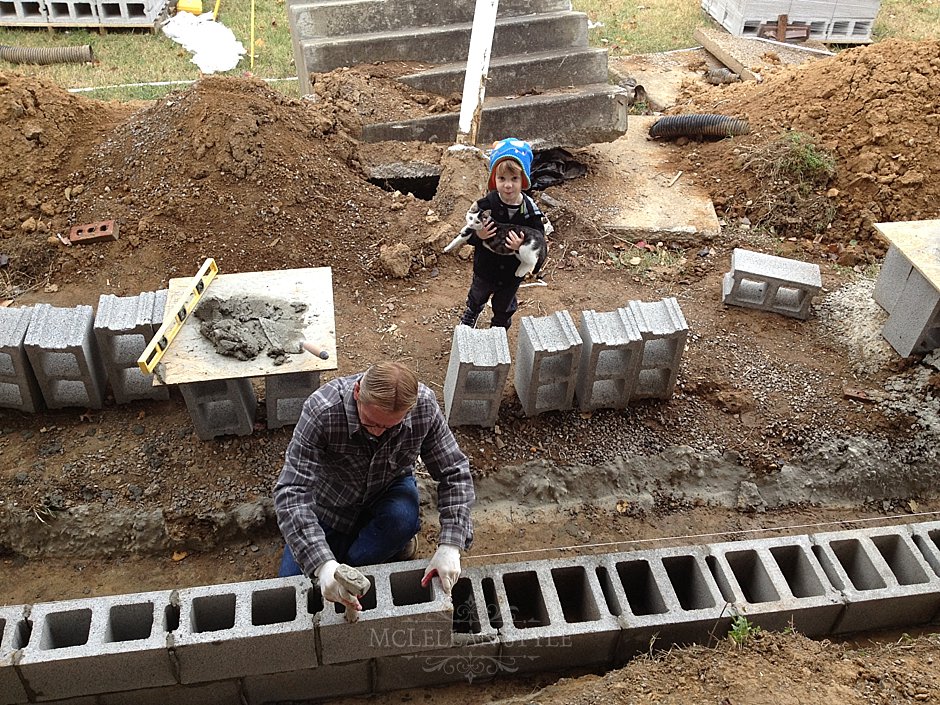 (Side note: when your uncle is the contractor and his only assistant is your other uncle (thanks for the help, Uncle Mike!), you get to hang out on the job site. Seven thought this was pretty awesome and took full advantage.)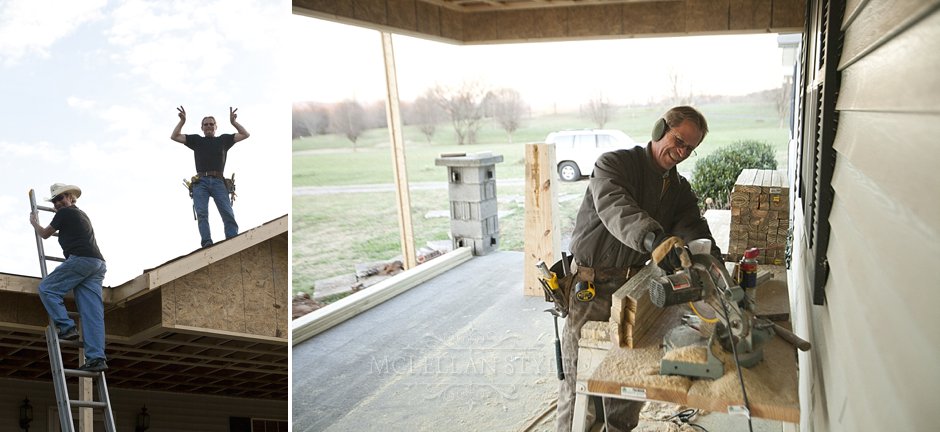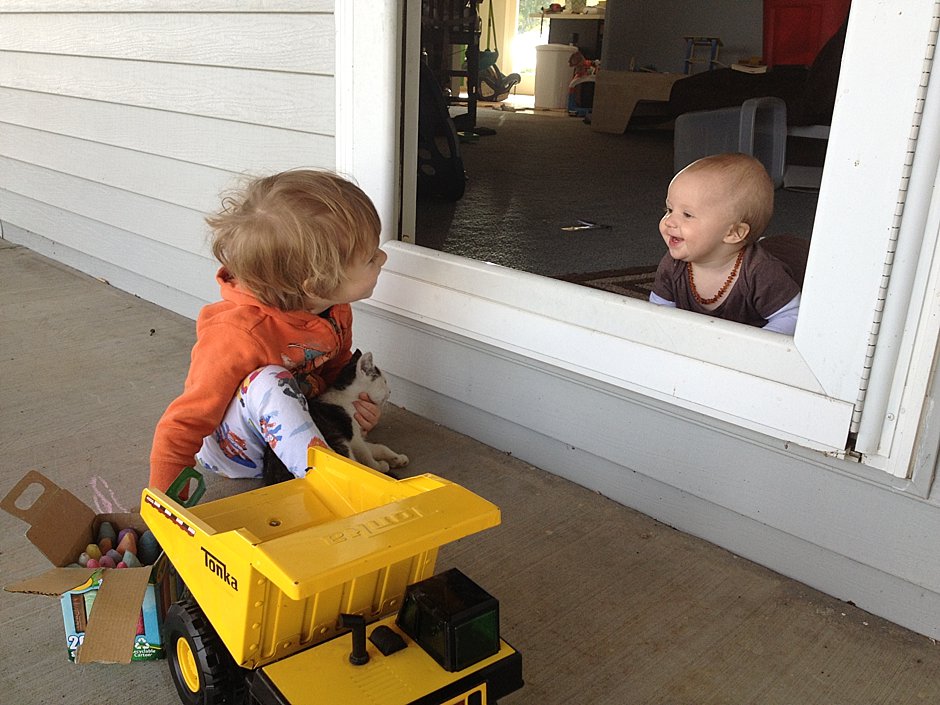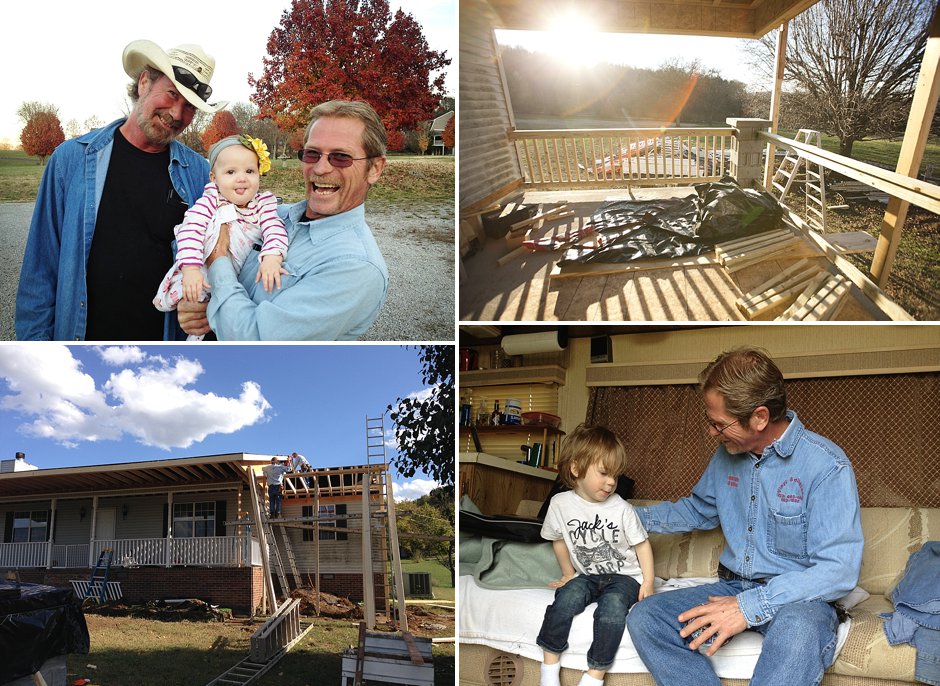 It turns out when you expand your porch, you end up with a small section of new wall that will need siding. The old vinyl siding was original to the house. It had some hail damage and was just generally faded and ugly. We wouldn't have been able to find siding for the new addition to match even if we had wanted to, but we really didn't want to spend money matching something that we wanted to replace in the near future anyway. With that in mind, new siding for the house house was added to the list, while we were at it.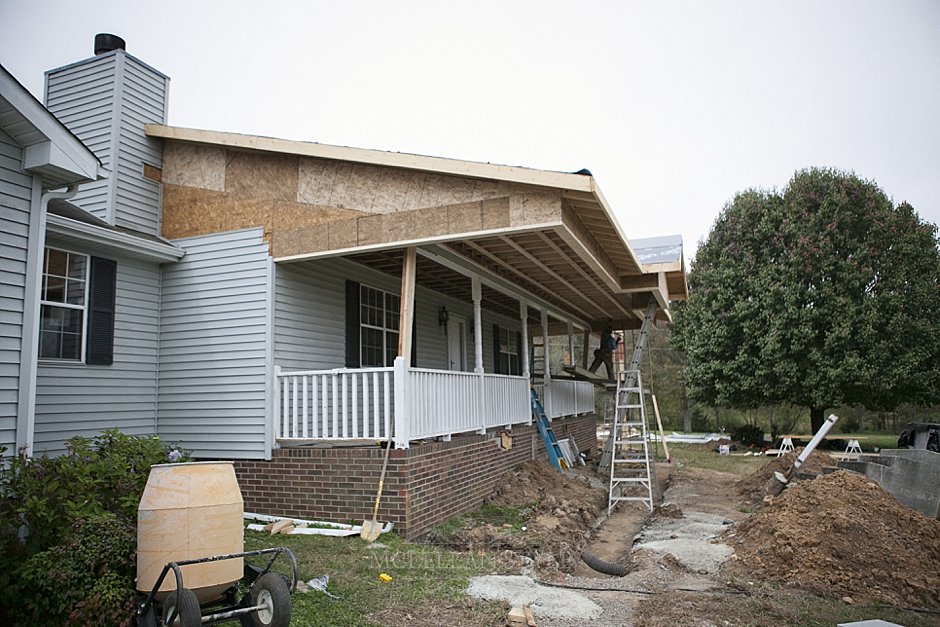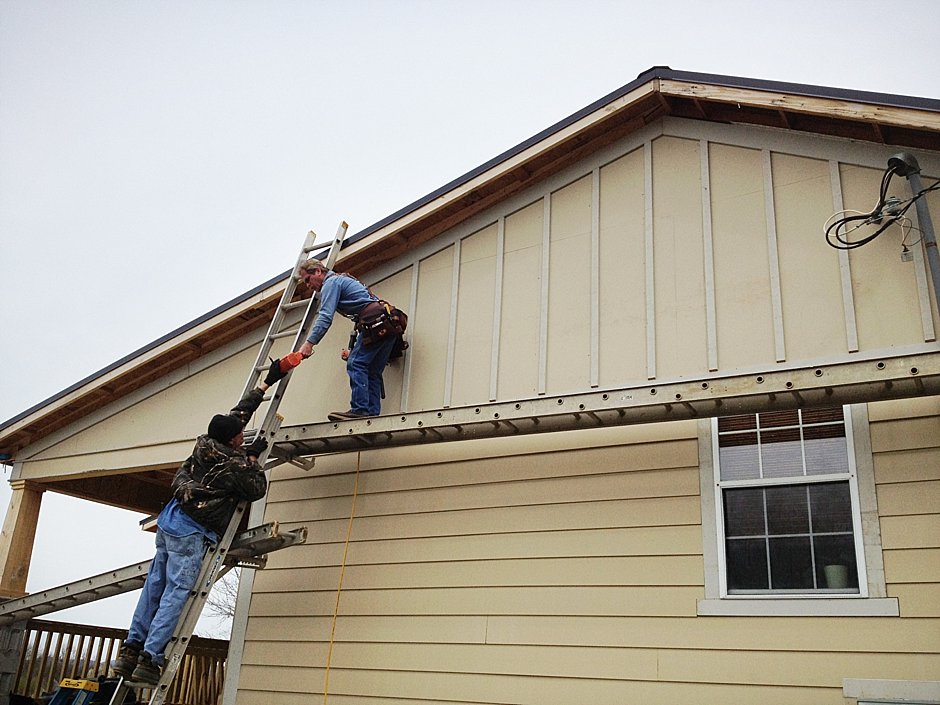 Since we were replacing all the siding anyway, while we were at it we added a decorative window over the garage.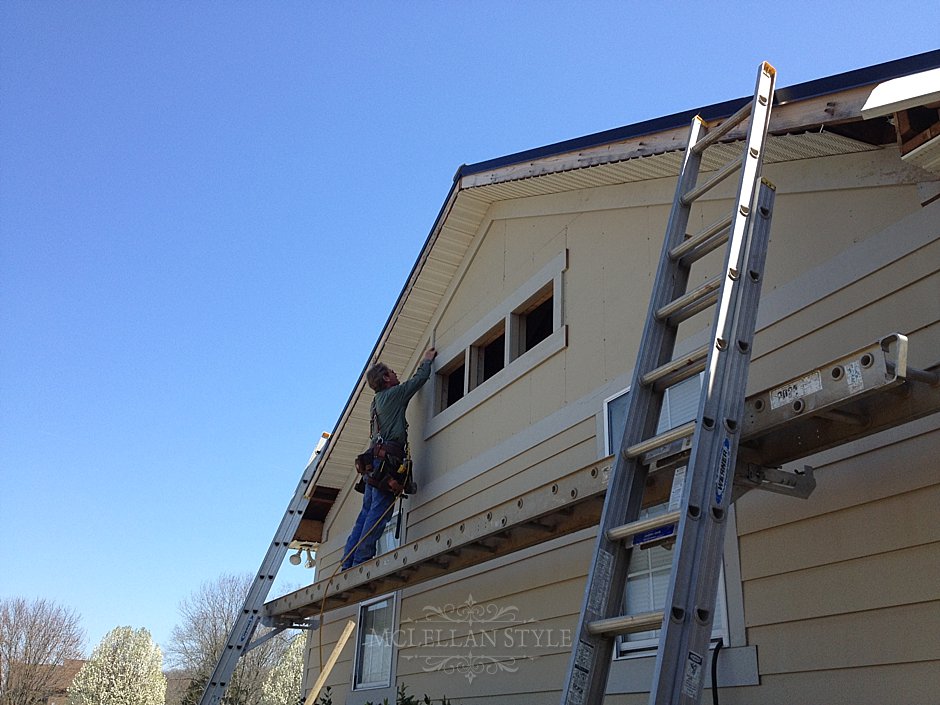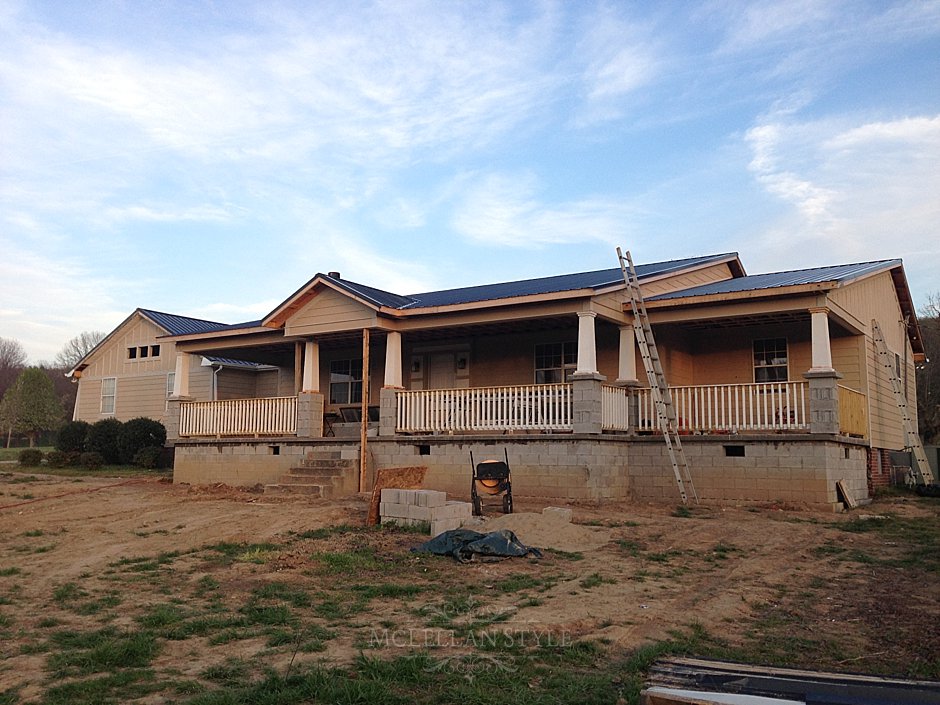 The new widened front steps made the front door look really small and out of place, but we couldn't widen the door itself because of an interior wall that sits too close to it. A few more sketches and Houzz selections later and Uncle Duck was framing out the door with a custom build – you know, while we were at it.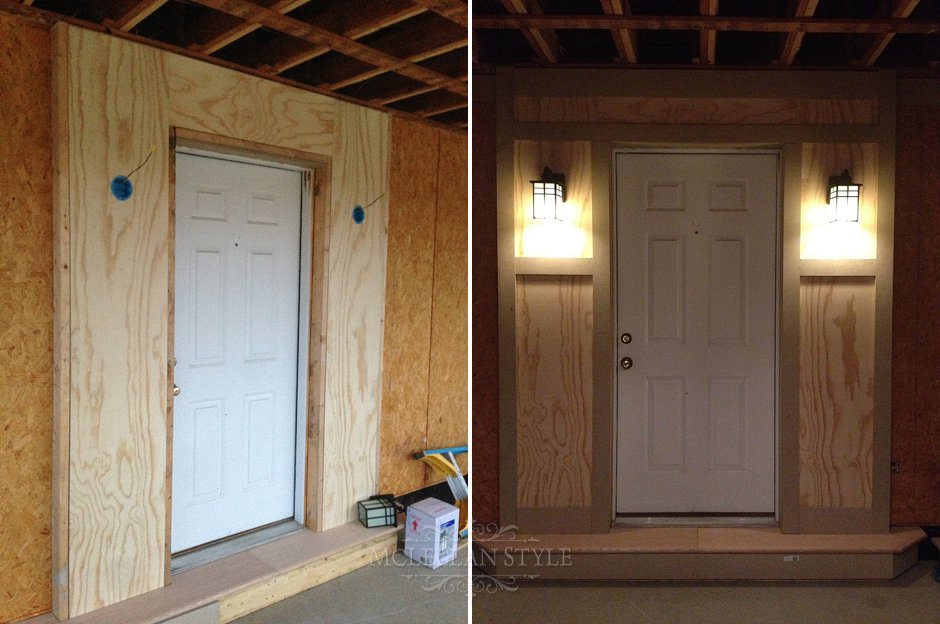 The siding we chose had to be bought in bulk and we had quite a bit left over that we had to find a purpose for. The shed in the back was close to falling down so while we were at it…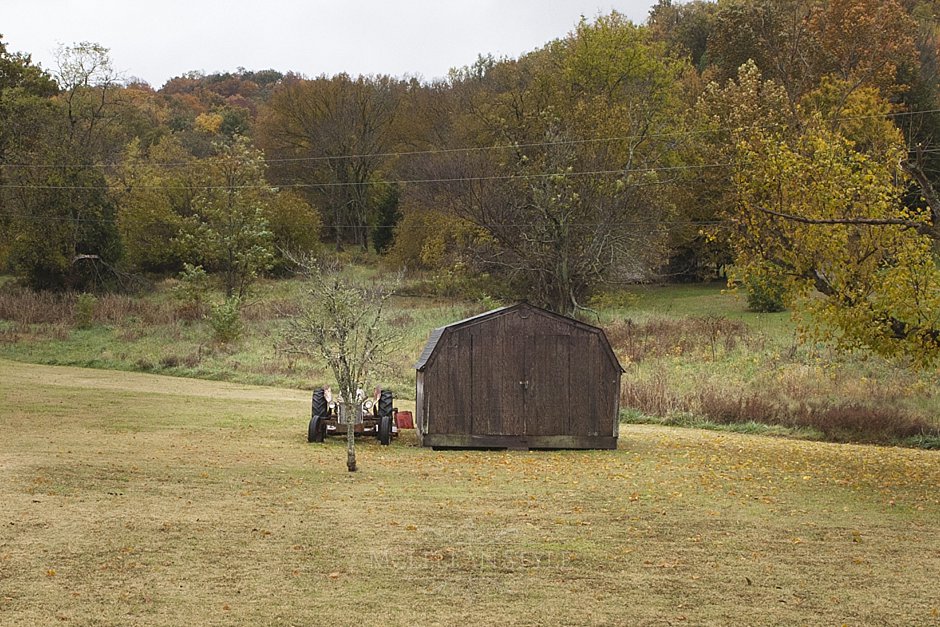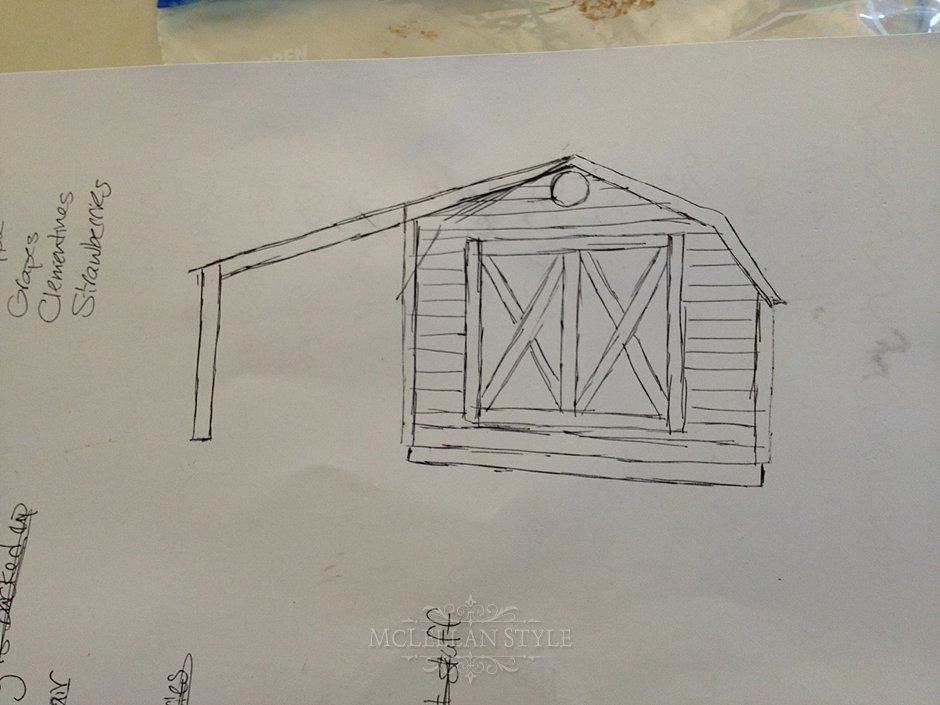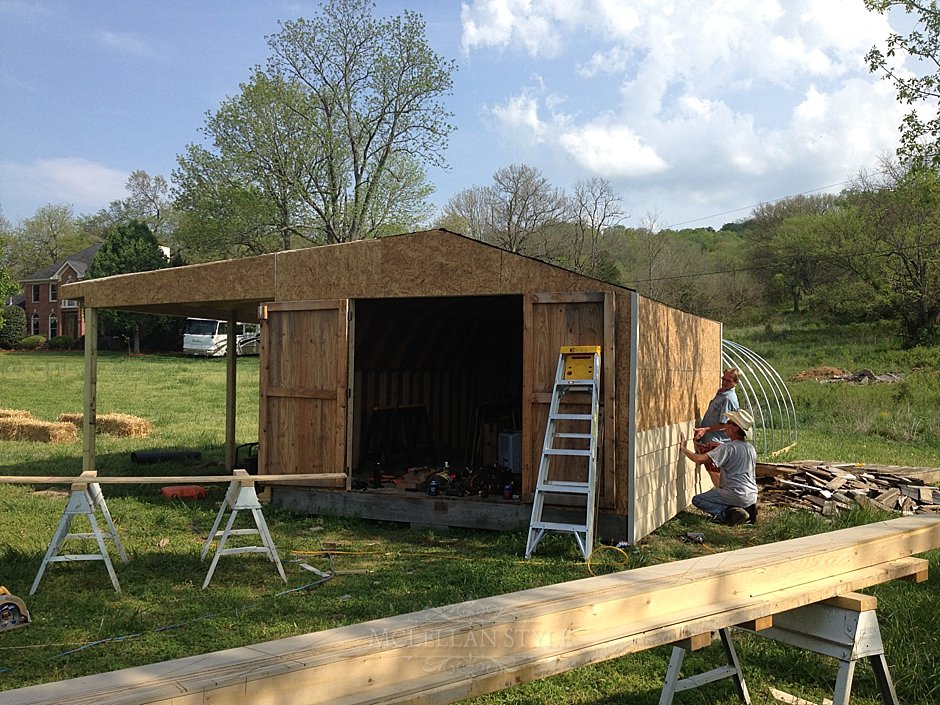 In case you're keeping count, that means that 1 roof replacement came to:
1 roof replacement

1 porch extension

1 whole house of new siding

1 custom window

1 custom door casing

1 practically new shed
Uncle Duck pulled his camper back out of the front yard to take it home in late May of the following year, after many trips back and forth to work on our house over 6+ months.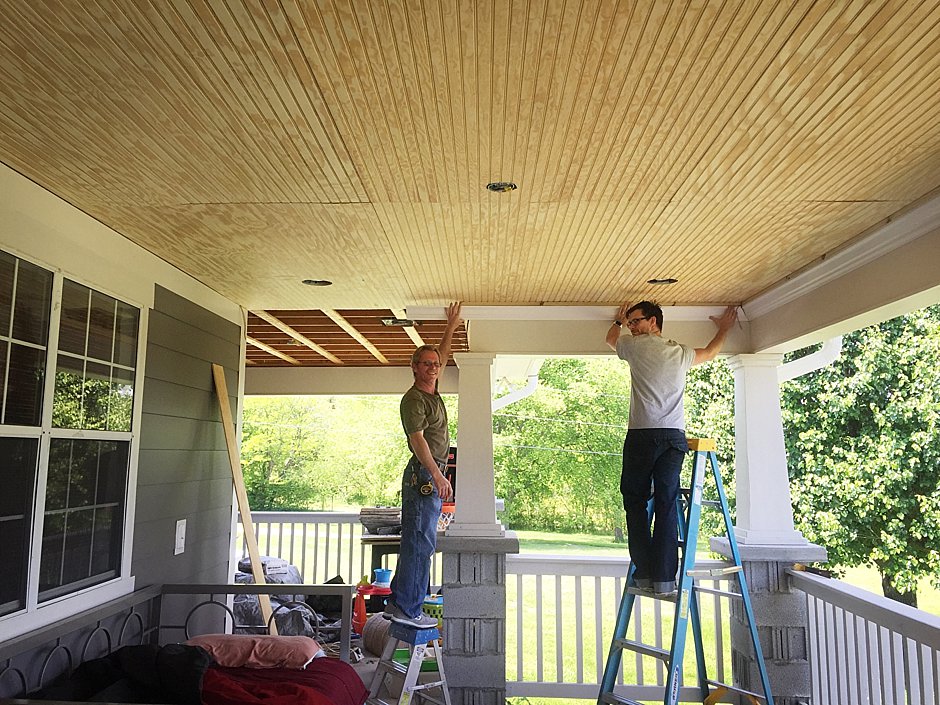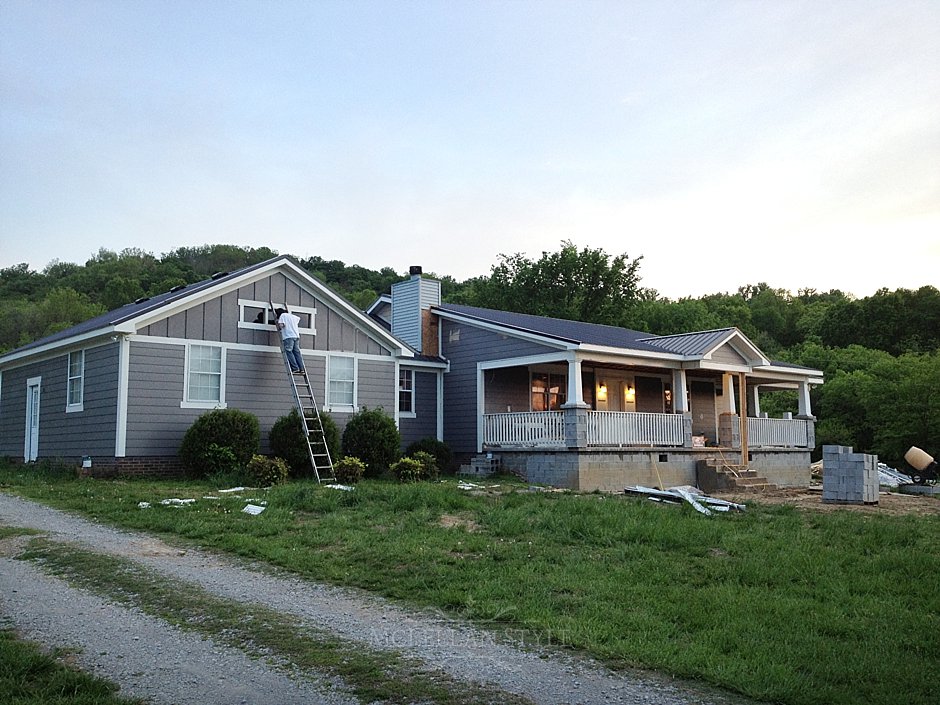 There are still even more "while we're at it"s to be done on this particular project. We'll be refinishing the whole foundation of the house and the chimney with stone veneer. A sound/projection system will be added to the porch and we need to go back in with new walkways and landscaping. All in all though, we couldn't be happier. It's like a new house on the outside. Not only were we able to repair damages, all the extras transformed the look of the house into something that is so much more "us".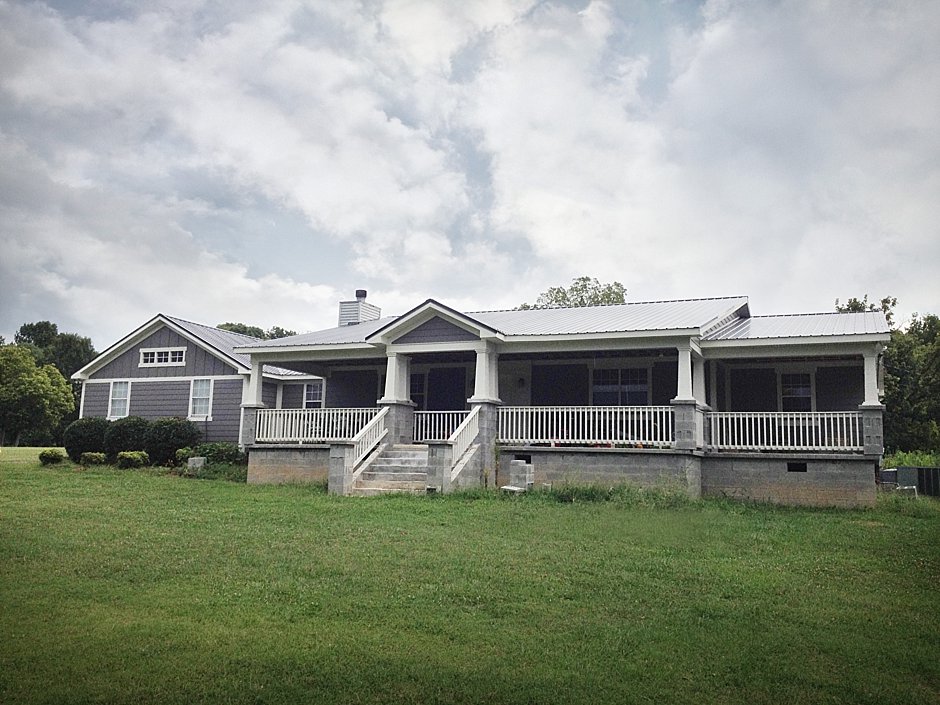 The inside will be a whole other beast to tackle and I look forward to the day when the front of my house no longer says "Tyvek" (current state of the chimney, not pictured), but this is a great start.
We've learned a lot through this process, the biggest thing being patience. As I went to complete this post, I realized that I never took "after" photos of the house with the good camera because I still don't feel like we're to the "after" point, even though it's been a few years now since all of this was done. When you've got little kids to take care of and businesses to run and all the day-to-day stuff that comes up along the way, weeks easily turn into months. Home improvements can just as easily get pushed to the back burner. Remodeling can be so very daunting and exhausting if you dwell on the things left to do. I'm trying not to do that and instead appreciate what we've been able to accomplish thus far. The rest will happen all in good time, especially if we continue to let ourselves get carried away with the "while we're at it"s. :)