Baby McLellan has arrived and his name is…
Many of you have already heard through facebook, twitter, etc. but for those who have not, we are so happy to announce the arrival of our son!  He came into this world at 1:31am on February 26, 2010 at 7 lbs., 12 oz.  He is perfect if we do say so ourselves! :0)  We are completely thrilled with him – it's like the year and a half long inhale of breath since losing our first can finally be released.  We finally have our family.
Now something that has not yet leaked into the internet realm as of yet is his name.  It was something we thought a lot about, as I'm sure all parents do.  We wanted it to have meaning, serve as an account of his legacy, and be given with purpose.  To top it off, it needed to be different to pacify his parents' inner creatives. :0)  We introduce to you Seven Patrick Daniel McLellan.
For those of you who don't know, Seven was the name of our first son who passed away.  We decided to name him after his older brother so that his memory would be sure to stay with us always and his life would always be acknowledged.  Patrick is Sean's middle name and SP are also his initials so without making him an outright junior, he is named for his father and can be "mini-SP" for his grandparents.  Daniel is my maternal grandfather's last name and my paternal grandfather's first name which made it terribly convenient for us to be able to name him in honor of both of these incredible men with one name.  Finally, McLellan is our last name so of course you would assume it's just his by default, but what you might not know is that there's no actual reason for Sean to have been a McLellan at all.  He was given his mother's stepdad's last name – the name of a man who would go on to be his father and grandfather when he certainly didn't have to be.  We are all so proud to take his name and have his legacy continue through our son.  So there you have it. :0)  This is our Seven – incidentally, born in room 7, on the 26th of the month – a day later in the month than the day his brother was born (November 25th).  The page has officially turned and life moves forward with joy at last.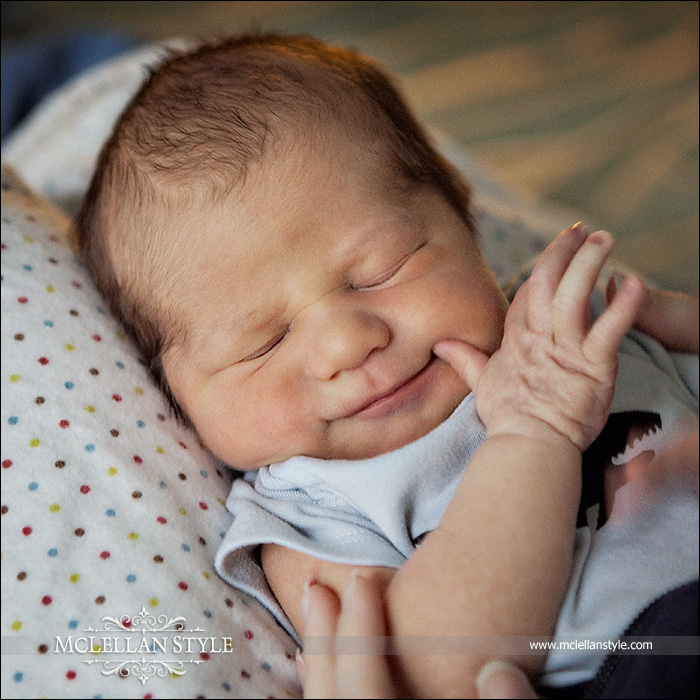 Thank you so much for all the outpouring of love you've shown us, through our struggles and our triumphs in the past year and a half.  We have received such amazing support, encouragement, comfort and help.  Thank you especially for all you've given us over the past few days.  We have amazing friends and family, and your support has been better than anything we could have asked for.   It made us smile to see all the encouraging comments all over Twitter and Facebook before and after his safe arrival.  It was hilarious to discover that our son had his own Twitter hashtag (#McLellanBaby)!–and it was amazing to see that within hours there had been over 1000 views of the first image of Seven that Mel posted from her iPhone :)
A HUGE thanks to one of our closest friends, Jen Bebb, for flying in all the way from Vancouver, Canada to be there for us, and to photograph our first few moments with our baby.  We'll share some of those later on, after we get to see them!