Jacksonville, FL – Workshop-ish-ness
Last month, on our way from Savannah, GA to Orange Beach, AL, we made a stop in Jacksonville, FL for a couple of days to see one of our favorite couples!  Brad and Mel had us photograph their wedding a couple of years ago and we became fast friends.  They are now getting into wedding photography themselves and they volunteered to be our guinea pigs for workshop material.  Thanks guys!
The people of the photography industry are so open and giving.   Sean and I were fortunate to find several people early in our careers whose thoughts, advice, and experience pushed us to heights we would have never imagined.  Because we've been given so much, we love being able to pass along our experience and know-how to others!  It has been so much fun to talk with Brad and Mel and see them progress as artists and business people!  We really enjoyed being able to spend a couple of days with them just talking about branding, and shooting, and getting started.  Photographers are such dorks! ;-)   
Mel just sent over a few of their images from the shoot we did together and I had to share our experience…
We spent the afternoon on the beach covering just about everything we consider while we shoot: directing the client, how to get variety quickly, lighting set-ups, yada, yada.  We had a blast and Heather and Eddie were wonderful models!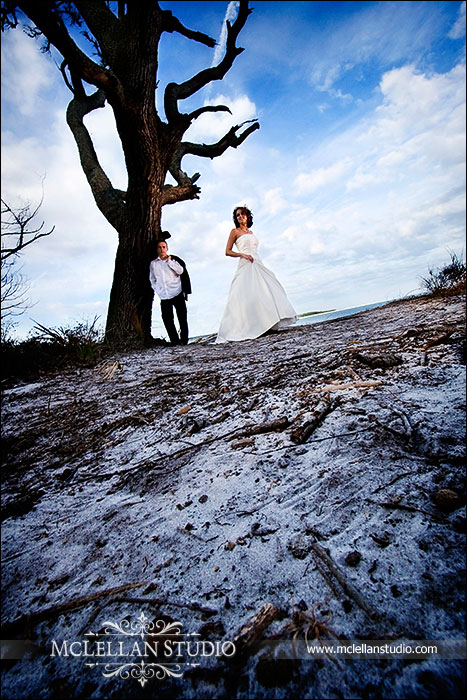 I love the wind on the beach!  Here's Sean shooting…
…and the resulting images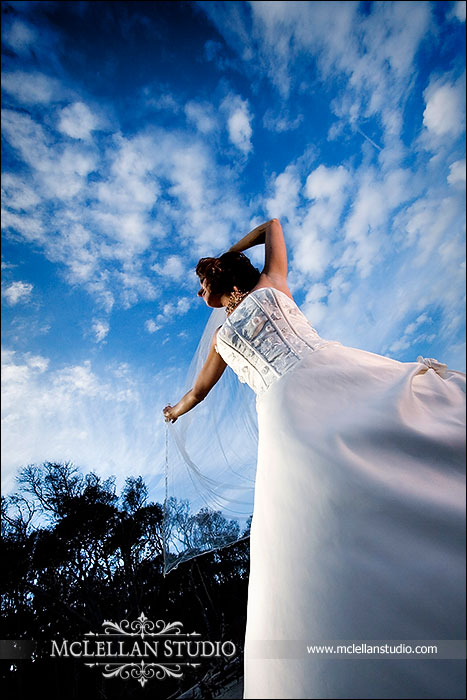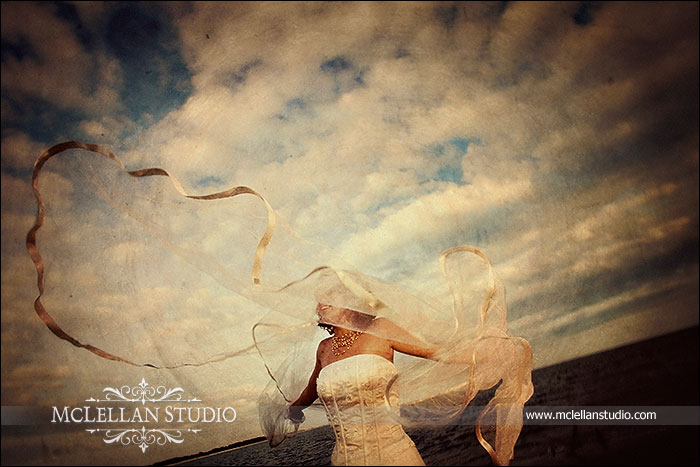 We've never been to a beach with fallen trees everywhere so we were almost drooling when Brad and Mel told us about this place!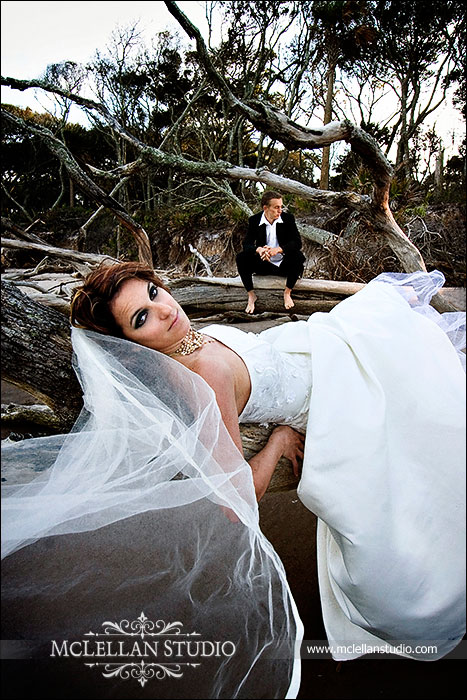 Oi!  There is a reason I am behind the camera!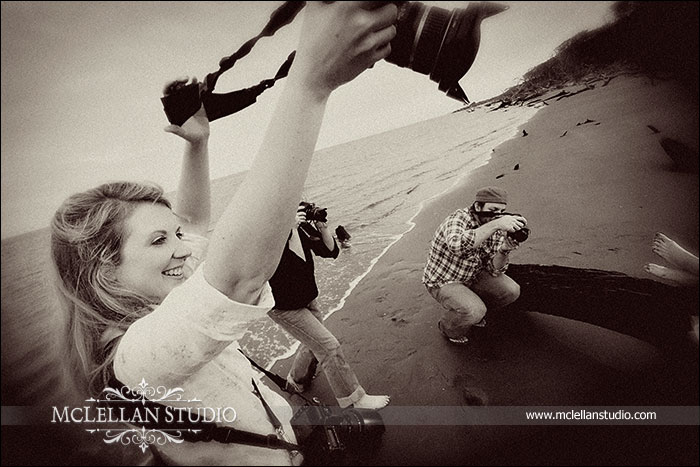 Brad and Sean in action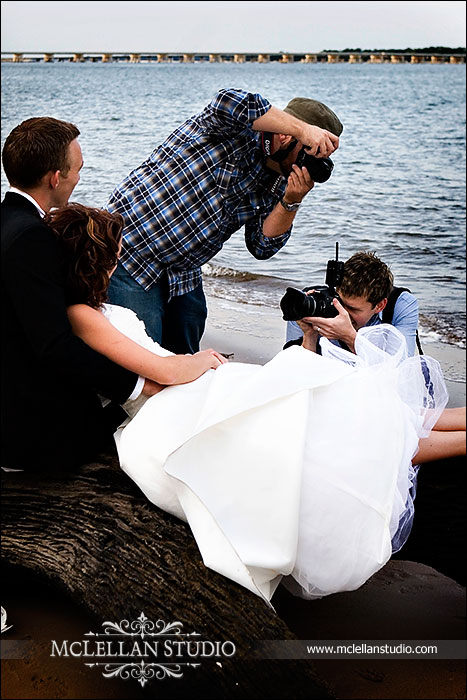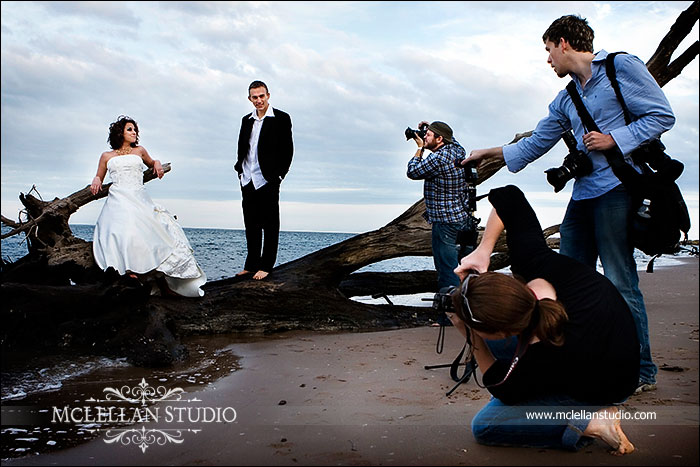 Brad did really great here…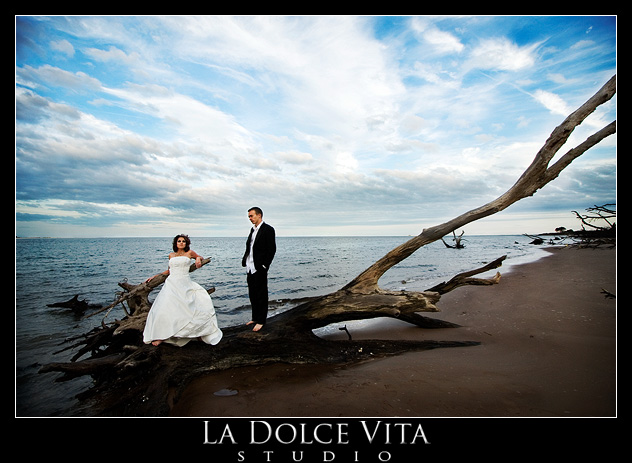 Sean didn't do so bad either. :-)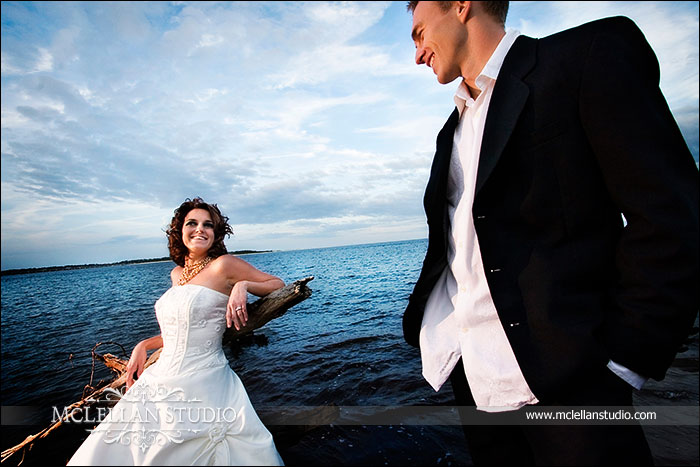 Sean giving Mel the low-down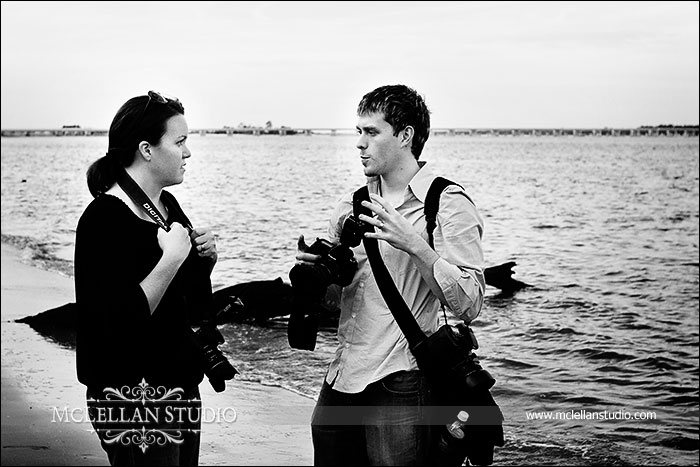 Everyone knows I'm just along to hold the flowers!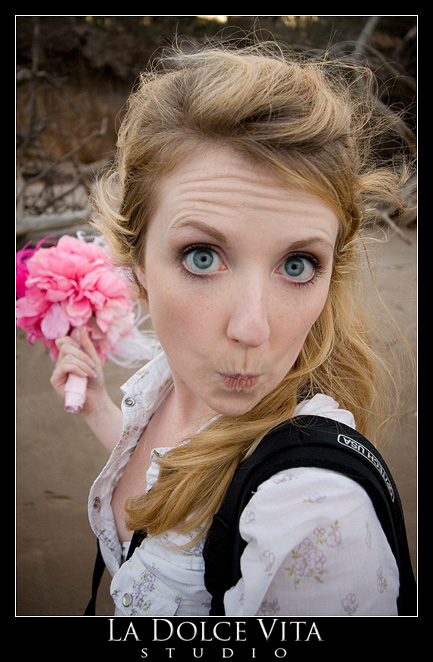 Another fantastic Bradford creation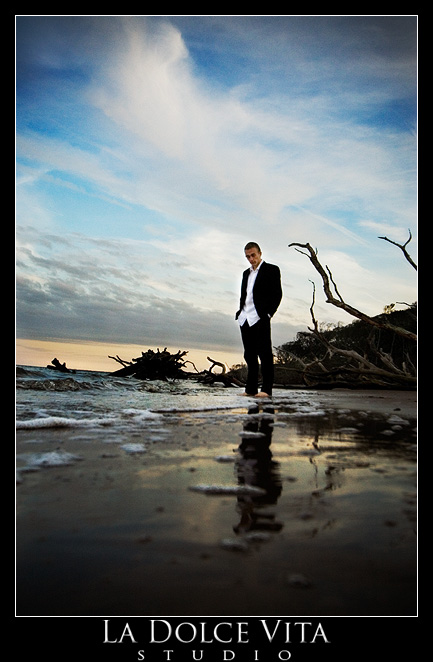 The dynamic duo – are they cool or what?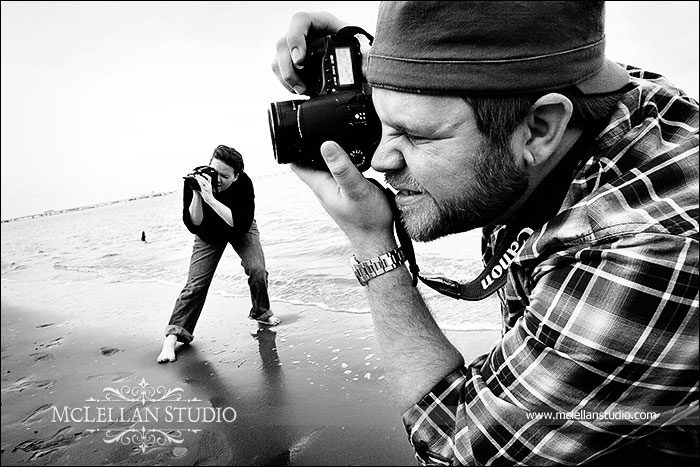 Again, I heart fallen trees!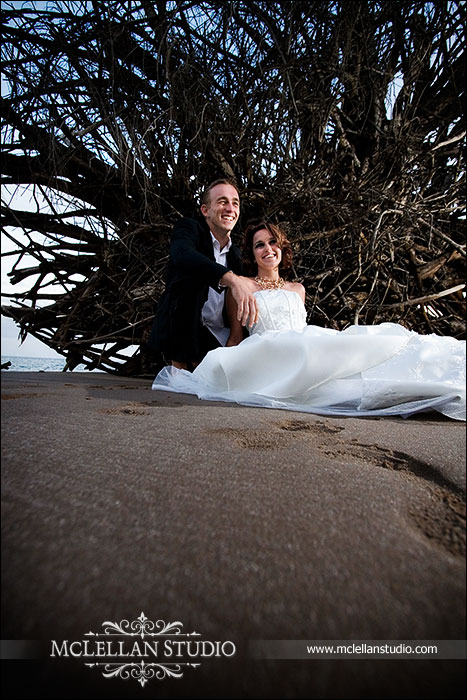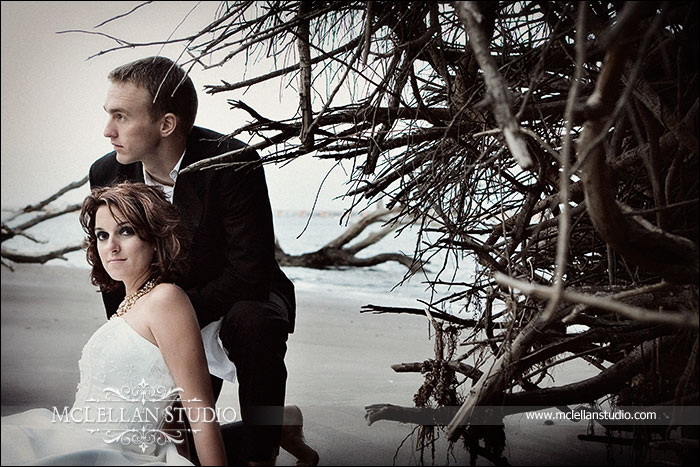 Crawling through the branches a bit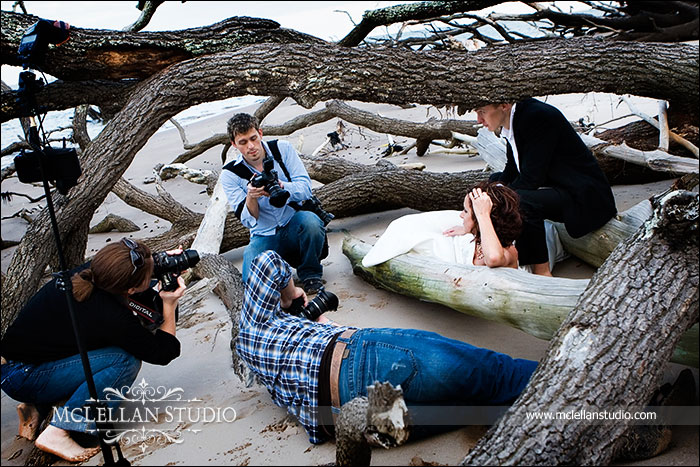 …and Mel's super swank results…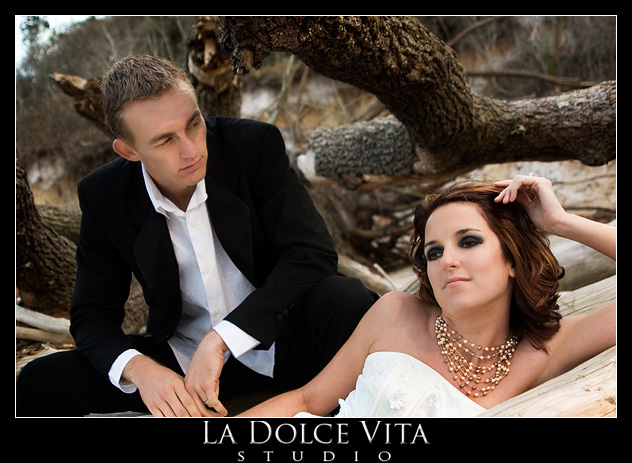 After the beach, we did a little night shooting on our way to dinner.  Eddie just got these hot new shades so we had to show them off!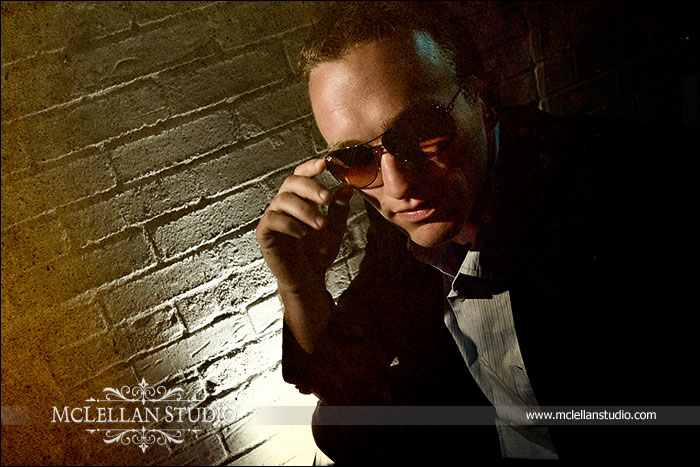 I love this one of Mel's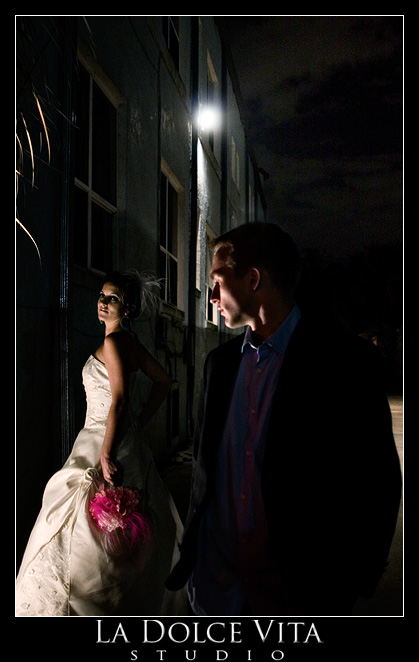 Afterward we ate yummy pizza and then went back to review the day's work – and get a few goofy group shots of course! :)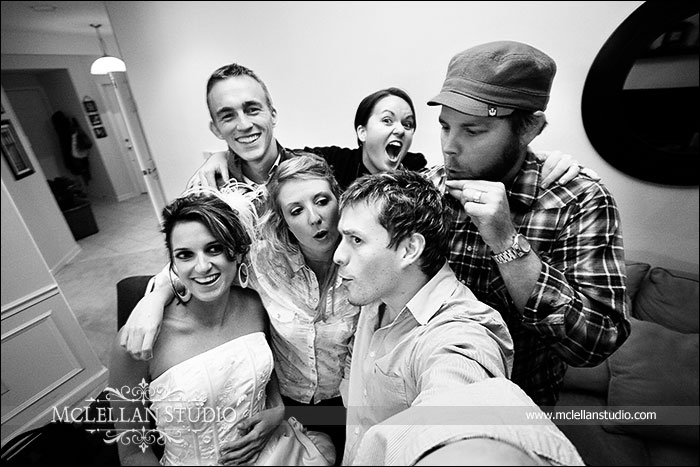 Can you even believe these guys are just getting started??
Mel and Brad, thank you so much for your friendship and for inviting us into your home to talk your ears off for two days!  We hope you came away with something worthwhile!  We had a great time and are so looking forward to seeing what great things are in store for the two of you!
 Much Love!
Mel and Sean