We have been absolutely itching with anticipation to get to our 20 week ultrasound!  Generic baby is not nearly as much fun as a son or daughter. :o)  The big day finally arrived yesterday and wow, what an experience!  I'm starting to show now so obviously there's someone in there but it was just so amazing to see our baby moving around, yawning, and clenching tiny fingers.  There's actually a real, live baby in there!  I guess you're probably wondering whether Baby McLellan is a girl or a boy.  We have the official word and there's no mistaking….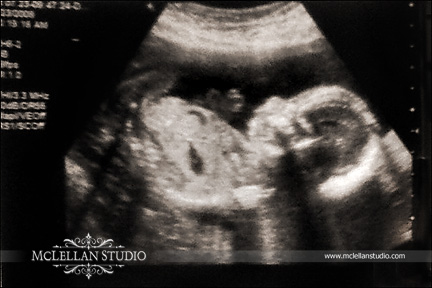 it's a BOY!!! :o)  I guess we should have known there was a little Sean in there.  Ever since the pregnancy hormones kicked in, I've picked up all of his food oddities.  From a lack of love for chocolate (I mean, come on!), to a constant love of McDonald's cheeseburgers and pizza (lovely for the figure), and the resignation that I'd rather die than run into any kind of gristle in meat – I hardly know myself!  Anyway, we're SO EXCITED!!  He's healthy and we're having a SON!
We drew a name from all of the boy votes and my dear friend Allison O'Dell is the big winner of an iTunes gift card!  Thanks so much for playing along everyone!  We had such a great time with the baby poll and hearing from you all!  Thanks to your 137 comments and 200+ votes, $200 has been donated to St. Jude Children's Hospital on behalf of Baby Boy. :o)
Have a wonderful weekend!!
– Mel